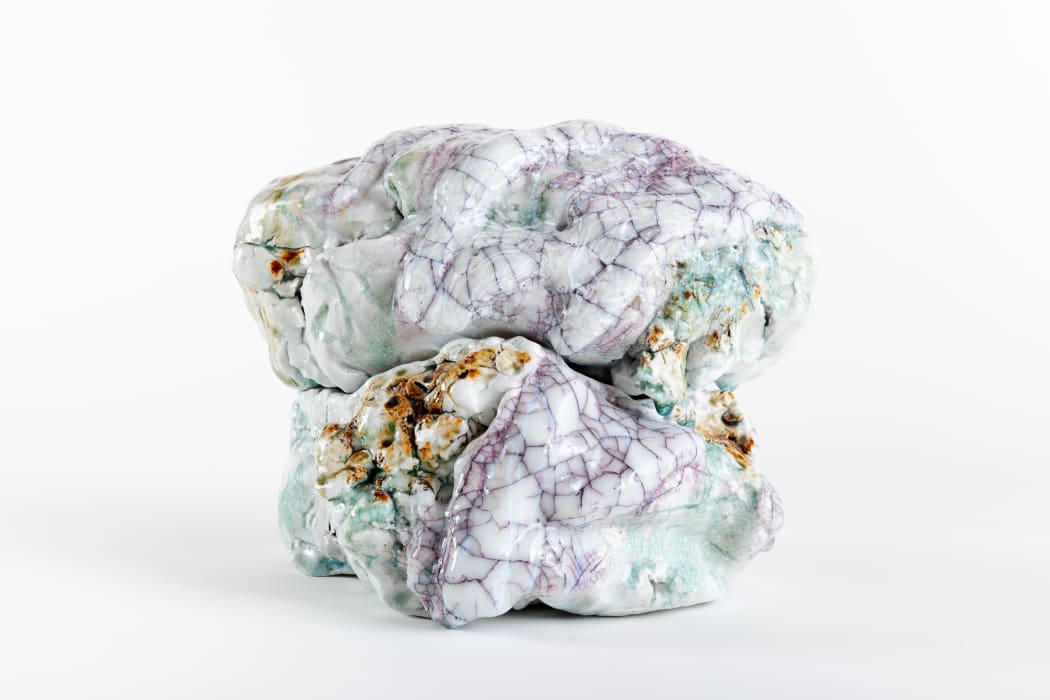 Kodai Ujiie (1990-present), Celadon Lacquer Lidded Ceramic Container, 24868
Ippodo Gallery is thrilled to exhibit Extreme Surfaces at the Design Miami art fair from November 30th until December 4th, 2022 in Miami Beach, Florida. A celebration of Japanese kogei ('technical crafts'), our booth (G36) features the work of twenty-two artists who capture and accentuate the beauty of traditional Japanese materials.
Extreme Surfaces is comprised of three categories, but this journal focuses on the techniques of nine form-active artists. Forged in metal, glass, porcelain, and ceramic, form-active artworks are defined by distinctive shapes and textured designs that disrupt otherwise placid surfaces.
Kodai Ujiie (1990-present), Ofukei Lacquer Tea Bowl, C24862
Kota Arinaga (1978-present), netz (Ink), C24526NP
Kodai Ujiie's tea bowls, sake cups, and larger containers are all spontaneous hand-thrown creations. The celadon glaze with a colored lacquer inlay is an innovative technique that is central to Ujiie's visual language. Though he is a young budding artist, his works are shown in museums and galleries throughout Japan.
Inspired by the Venetian reticello technique, Kota Arinaga's vessels are designed with twisting networks of colored glass, forming both chaotic and regular patterns in beautifully vivid color. Arinaga's series draws on the history of the Silk Road, where the glass and fabrics trade began. Arinaga views the process of creating his reticello-style vessels as a bridge between the diametrically opposed materials, stretching and binding glass threads before spinning them together like yarn.
Kiyoko Morioka (1974-present), Flower Vase, C24553NP
Kiyoko Morioka's porcelains are recreations of the peaceful sky of her Kanazawa home. Though a master of the decorative kutani style, Morioka's decision to leave this series of vases unpainted, instead only glazed with burnt rice husks, is an innovative technique that has produced rich and silky surfaces unlike their ornamental counterparts. The restriction imposed by these formal choices invite viewers to dive deeper into the subtly variable grey tones.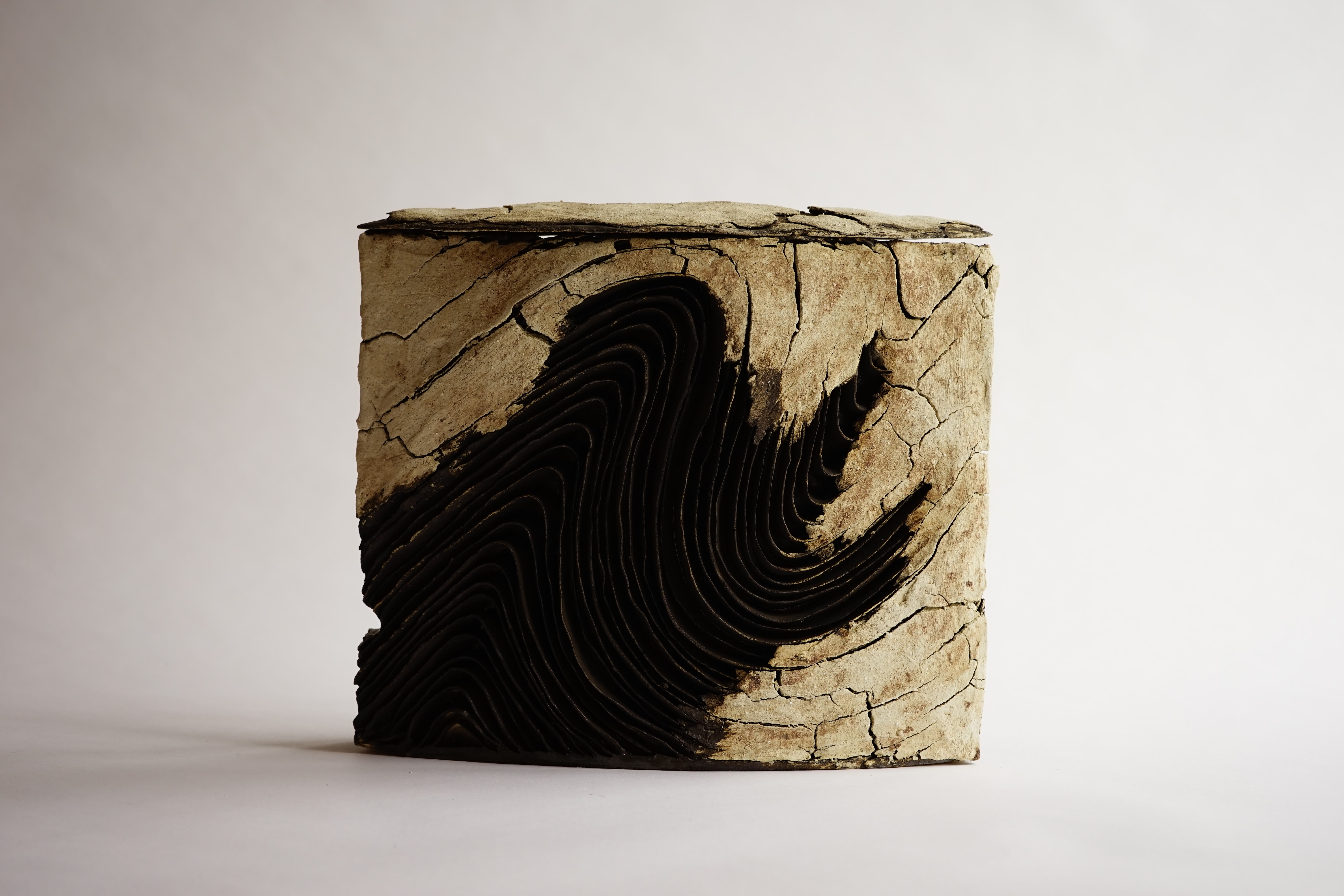 Yukiya Izumita (1966-present), Lidded Sekisoh Jar, C25285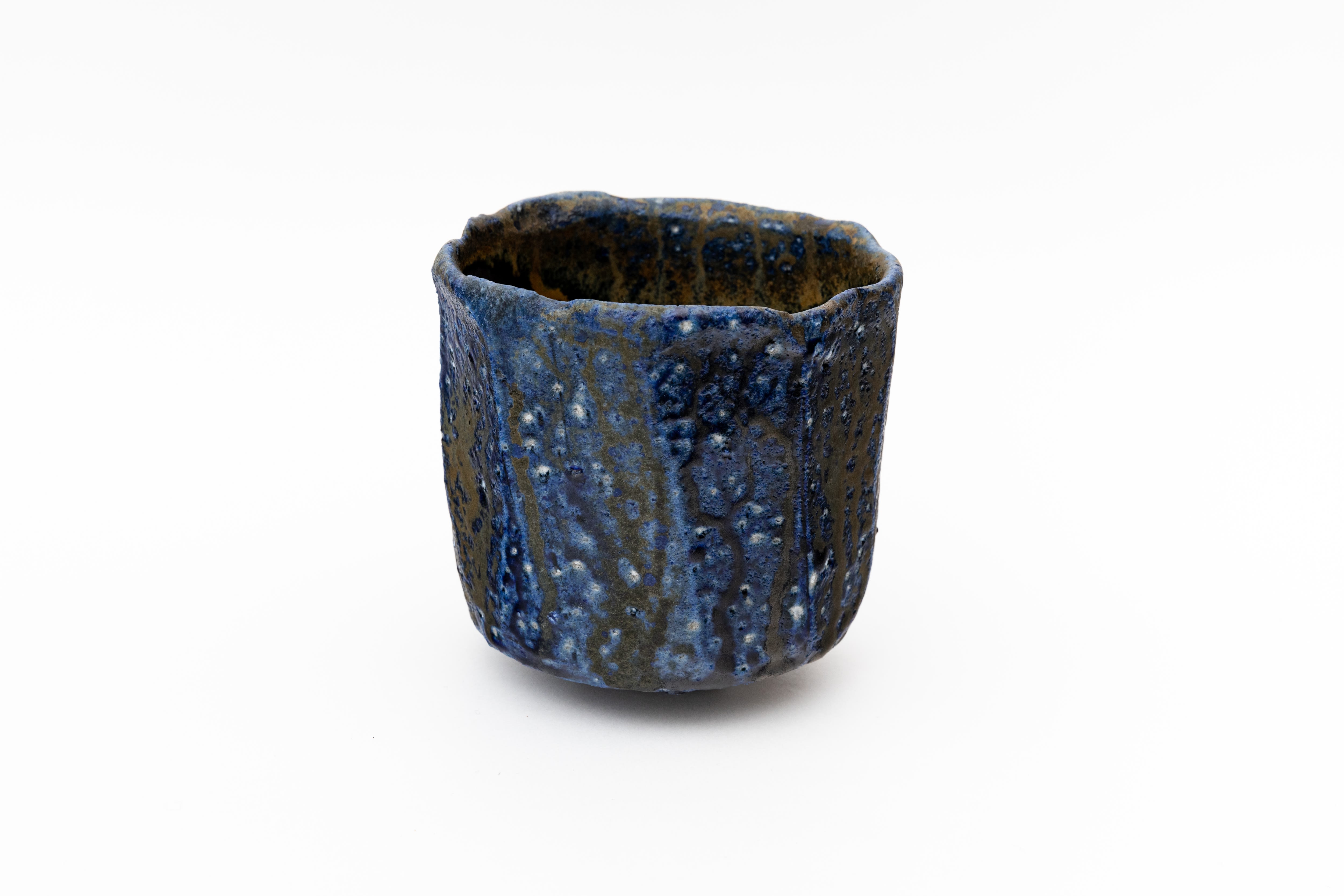 Hiroshi Goseki (1988-present), Blue and Black Shaved Tea Bowl, C24248NP
Shaped by the harsh landscape of Japanese northeast Tohoku region, Yukiya Izumita's laminated sculptures are made from salt-rich clay collected from the coastal area of the Iwate prefecture. Izumita smooths the clay with his hands and flattens each section onto a piece of paper, which he folds together like origami. Fired with driftwood collected from the seashore, Izumita's home prefecture is imbued in every aspect of his sculptures. The dry result is a multi-dimensional surface full of possibilities, mimicking a mountainous landscape or the motion of the ocean's tides.
Hiroshi Goseki is a bizen craftsman who studied with living national treasure Jun Isezaki in the traditional techniques of the bizen region. Goseki drives every element of the creation process; from collection the clay to cutting down firewood. Each bowl must be fired in the kiln for fourteen days, which must be fed new fuel every twenty minutes without exception. A unique combination of wheel-throwing and hand-building, Goseki's endlessly complex bowl captures the special nature of the bizen technique.
Koichiro Isezaki, (1974-present), Shaved Tea Bowl, C25341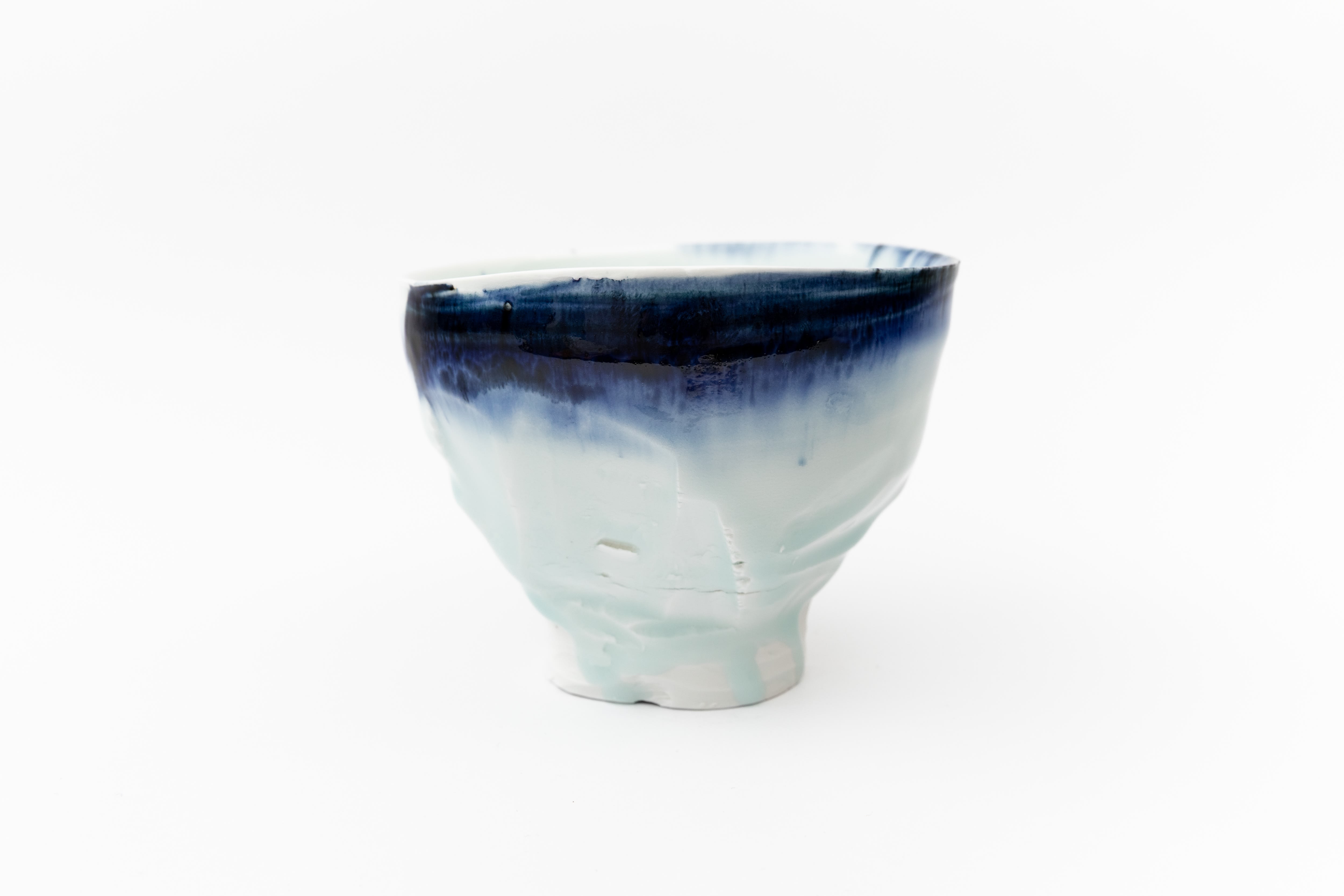 Tsubusa Kato
(1962-present),
Blue and White Tea Bowl
, C24284NP
Koichiro Isezaki is a trailblazer, bringing his own unique flavor to the tradition of bizen mastered by his father, living national treasure Jun Isezaki. Koichiro mastered the traditional bizen materials but decided to forge his own path, creating innovative and contemporary tea bowls that break formal conventions. Organized chaos and intentional formlessness are a modern and textural twist that distinguishes Koichiro from his already distinguished family history.
Sharp edges and ice-cold blues define Tsubusa Kato's tea bowl construction. Working exclusively with clay from New Zealand and a highly reactive opalescent glaze, Kato emphasizes and accents the natural flaws in clay to create a bowl with the appearance of a frozen landscape.
Akio Niisato
(1977-present),
Blue Tea Bowl
, C20845AP
Akio Niisato's perfectly-rounded porcelain bowl is disrupted by the indentation of a thumb so that the chawan resets seamlessly in the palm of the hand. Niisato's unassuming form and decoration feels contemporary and sleek, yet the materials and technical precision rival the most adept sculptors. Niisato's subtle brilliance continues to gain reconition. The artist won the Japan Ceramic Society Price in both 2020 and 2021, and his procelains are in collections in the the United States of America, Europe, and Japan.
Equipped with a hammer and his hands, Hirotomi Maeda first inlays gold and silver filaments before pounding the flat sheet metal into an oblong shape. As the form elongates, so too do the gold and silver alloys, stretching out across the surface like woven threads. The textured indents playful contrast against the delicate intricacy of the smooth, uninterrupted alloy veins, creating a complex network of inlaid metal throughout the exterior of the vessel. Maeda's mastery was recognized at the highest level when one of his metal vessels was presented to emperor Naruhito at his coronation.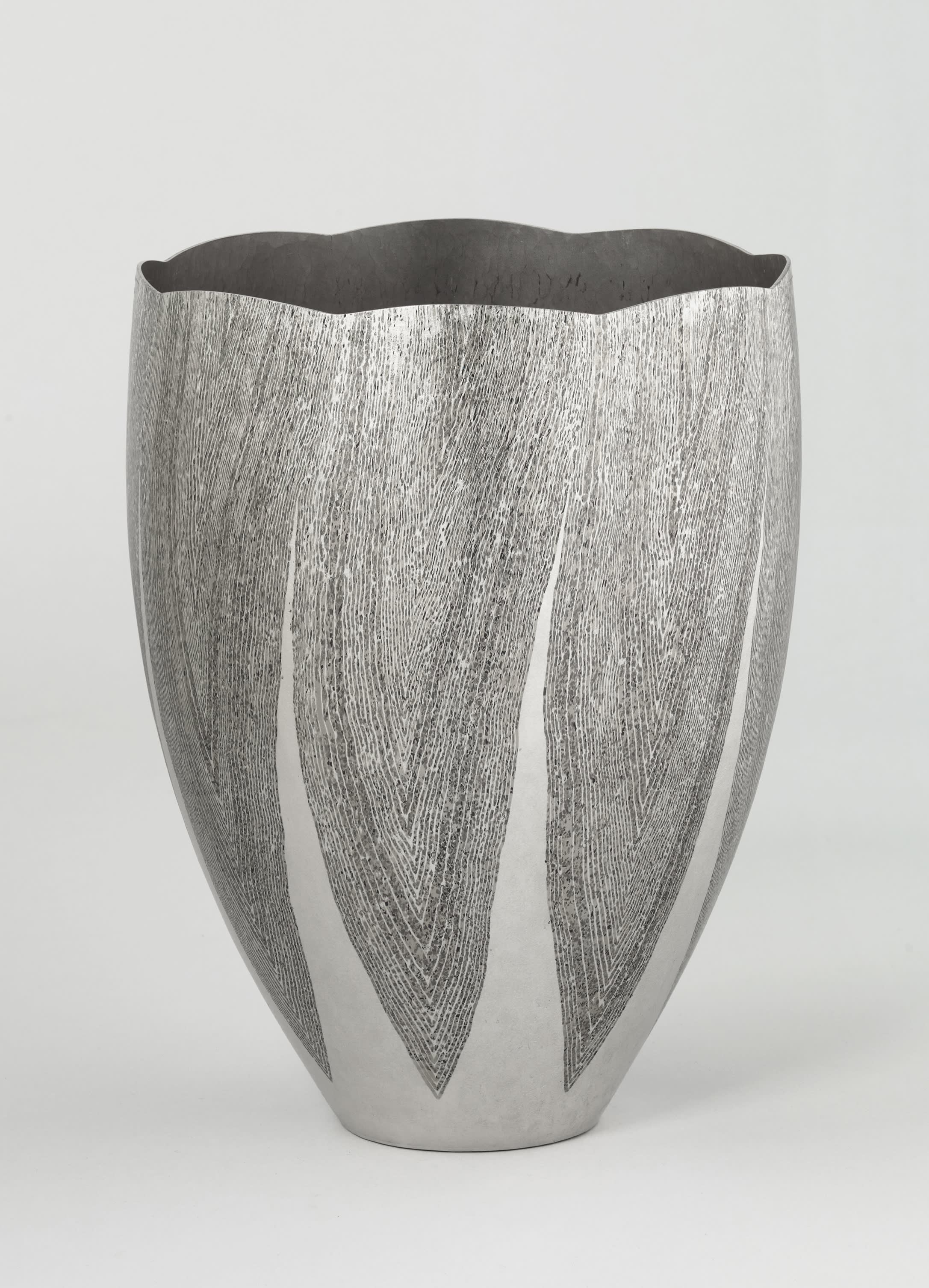 Hirotomi Maeda
(1961-present),
Spirit of the Mountain
, A25278
Ippodo Gallery is honored to present this extensive exhibition of contemporary Japanese kogei at Design Miami 2022. Please join us in celebrating the work of these masterful artists from November 30th until December 4th in Miami Beach, FL.