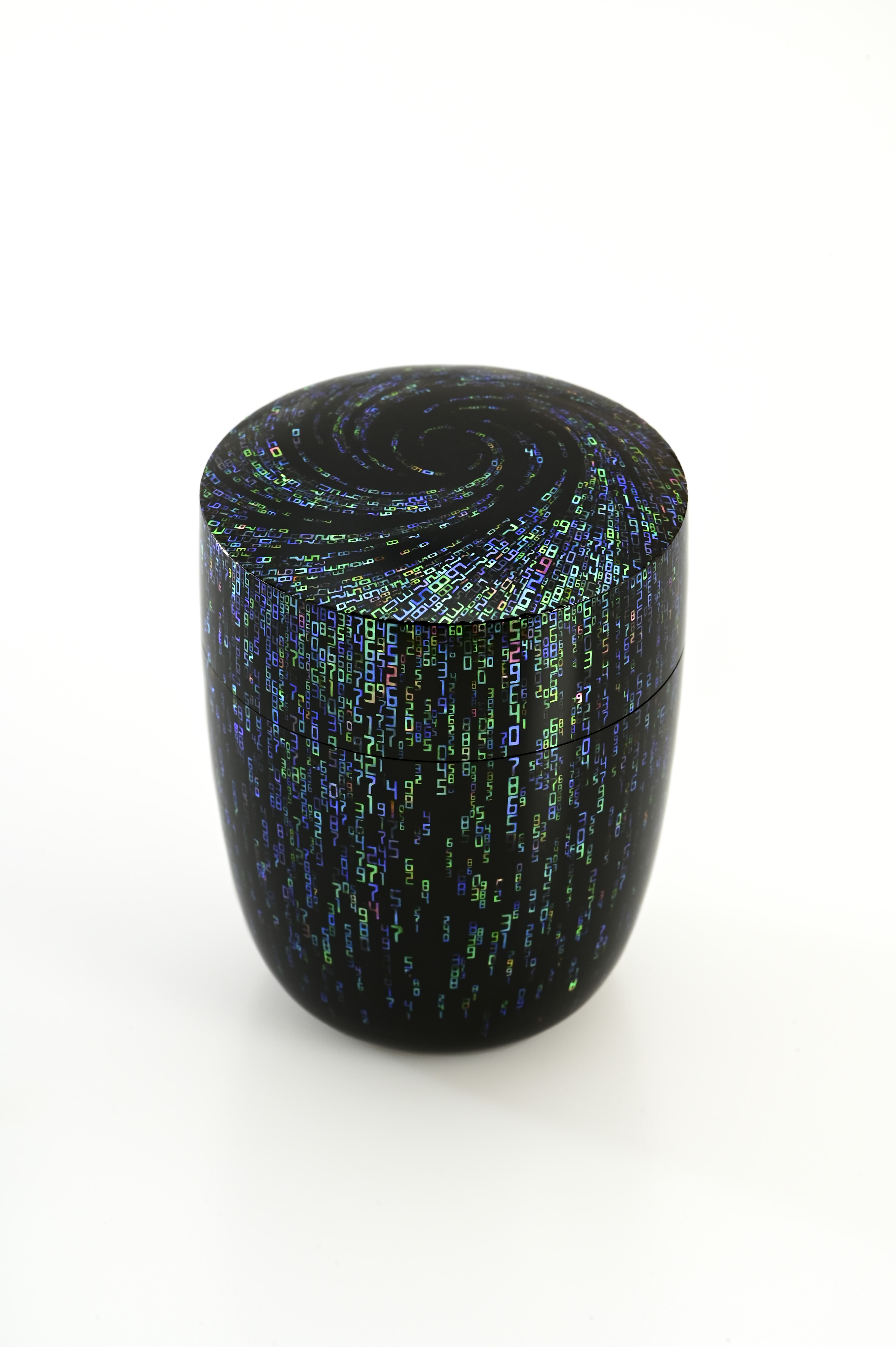 Terumasa Ikeda (1987-present), Winter Wind, C25376
Ippodo Gallery is thrilled to exhibit Extreme Surfaces at the Design Miami art fair from November 30th until December 4th, 2022 in Miami Beach, Florida. A celebration of Japanese kogei ('technical fine arts'), our booth (G36) features the work of twenty-two artists who capture and accentuate the beauty of traditional Japanese materials.
Extreme Surfaces is comprised of three categories, but this journal focuses on the techniques of twelve surface-active artists. Not bound together by materials or technique, surface-active artworks share ornamented external appearances and a certain richness of surface produced by layer after layer of application.
A raden specialist, Terumasa Ikeda joins the mother-of-pearl with the black urushi lacquer surface, illuminating the dark box with iridescent laser-cut Arabic numerals. Though raden is a traditional technique, Terumasa Ikeda manages to present a contemporary innovation inspired by the LED digital displays of the technological age.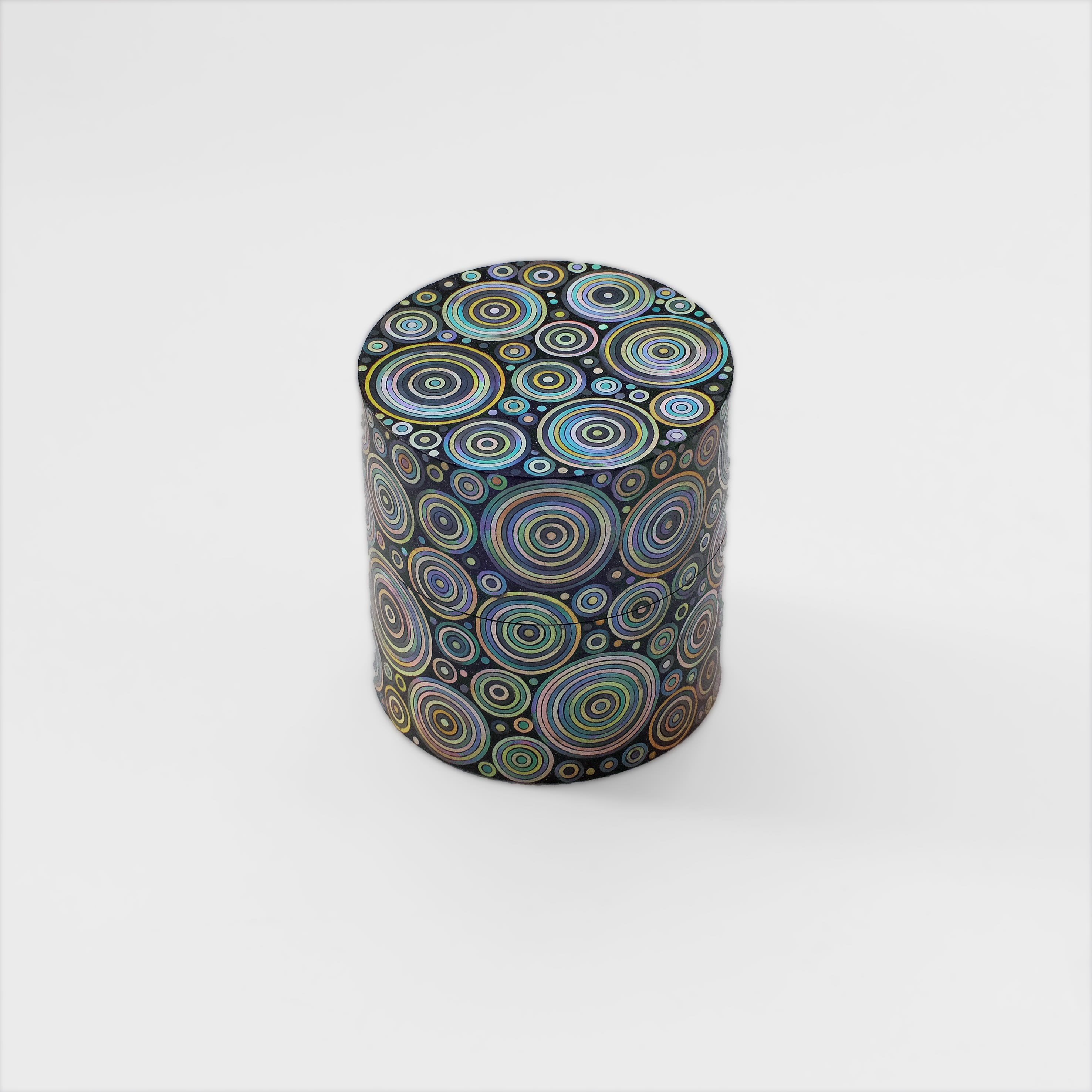 Shinya Yamamura (1960-present), Luminous Shell Nakatsugi Tea Caddy, C25380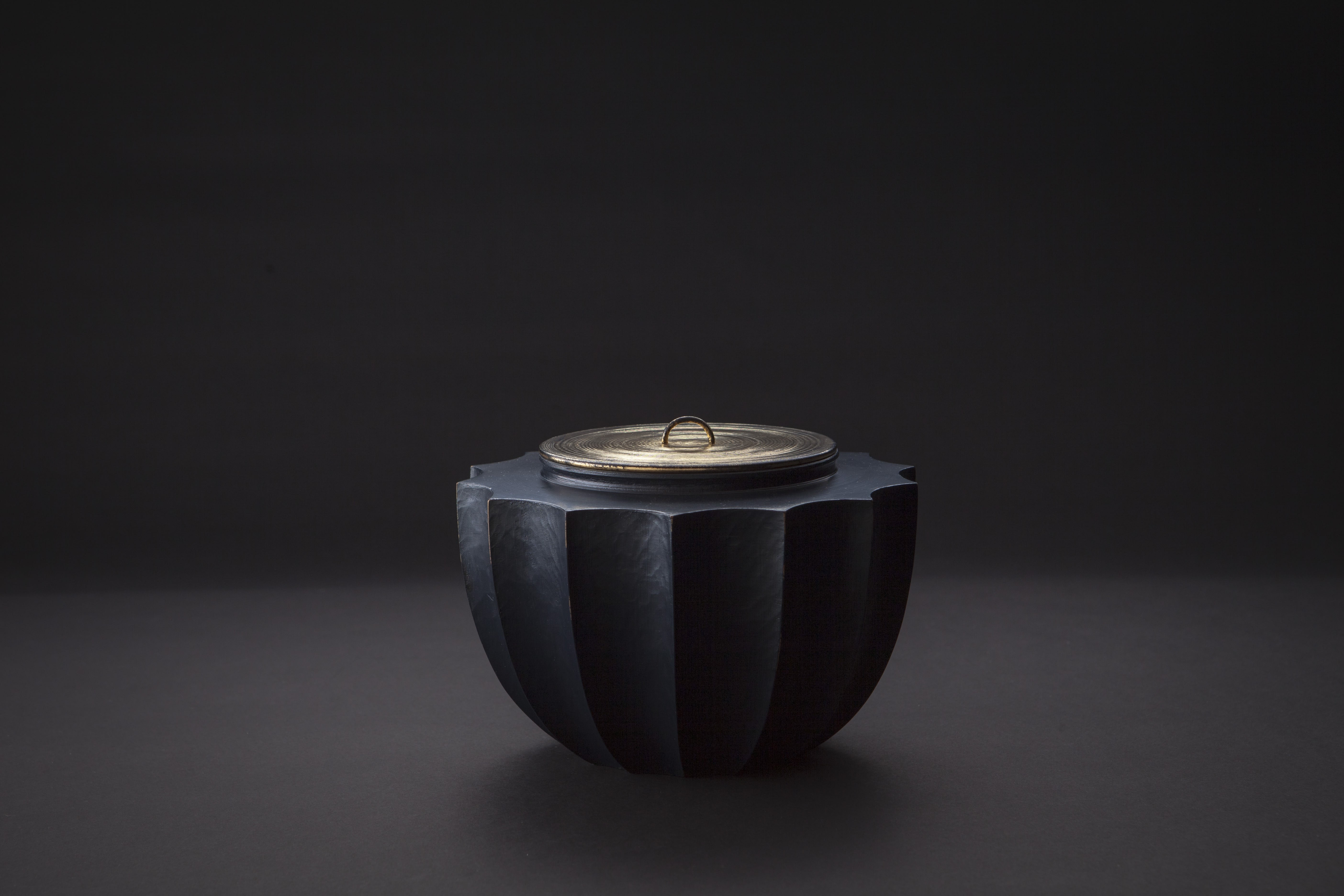 Jihei Murase (1957-present), Varnished Black Water Vessel, C25047
Shinya Yamamura's abalone mother-of-pearl inlay technique (raden) is composed of concentric rings, hand cut by the artist himself, fused to the surface of a wooden box or chairei (tea caddy) with innumerable coats of lacquer. While the adhesive is wet, Yamamura tenderly arranges the patterning. Each ring refracts color and light; but as a whole, the pearlescence of the abalone shells compound, gleaming with kaleidoscopic color.
The charm of Jihei Murase's lacquerwares is in his ability to preserve the natural splendor of the wood while applying traditional Japanese techniques and a creative imagination for form. The deep indigo of this mizusashi (water jar), verging on black, is balanced by shimmering gold dust—sealed with clear lacquer—that lines the interior Murase rounded by hand. Jihei Murase is a pioneer of the wood mizusashi curving technique; elements of which are present in each of his works.
Koji Hatakeyama (1956-present), Eight Faces, C25280
Ken Matsubara (1948-present), Sun & Moon, A25271
Koji Hatakeyama is a celebrated metalsmith, renowned for his bronze sculptures set ablaze with alchemical reactions that dance across the multitudes of faces. Hatakeyama's works are exhibited extensively in public collections at the Victoria & Albert in London, the Philadelphia Museum of Art, Oxford's Ashmolean Museum, the collection of the Danish Royal Family, the National Museum of Modern Art in Tokyo, and countless other prominent institutions. The masterful engineering of the bronze vessels has won Hatakeyama the Sano-Rennaisance Metal Art Casting Grand Prize and the Takashimaya Art Prize.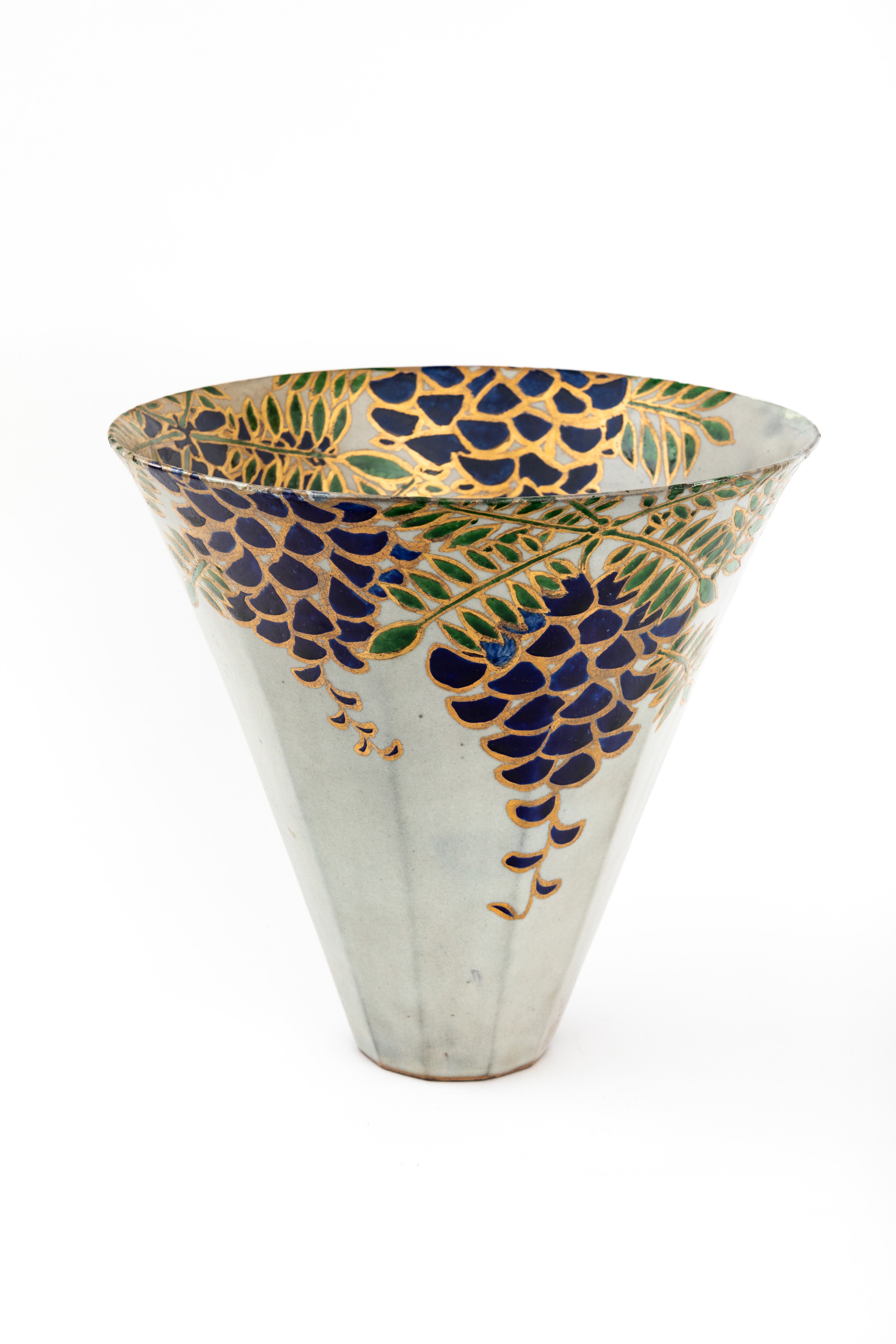 Shion Tabata (1947-present), Wisteria Flower, C25174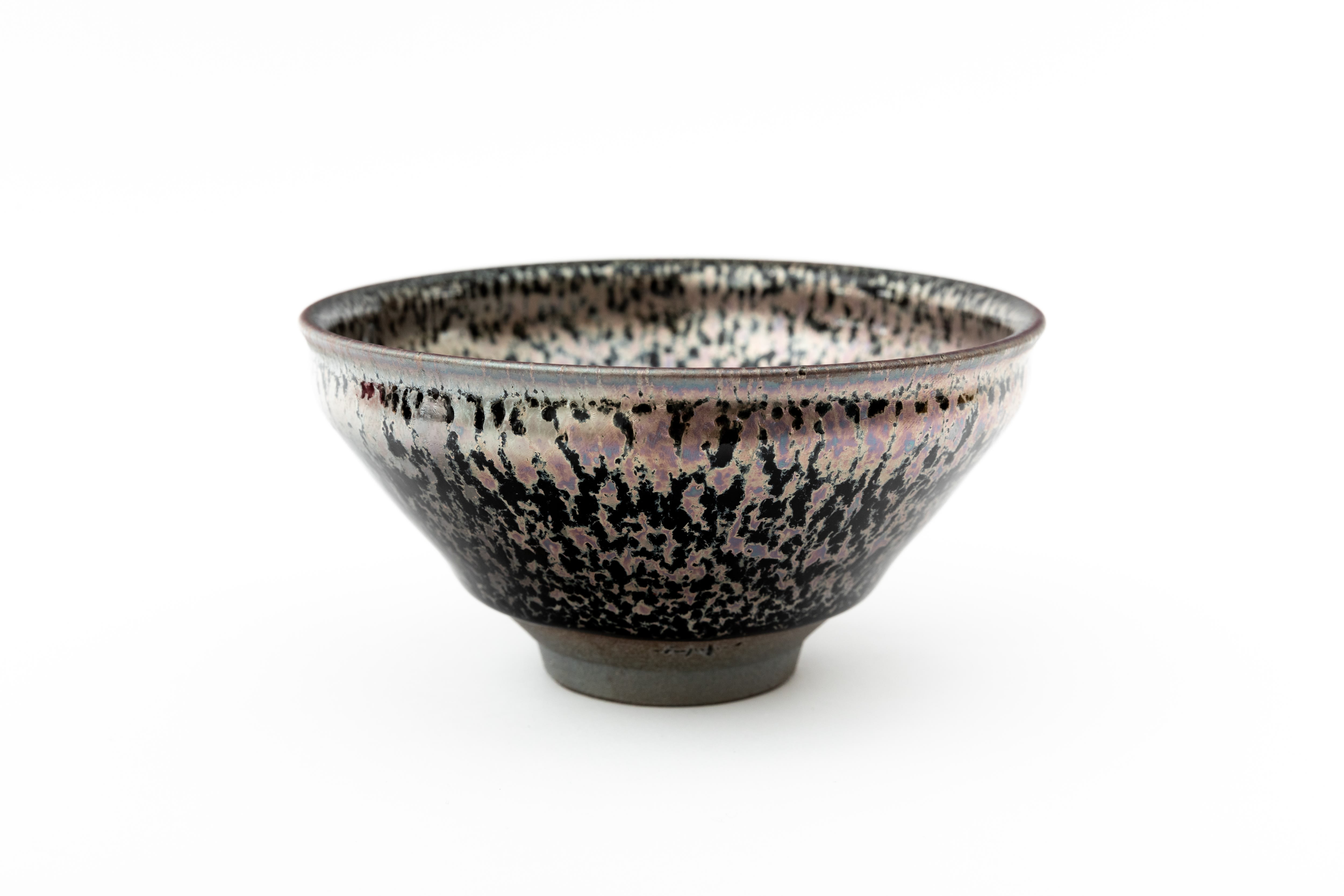 Noriyuki Furutani (1984-present), Tenmoku Tea Bowl, C24207
Evocative of rinpa, a technical school of the Edo age known for their sophisticated aesthetics, Shion Tabata's curved jar is suspended in an air of elegance. Trained by looking at Edo antiques, Tabata chooses vibrant pigments, thick gold countours, and philosophical motifs that are reminscient of masterpieces from the Edo period's hayday. Wistiria, which grows upwards towards the heavens, is a classic symbol of longevity and blessings.
Noriyuki Furutani's attention is on the tenmoku style tea bowl, which came to Japan from China as one of the most formal shapes. The oil spotting pattern of this Tenmoku bowl is a classic pattern, emphasizing the perfect contours of the bowl with a glaze like a miniature universe.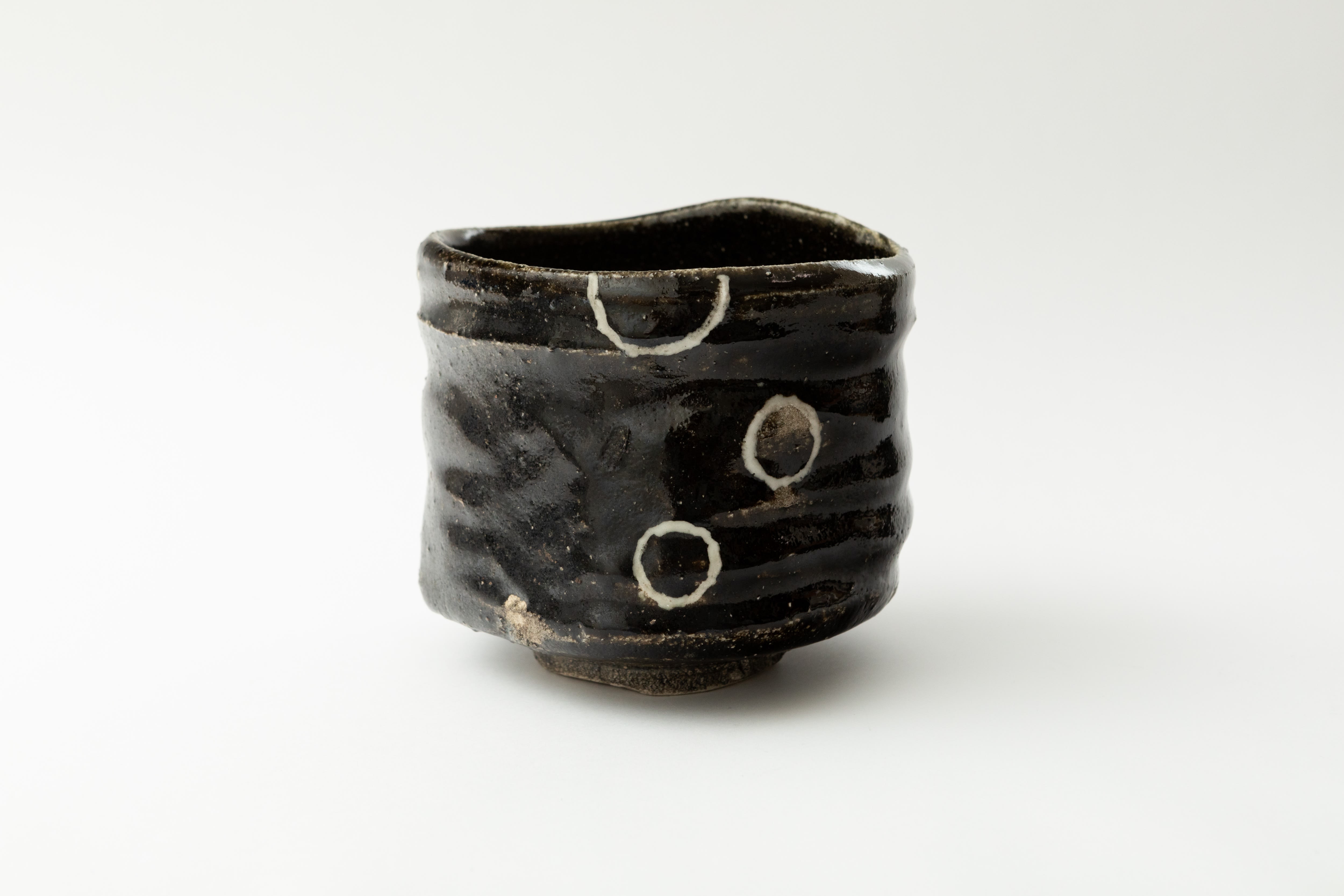 Kai Tsujimura, (1976-present), Oribe Tea Bowl, C23022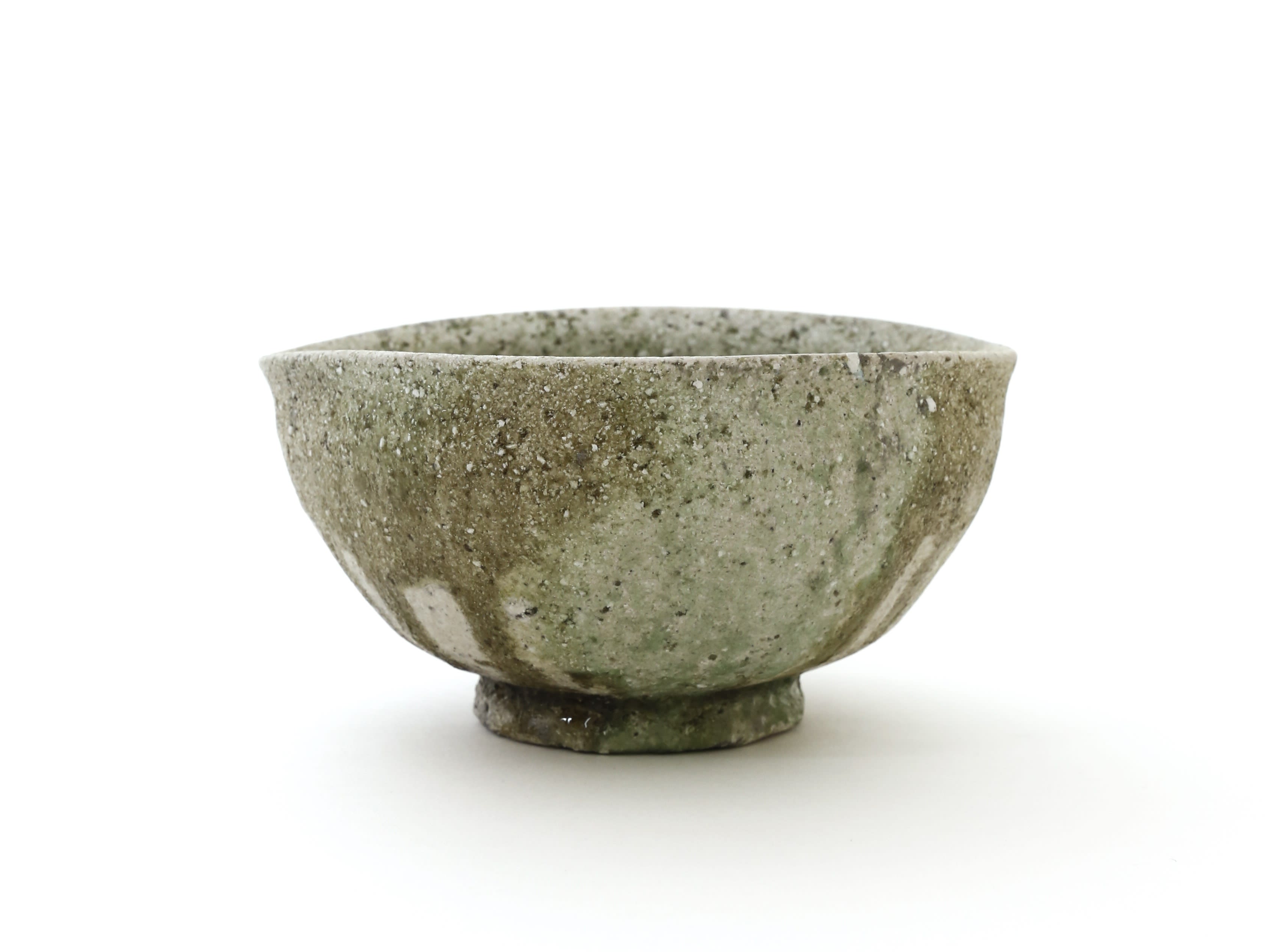 Yui Tsujimura (1975-present), Yohen Kofuki Bowl, C19774NP
Brothers Kai and Yui Tsujimura are adept ceramicists equipped with the techniques of their father, famed potter Shiro Tsujimura, though the two have each found their own voice. For Yui, this is the natural ash glaze, which he throws into the kiln during the firing. The ash crystalizes and becomes an oxidized green, crazing throughout. This effect contrasts against the round body sculpted both by hand and on the wheel. Kai, on the other hand, attends to a more traditional technique. Also wheel-thrown, Kai altered the structure of the tea bowl so that no one section remainds the same, in the irregular style of oribe style.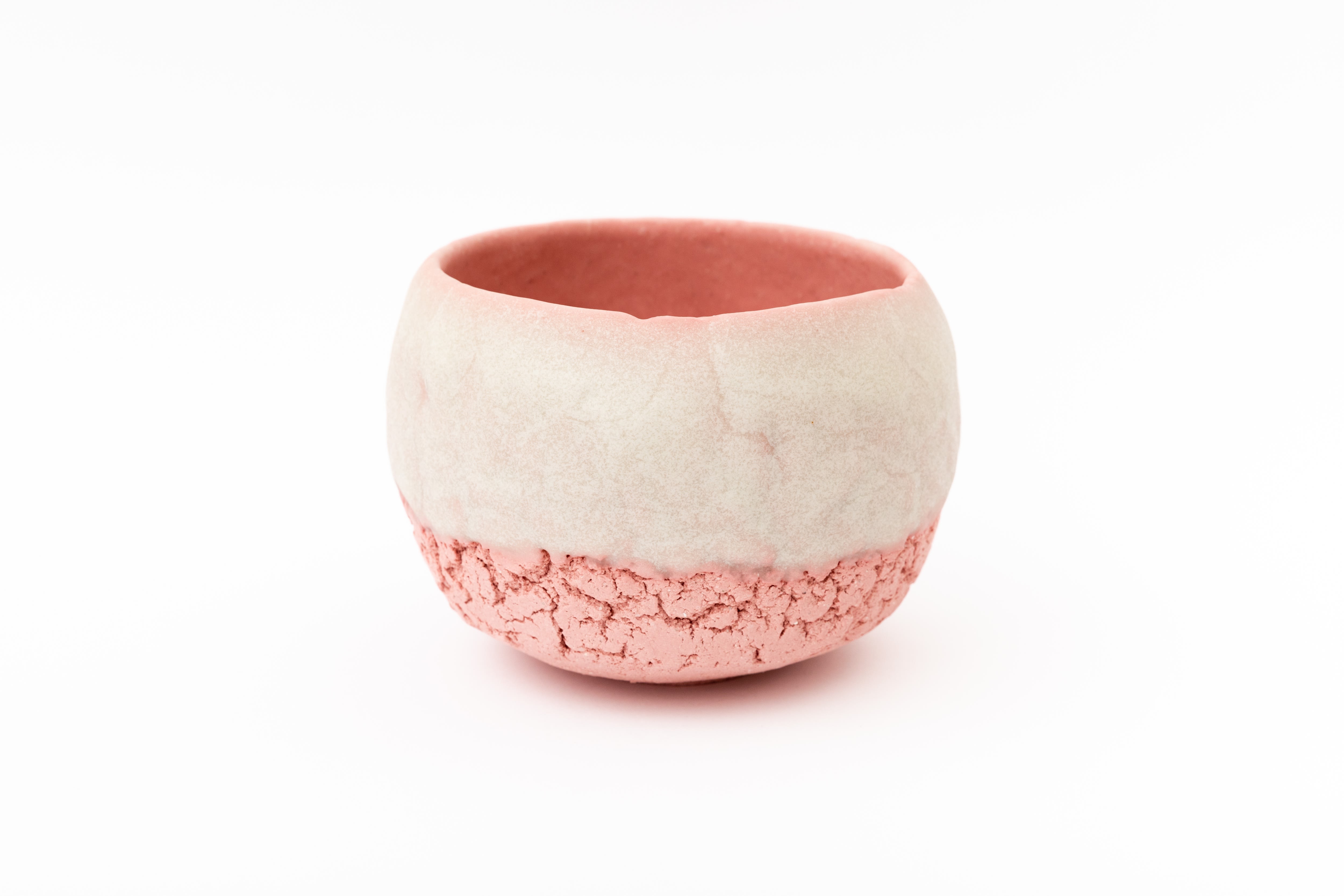 Tomoyuki Hoshino (1976-present), Sugar Glazed Tea Bowl, C24276
A simple but organic design, Tomoyuki Hoshino's bubblegum pink tea bowl plays with the dichotomy between glazed and unglazed ceramic. Hoshino's take on the tea bowl is youthful and soft, inspired by the silhouettes of a dancing women. Enticing like a sugary sweet, Tomoyuki Hoshino's bubblegum pink tea bowl is glazed with an opaque white that coats the crackling ceramic as a frosting.
Made of stoneware coated with a silver glaze, Yasuji Fujishira's tea bowl is reflective as a mirror, like a fluid film over the surface. Shaped by hand, the simple yet attractive ceramic feels natural and organic. Yasushi Fujihira's tea bowl is aesthetically inornate, but the magnificent glaze shimmers like the full moon.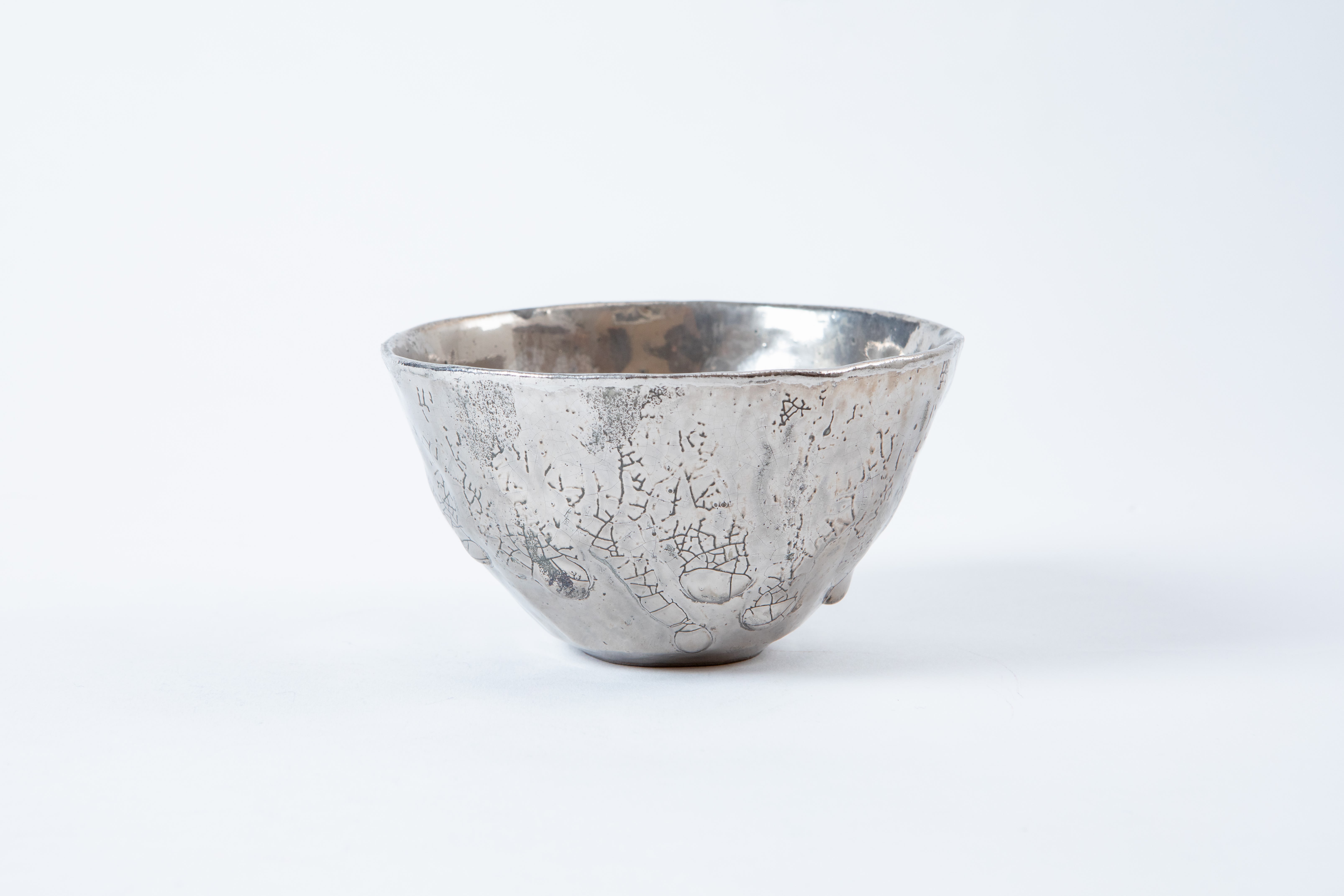 Yasushi Fujihira (1963-present), Tea Bowl, C22325NP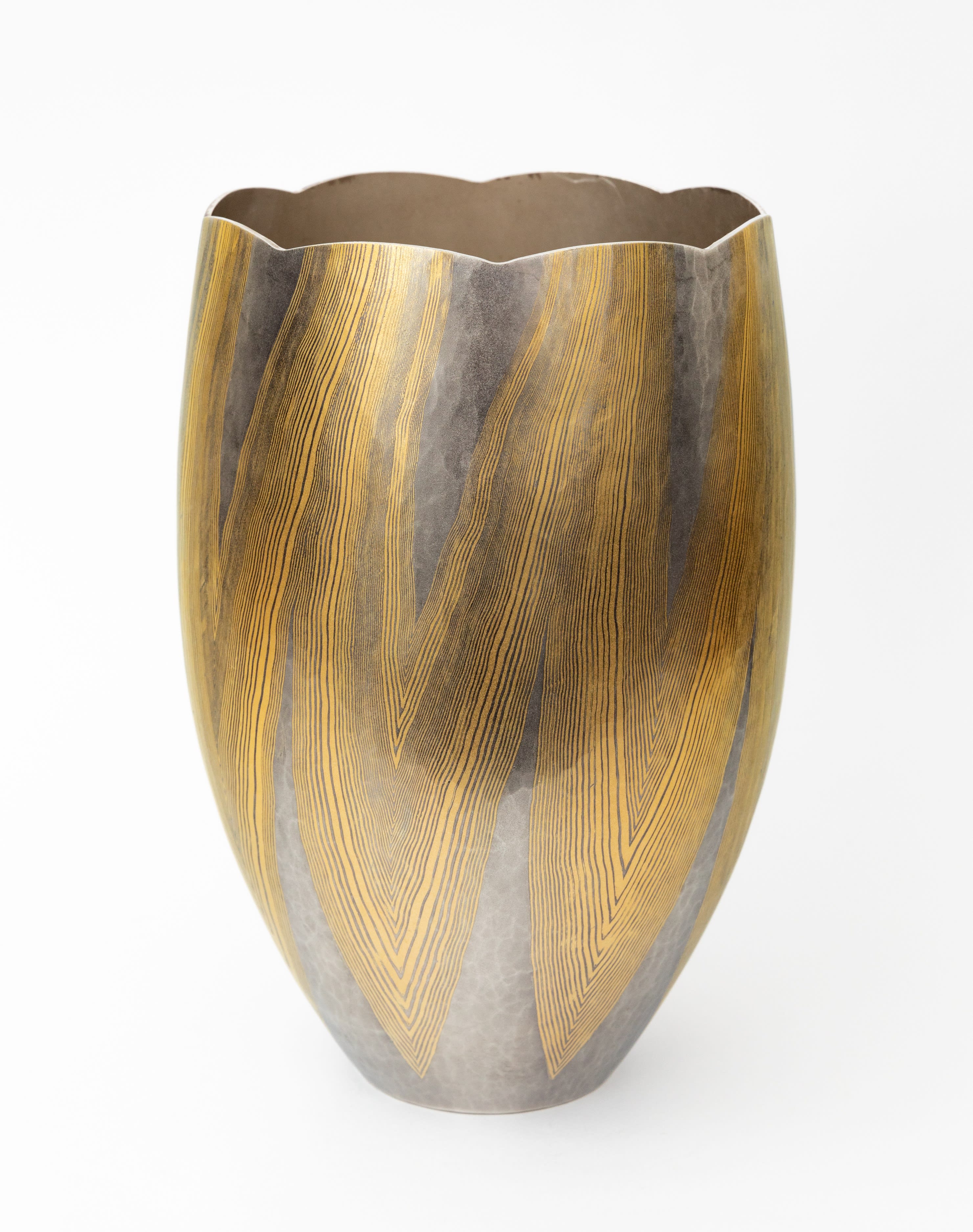 Hirotomi Maeda (1961-present), Lunar Waves, C24435
Hirotomi Maeda embeds gold, silver, and an alloy of the precious metals into the surface of the metal plating to create fluctuation waves. A master metalsmith, Maeda has created works for Japan's emperor, prized for their delicate patterning, precious metals, and iridescence.
Ippodo Gallery is honored to present this extensive exhibition of contemporary Japanese kogei at Design Miami 2022. Please join us in celebrating the work of these masterful artists from November 30th until December 4th in Miami Beach, FL.