Shigeru Uchida (1943–2016), Tea House "Ji'An," F257P
Extreme Surfaces is Ippodo Gallery's debut at the Design Miami art fair, and we are truly humbled by the enthusiasm of the thousands of fans that visited our booth (G36) between November 30th and December 4th at the Miami Beach convention center.
A celebration of Japanese kogei ('technical fine arts'), the Extreme Surfaces exhibition will continue at Ippodo Gallery's New York City location (32 E 67th Street, 10065, 3rd Floor) from January 12th until February 16th, 2023. Subtitled "Cutting Edge Kogei," this showcase primarily features the new work of twenty-two artists who not only preserve traditional Japanese techniques, but invigorate the relevance of kogei in the world of contemporary art.
Extreme Surfaces is comprised of three categories, but this journal focuses on the techniques of three vector-active artists. A common throughline exists between the works of Shigeru Uchida, brothers Hajime and Yasuo Ishikura, and the renowned Hirotomi Maeda that is not specific to technique or material. What constitutes the vector-active category are geometric shapes that join seamlessly along linear axes.
Shigeru Uchida's Ji-an ("portable hermitage") Teahouse—made from bamboo and Hinoki wood—was a highlight of the exhibition, welcoming hundreds of visitors per day and playing host to twice-daily abridged tea ceremonies performed by Ippodo Gallery director Shoko Aono. One of Japan's most renowned interior designers of the 20th century, Uchida—who passed in 2016—is best remembered for his modern designs and service as director of Kuwasawa Design Institute from 2008 until 2011. Uchida's reconfigurable abode is constructed with cut-to-fit seams secured with removable wood dowels.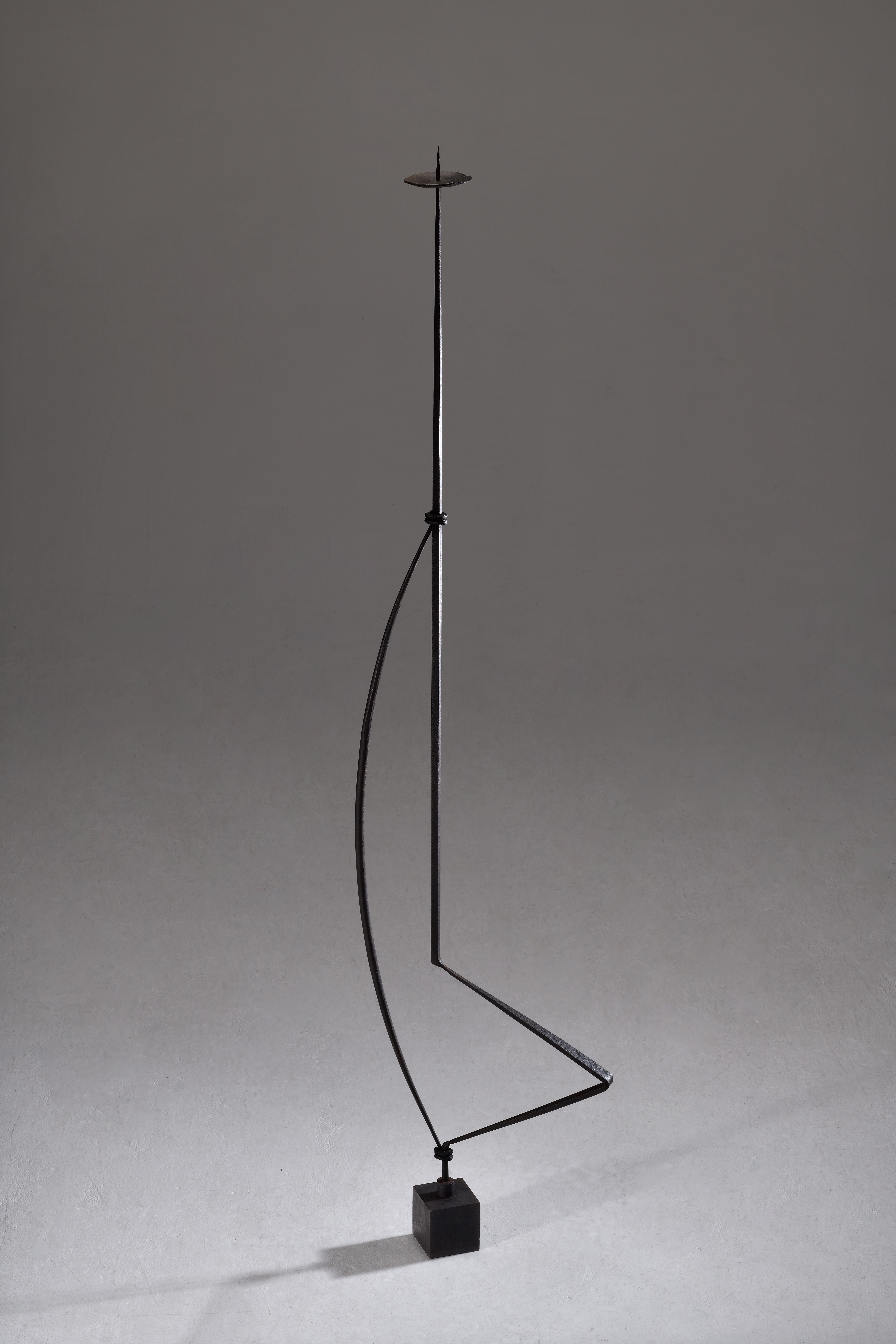 Hajime and Yasuo Ishikura, (E) Candle Stand, B25276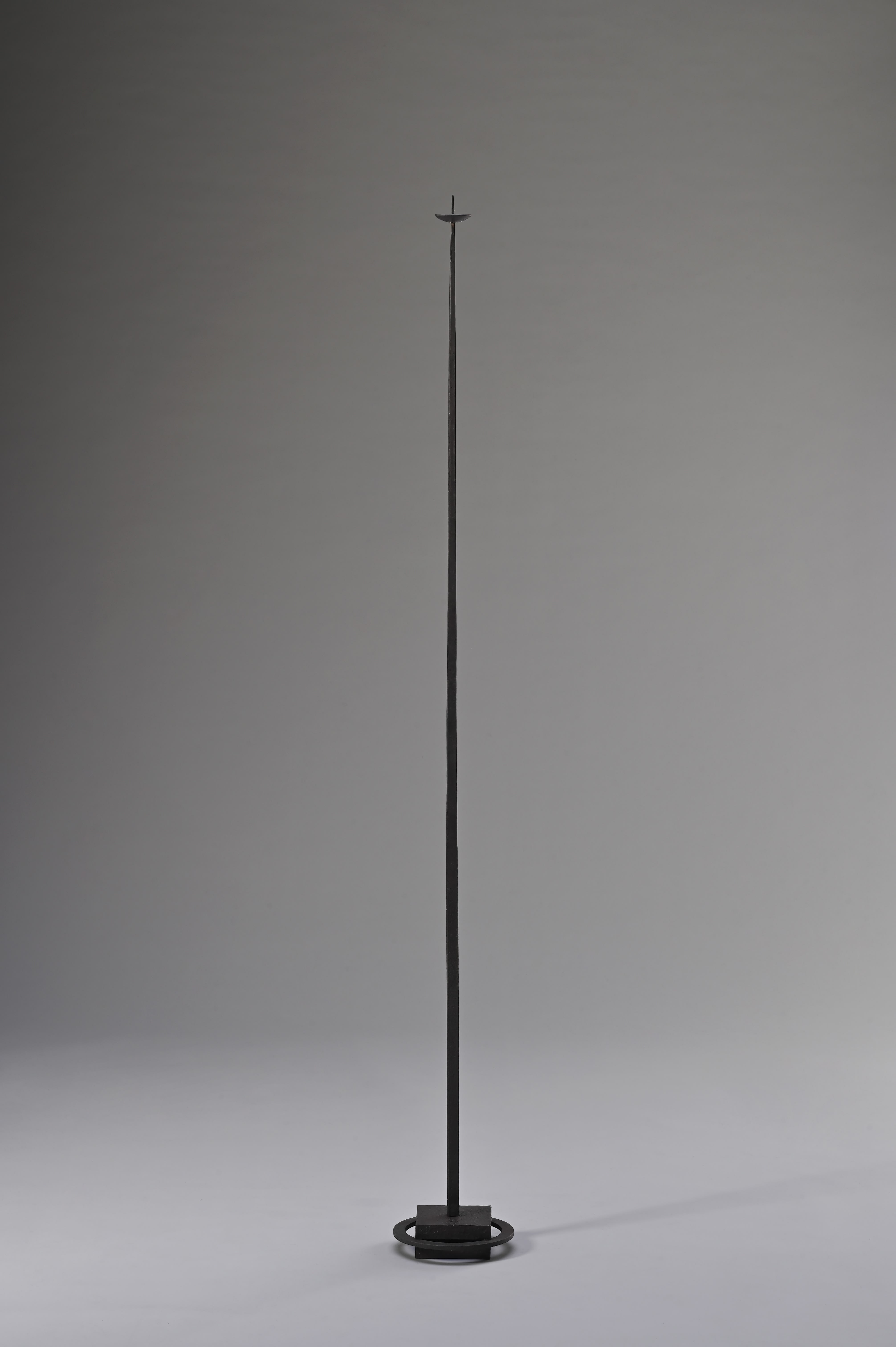 Hajime and Yasuo Ishikura, (B) Candle Stand, B25273
Hajime and Yasuo Ishikura
,
(B) Candle Stand,
B25273 (Second View)
The simple structure and iconic rustic-black burnish are characteristics of the Ishikura brothers' hammering techniques. Forged at their shared studio in Shiga prefecture, the metalworks of Hajime and Yasuo Ishikura have been featured in international metal design exhibitions and publications in Germany and Japan. The Ishikura brothers' architectural integrations and forged artworks are in Hita City's cultural center, the Kurashiki Central Hospital, and Toranomon Shiva Church.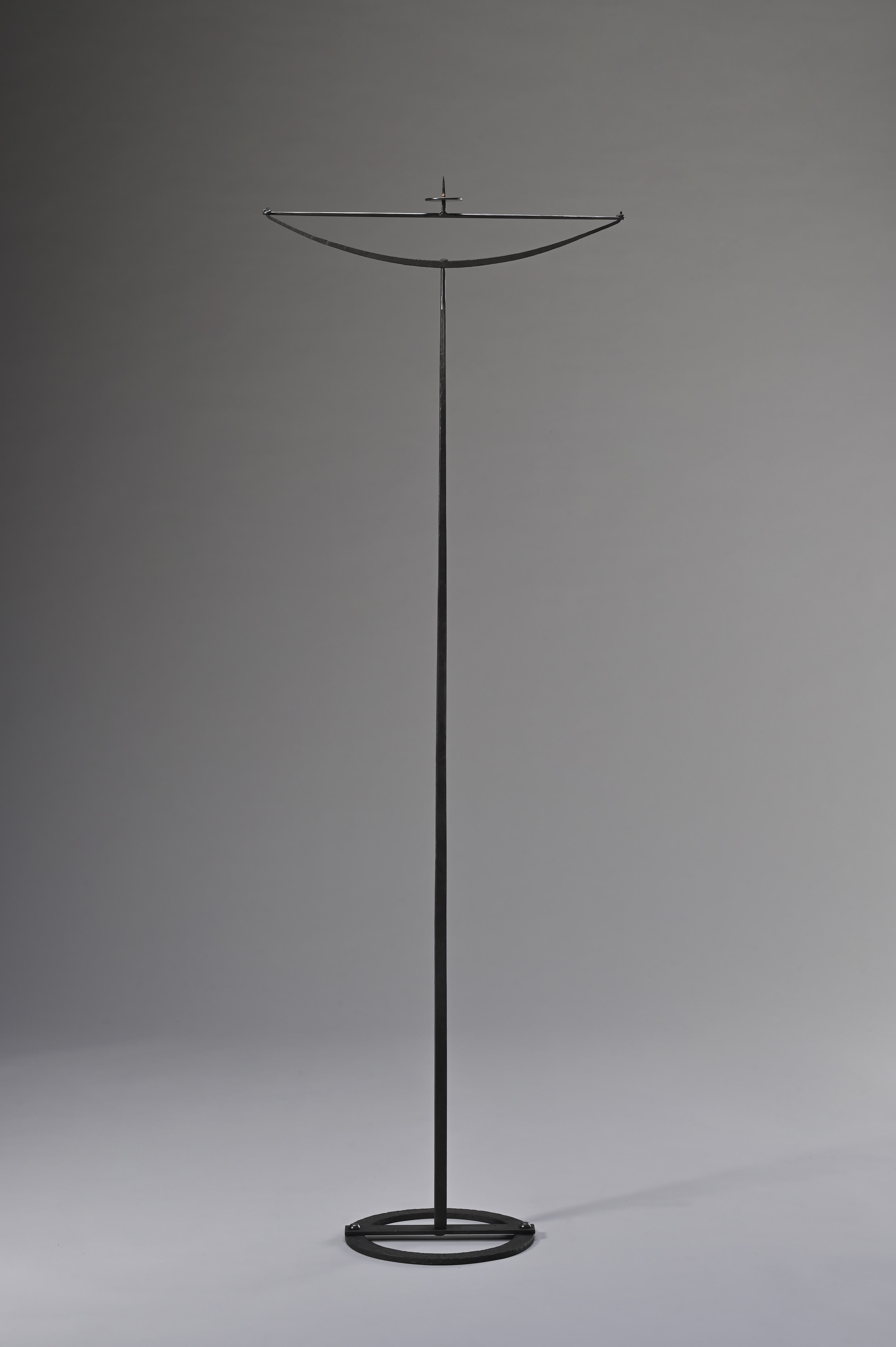 Hajime and Yasuo Ishikura, (D) Candle Stand, B25275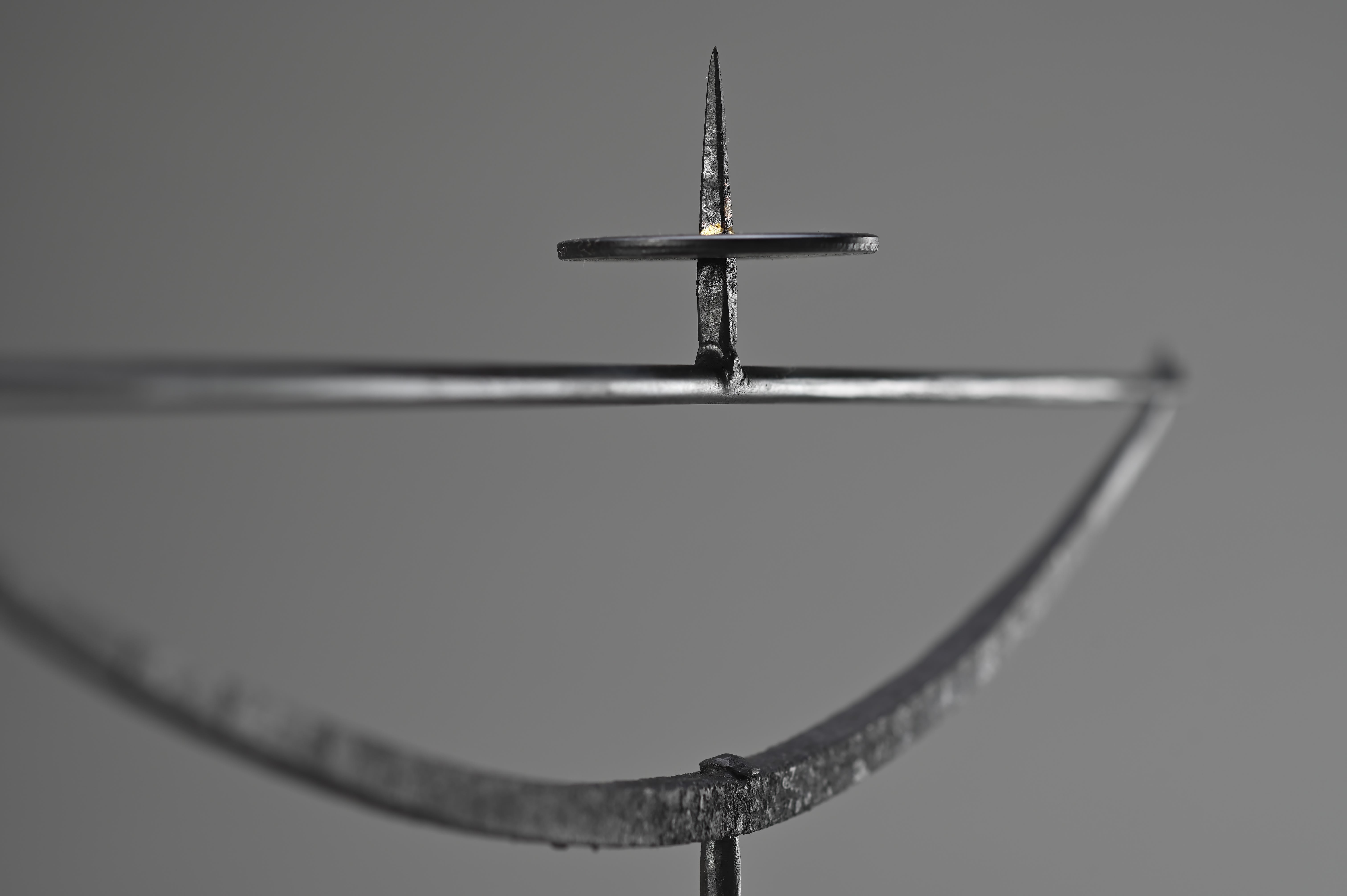 Hajime and Yasuo Ishikura, (D) Candle Stand, B25275 (Second View)
The geometrically simple shapes of the brothers' candle stand series explore unique forms and axes in iron. The construction of the candle stick is based around parallel or perpendicular bars that maintain the balance of the center of gravity.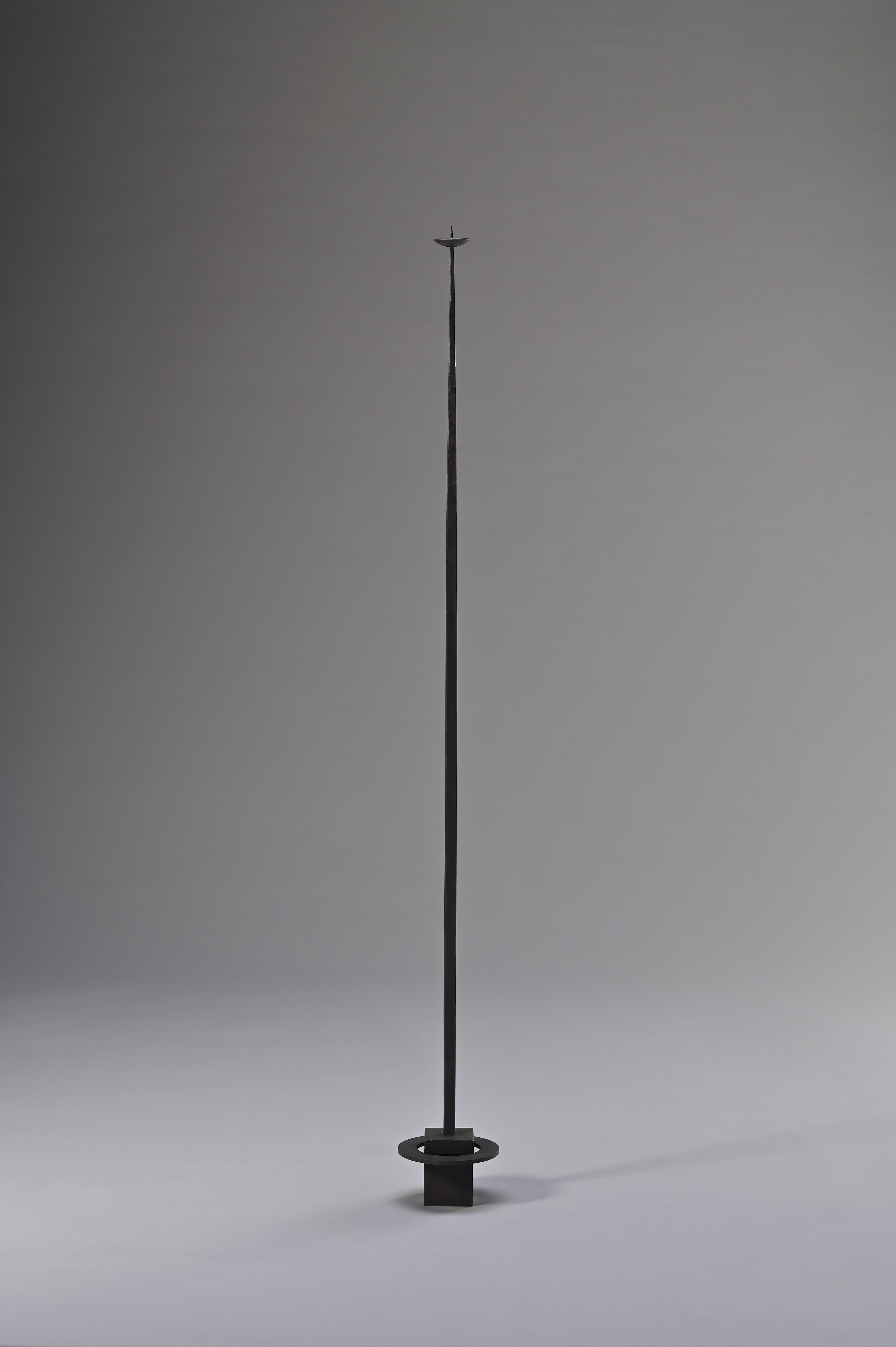 Hajime and Yasuo Ishikura, (A) Candle Stand, B25272
Hajime and Yasuo Ishikura, (F) Candle Stand, B25277
Equipped with a hammer and his hands, Hirotomi Maeda inlays alloy filaments and pounds the flat sheet metal into an oblong shape. Maeda—Professor of Fine Art at the prestigious Tokyo University of Art—has a celebrated career, including top awards at national arts exhibitions, Japan's Purple Ribbon, and honors including commissioned metalworks for Osaka's Kenshoji Temple and to commemorate the ascension of Emperor Naruhito in 2019. The process to create a single vessel is arduous; in the face of intense heat, Maeda's hammer-in-hand technique draws on technologies developed in the Mesopotamian period. The result betrays the harsh conditions Maeda endures during construction. The gold sheet inlaid with the traditional shibuichi alloy is soft and supple, completed with a traditional Japanese patina.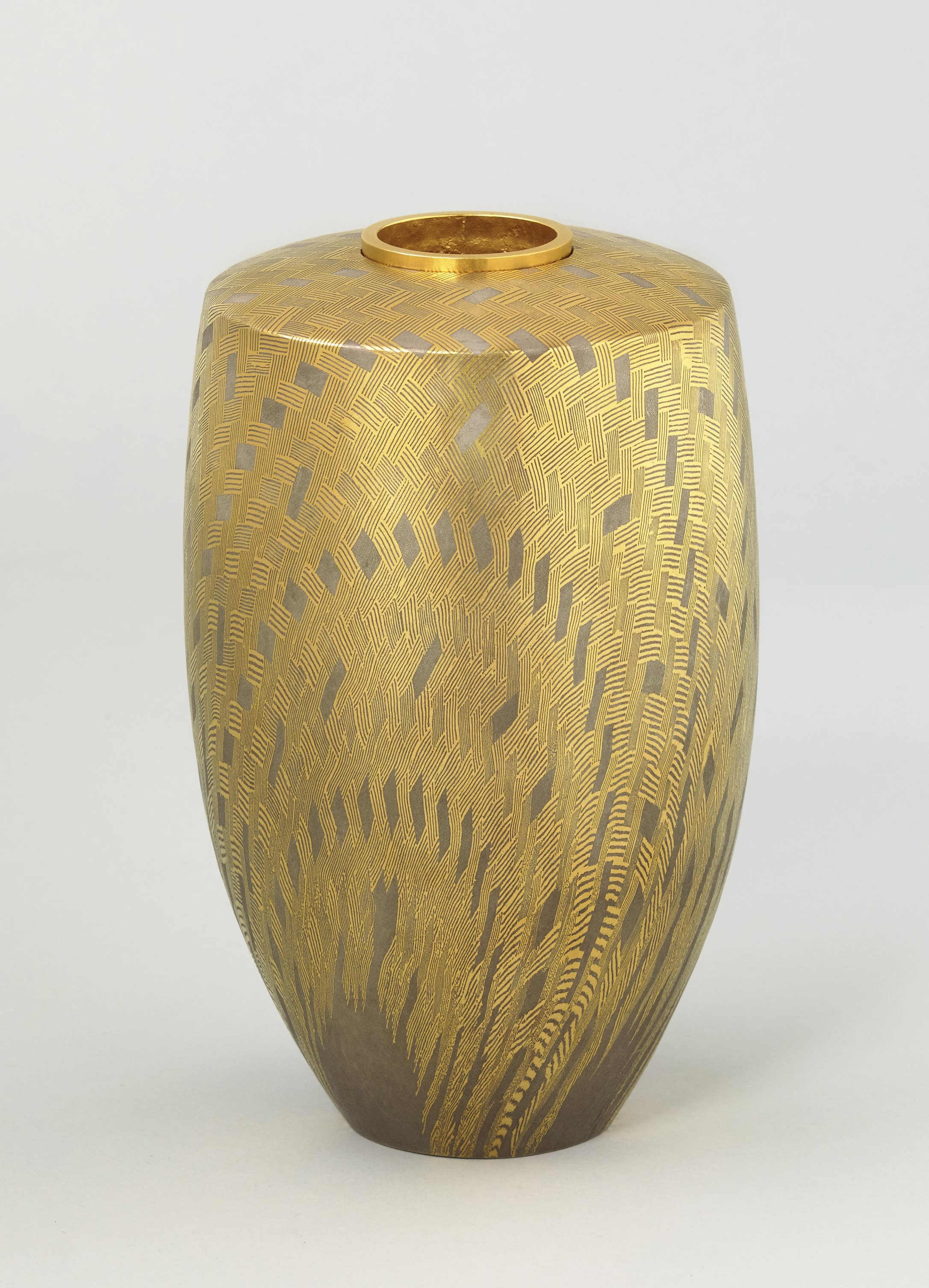 Hirotomi Maeda (1961-present), Illustrious Reflection, A25279
Ippodo Gallery is honored to continue presenting this extensive exhibition of contemporary Japanese kogei in New York City at our 32 E 67th St., 10065, 3rd Floor location. Thank you sincerely for the collective support shown at Design Miami 2022, and we hope that you will please join us at the opening reception for Extreme Surfaces on January 12th, 5:00PM until 8:00PM.