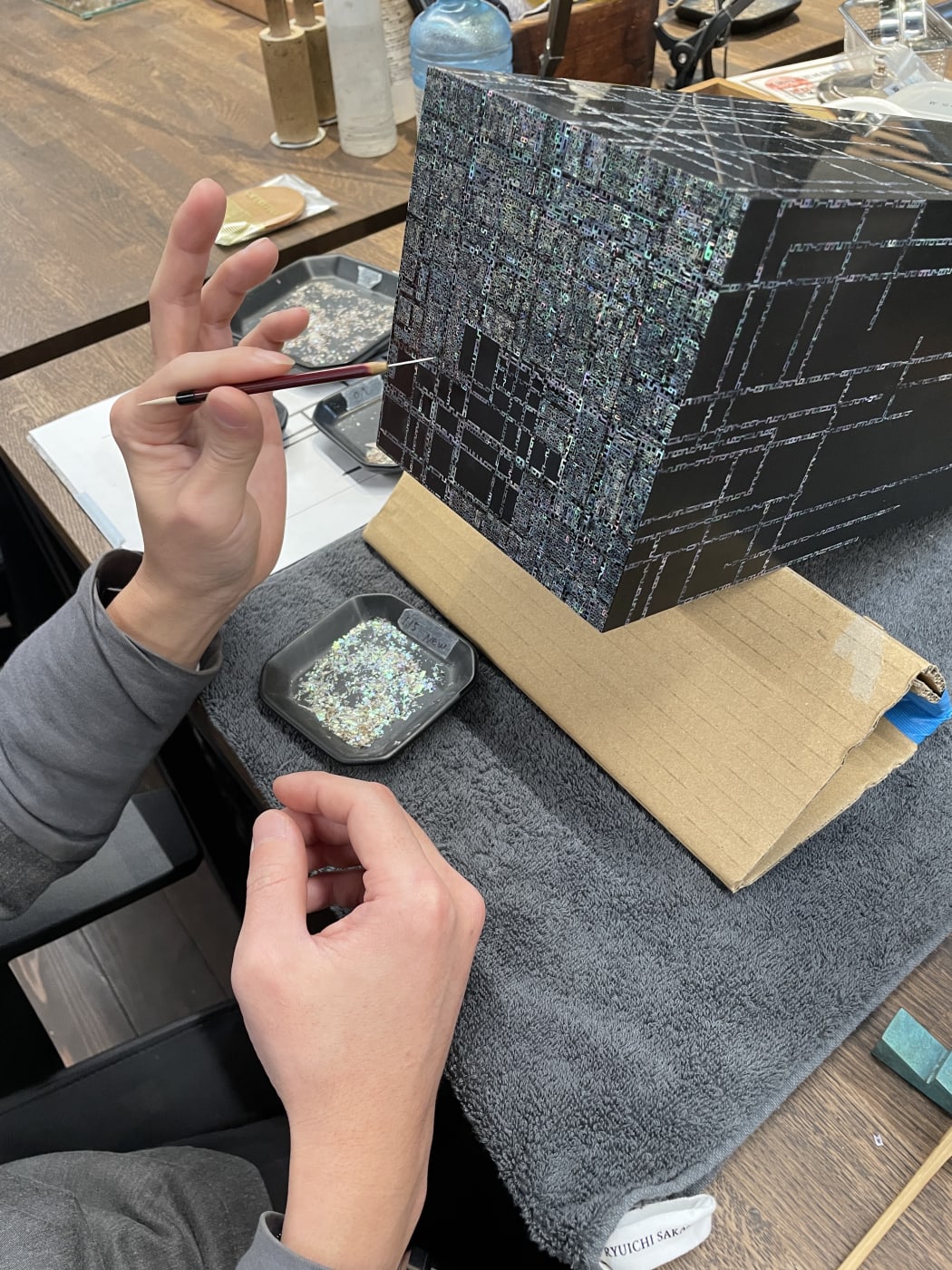 Ippodo Gallery is honored to present Terumasa Ikeda: Iridescent Lacquer for Asia Week 2023, the debut overseas exhibition of the groundbreaking lacquer artist working in the traditional raden medium. Raden is a form of lacquer decoration that produces an illustrious artwork of shimmering kaleidoscopic colors.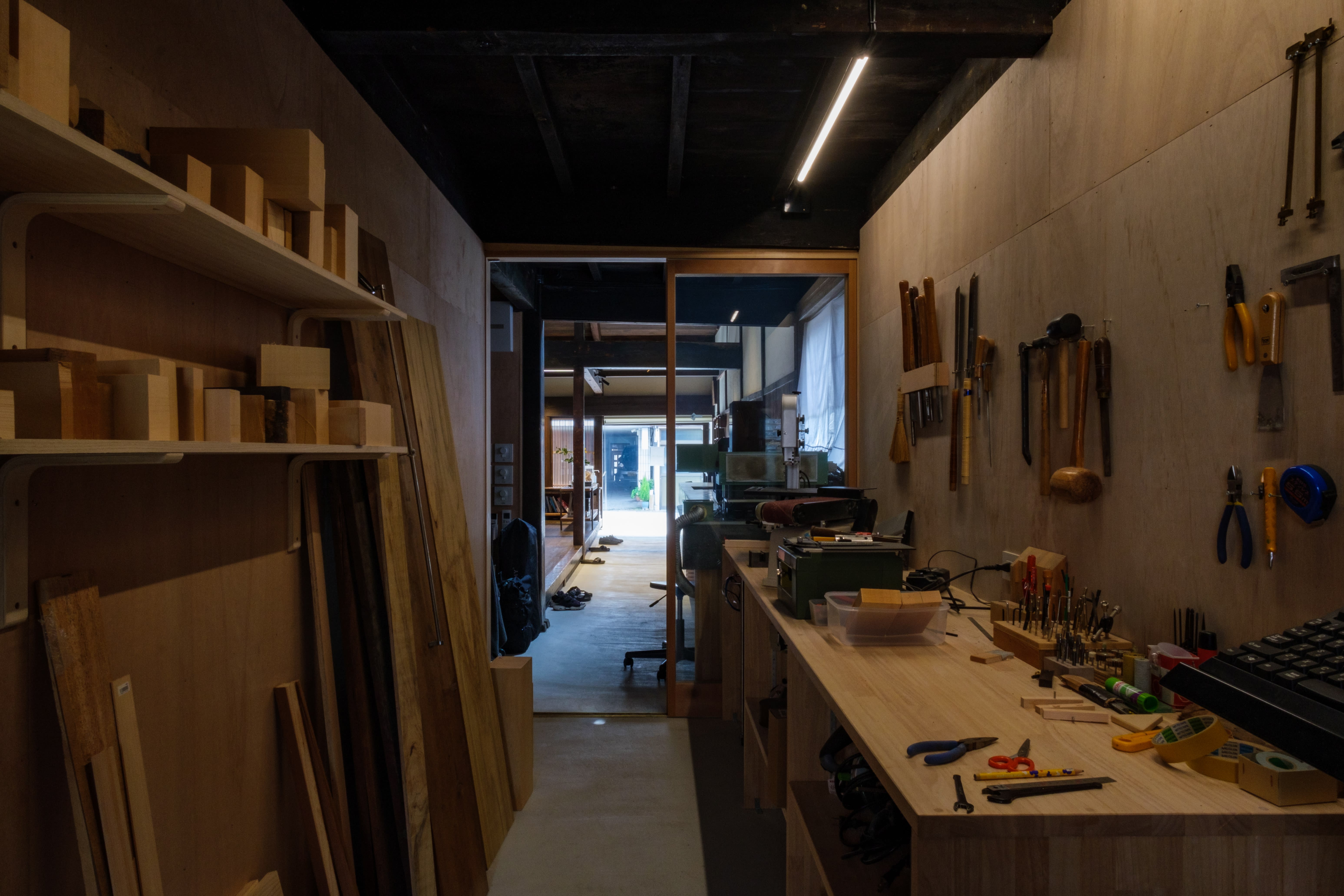 The Woodshop at Terumasa Ikeda's Studio, Kanazawa (2022)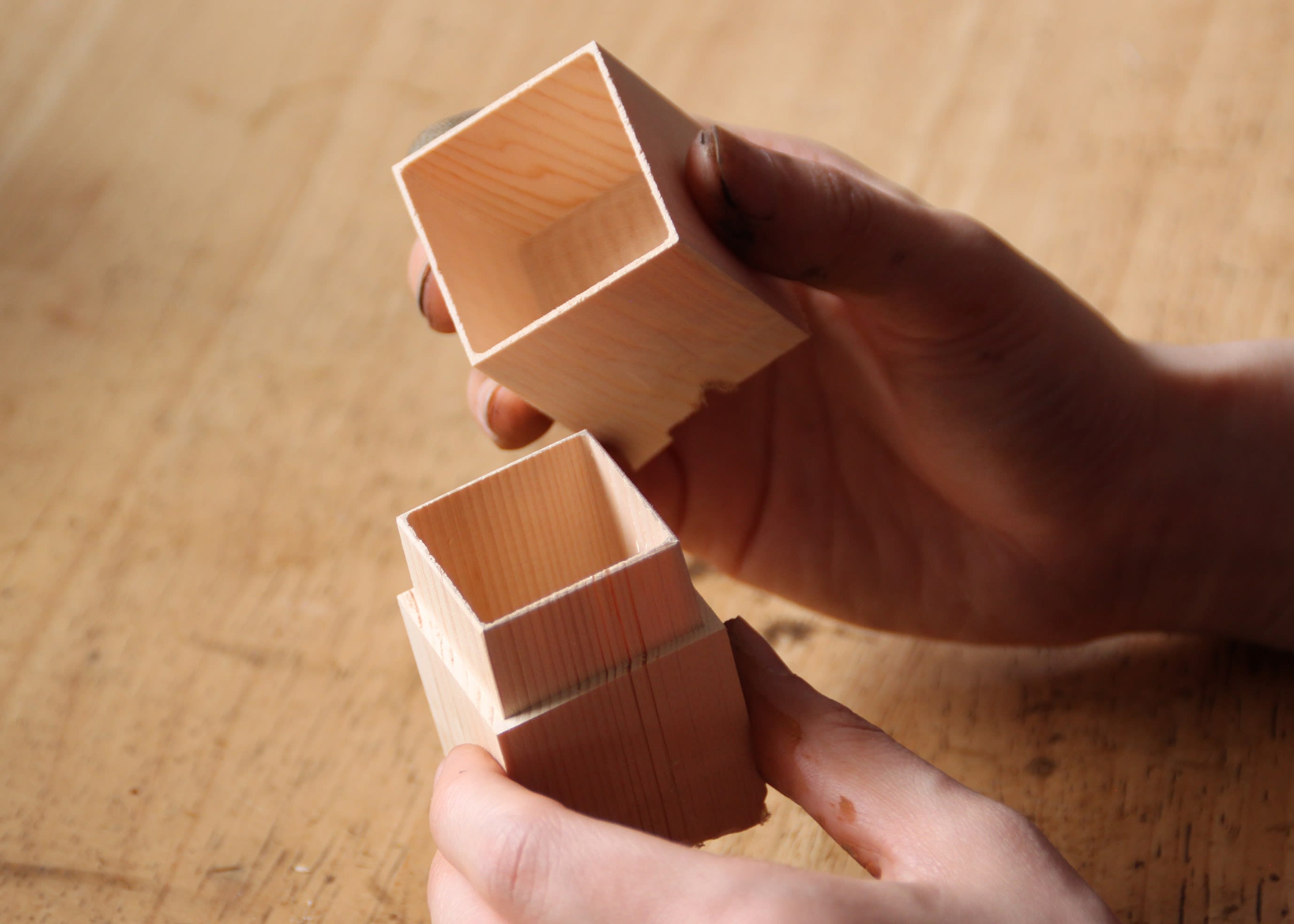 Unvarnished Kiso Hinoki Cypress Base, Kanazawa (2022)
Ikeda first decides the shape to cut the kiso hinoki cypress wood, on which he will superimpose a motif made from mother-of-pearl, turbo snail pearl, and two variants of the same species, silver- and black-lipped oyster.
Blueprint of Terumasa Ikeda's
Beginnings (Incense Container)
, Kanazawa (2022)
The initial creation is not a quick task; the wood must rest for years before it is shaped in order to avoid any warping once the decorative process has begun. Having settled on a triangle, Ikeda prints out a schematic of his signature numerical design and then calculates the angles necessary to achieve a regular pattern.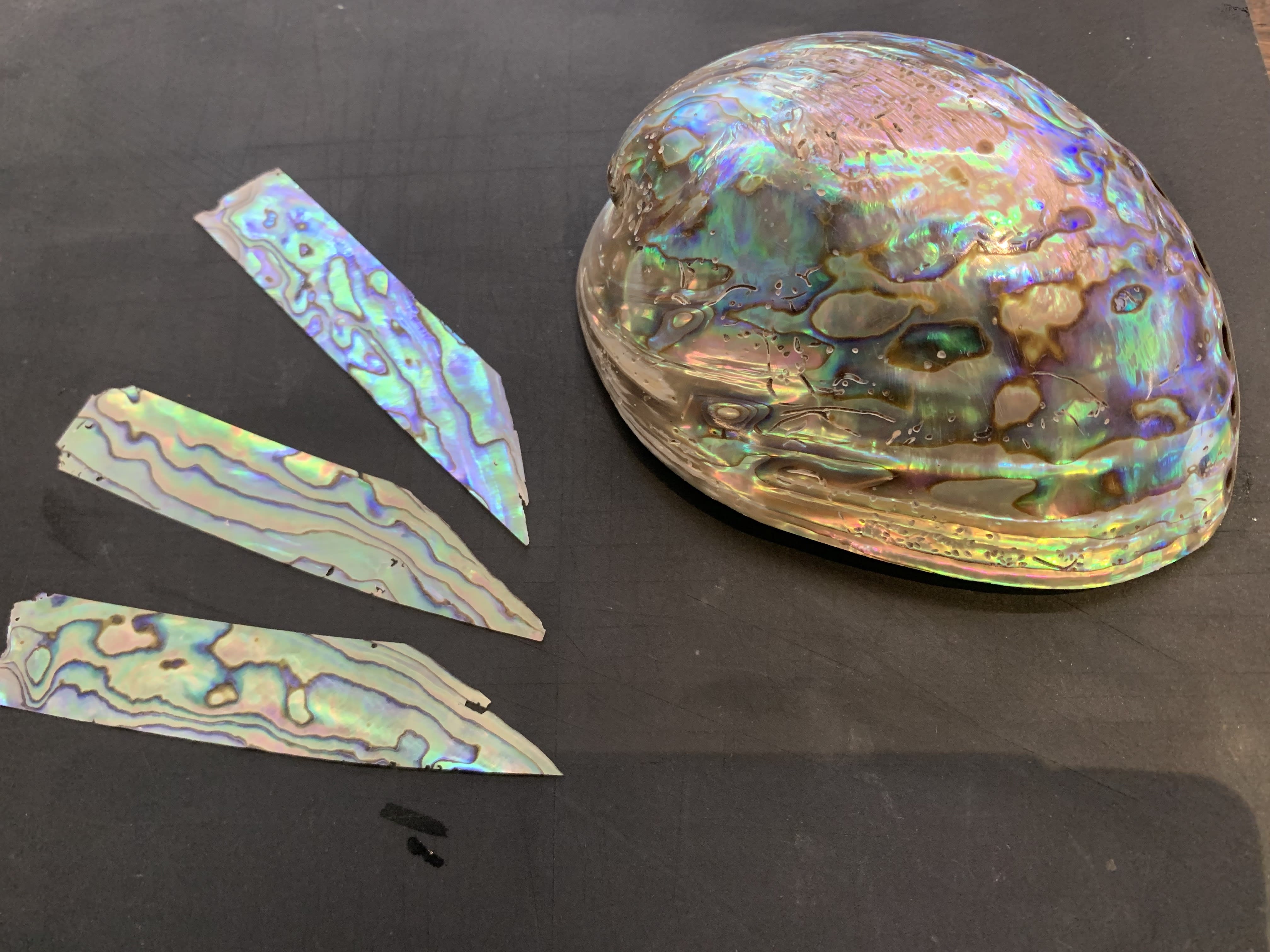 Raw Mother-of-Pearl, Extracted from Abalone, Kanazawa (2022)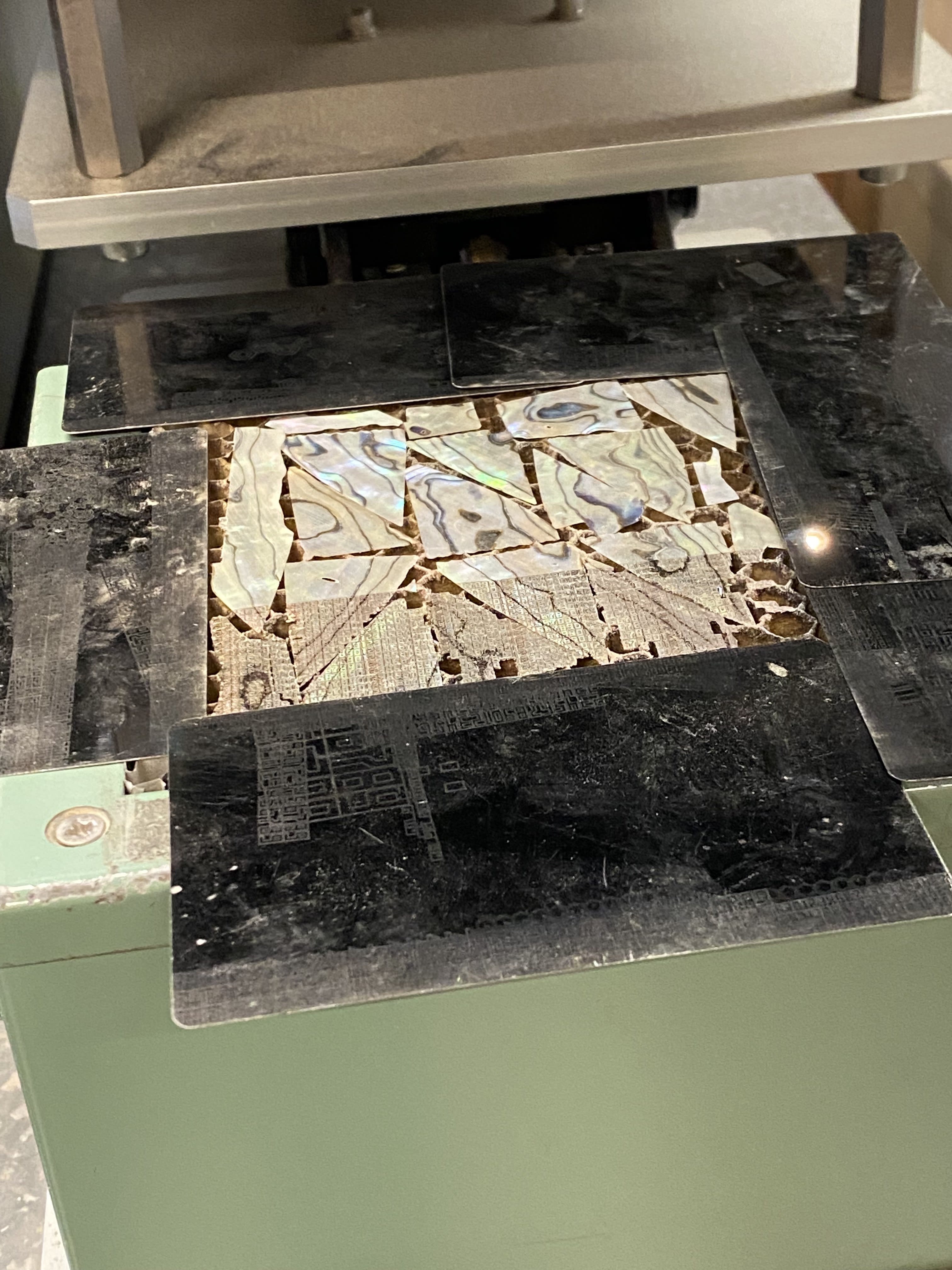 Laser-Cutting Mother-of-Pearl, Kanazawa (2022)
Part of what makes Terumasa Ikeda an innovative trailblazer is how he creates his designs. By programing a computer, Ikeda is able to use a laser-cutter to create the minuscule ornamentation.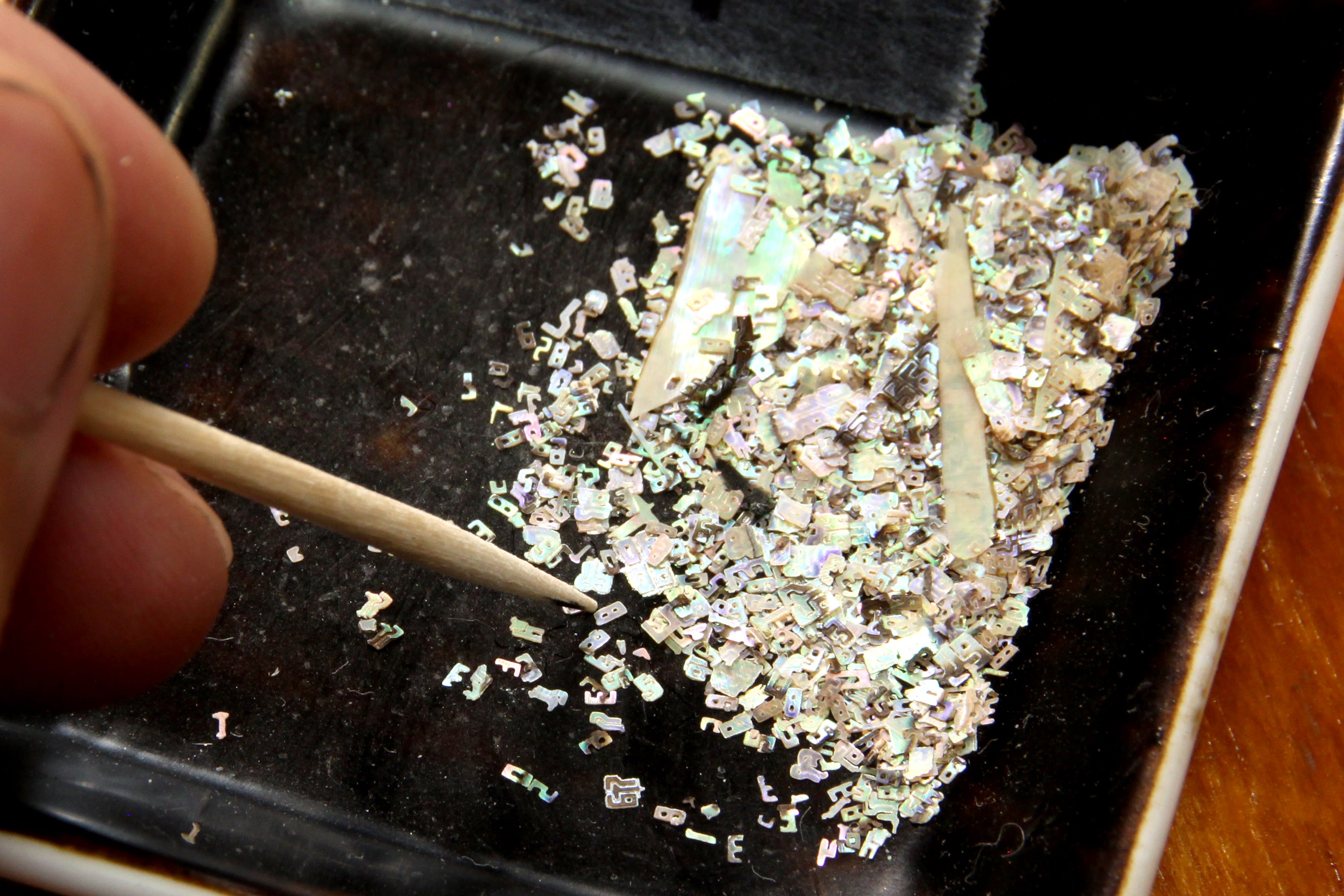 Mother-of-Pearl Details, Kanazawa (2022)
Once the design is pulled out of the precious shells, Ikeda and his team begin the intense process of placing each element into the wet urushi lacquer. There is no margin for error, as once the lacquer is set, the mother-of-pearl inlay is bound to the surface of the artwork. A magnifying glass is critical, as the designs range in size depending on the scale of the piece, and each must be placed precisely by hand.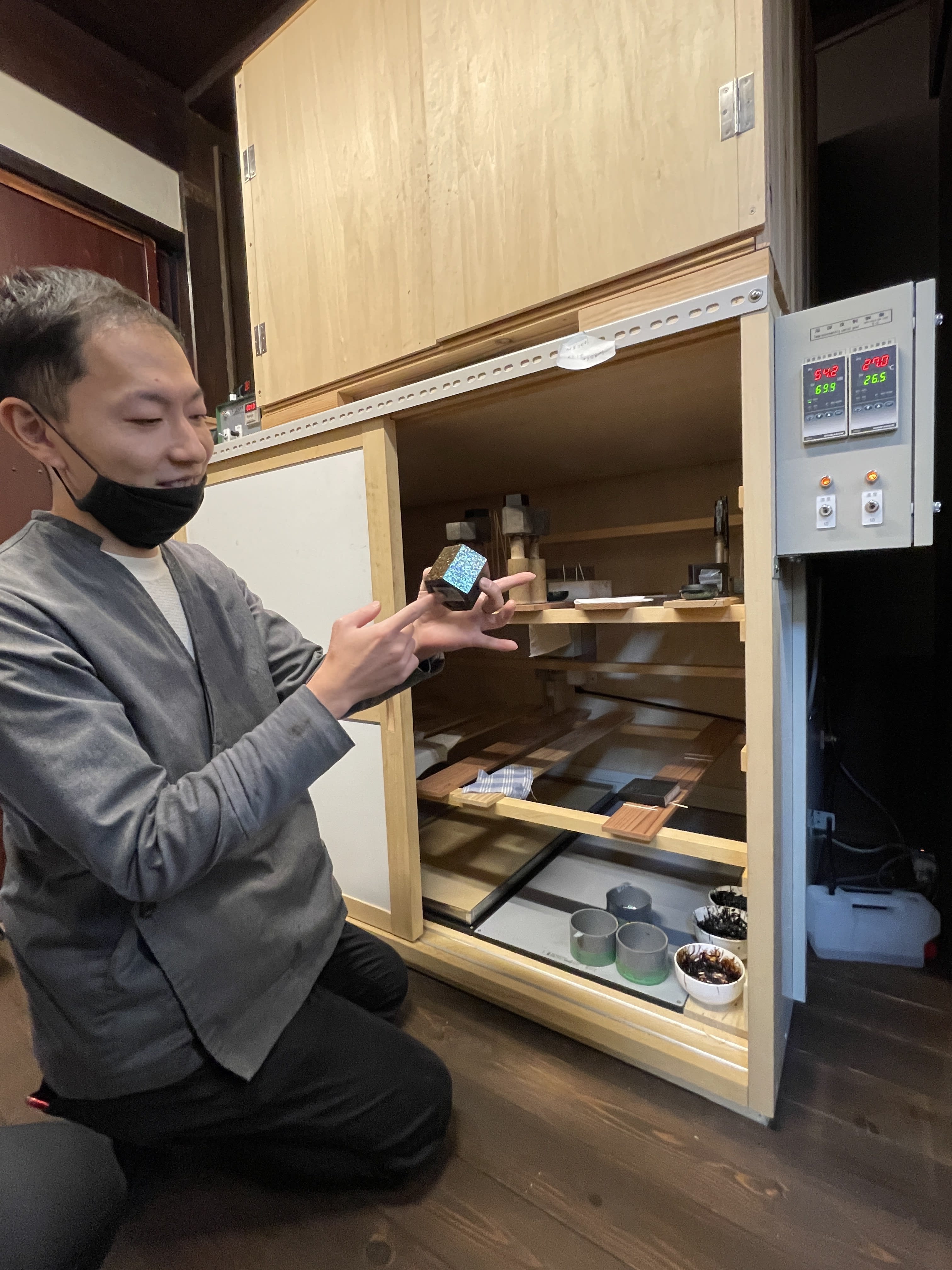 The Artist alongside Humidity Control Storage, Kanazawa (2022)
Lacquer, though known as a material that lasts a thousand years, is fickle during the fabrication process and requires proper conditions. Although Kanazawa is famous for lacquer production thanks to the conditions of the coastal town, Ikeda takes no chances. This machine, which controls the humidity of the atmosphere inside, protects each piece from warping while Ikeda polishes the surface to a mere 0.05mm.
Unvarnished Work in Progress, Rutlius, Kanazawa (2022)
Here, Ikeda's hexagonal tea caddy Rutilus is still in the process of being polished. The artwork only reaches its final bright, iridescent quality once Ikeda himself has spent many hours perfecting the surface with palm oil and charcoal. One wrong stroke will completely destroy the beauty of the mother-of-pearl, and so this process is left solely to the artist.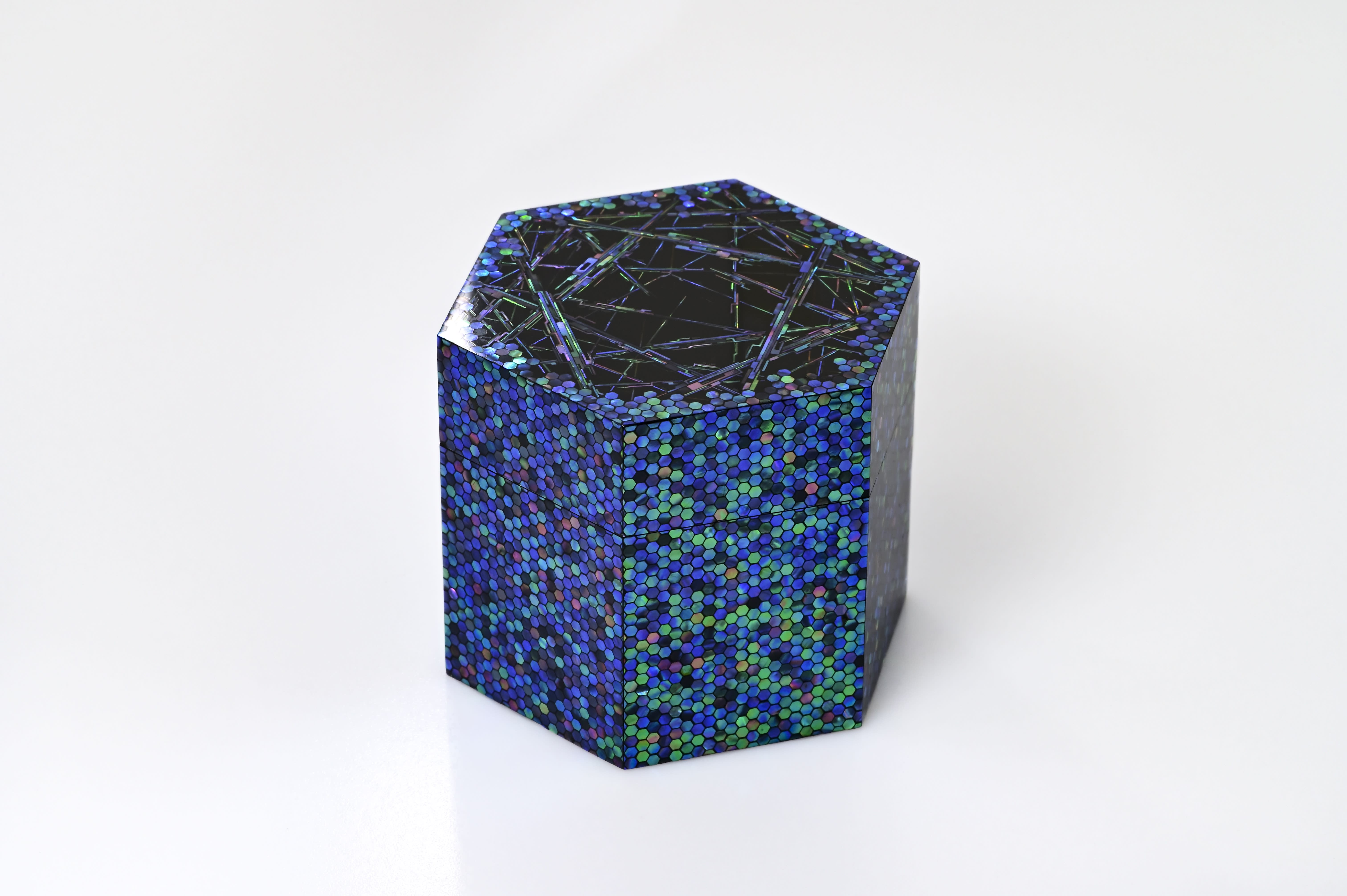 Terumasa Ikeda, Rutilus (Hexagonal Tea Caddy), 2023, (C25698P)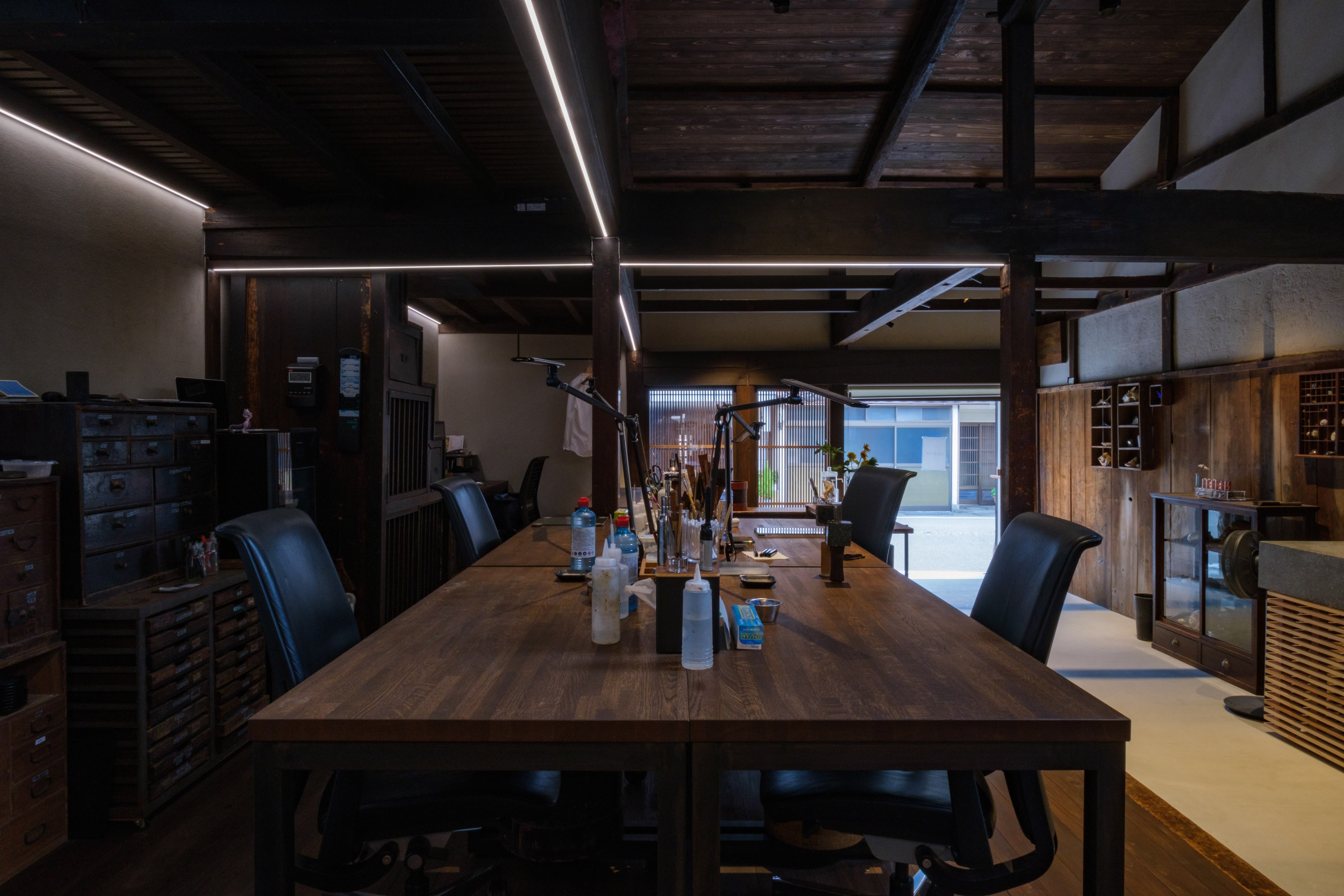 Team Workspace at Terumasa Ikeda's Studio, Kanazawa (2022)
The inlay process, especially at such a microscopic scale, is too much for one to accomplish alone, and so recently, Ikeda has developed a team to increase his production output. Relocating to a classic-style machiya (townhouse), the team can now produce up to 30 artworks in one year.
The Traditional Architecture of Terumasa Ikeda's Studio, Kanazawa (2022)
The new location features many elegant elements of a traditional Japanese home, including original wooden beams, and doma, a division between the kitchen and work area. Doma is typically an earthen floor where messier tasks like gathering water and cooking take place, and it is separated from the living or working sections by a raised wooden floor.
Terumasa Ikeda's Maki-e Veranda Workroom, Kanazawa (2022)
The machiya is also outfitted with a veranda, where Ikeda finishes his lacquers using the traditional maki-e technique. Trained in Kanazawa, Ikeda incorporates this most traditional technique, bridging past and present. Equipped with a bamboo pick, the artist places shaved gold powder and gold leaf into wet urushi lacquer to protect and seal the interior of his incense containers and treasure boxes. Hidden away inside, the gold is a brilliant and unexpected surprise with a luster that compliments the opalescence of the mother-of-pearl and other precious shells.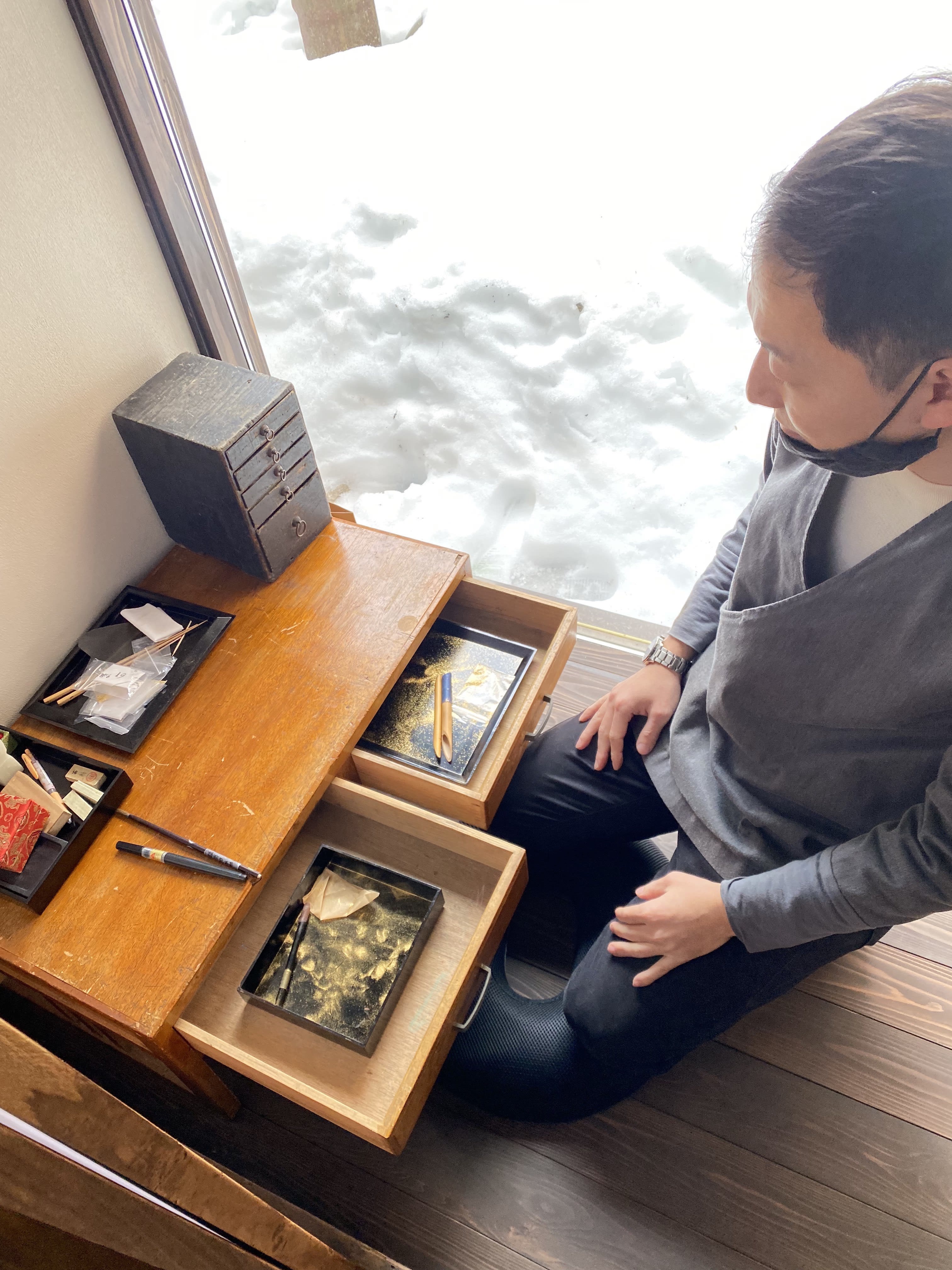 Terumasa Ikeda at his
Maki-e
Workstation, Kanazawa (2022)
Terumasa Ikeda's Maki-e Tools, Kanazawa (2022)
The thinner and more delicate Ikeda refines the materials, the greater the iridescence of the final artwork. Each step of the exceptional fabrication process is completed with utmost organization. The entire studio, featuring many high-tech machines, is more like a laboratory than a workshop. By highly regulating the creation of each piece from start to finish, Terumasa Ikeda has managed to achieve minute and flawless decorations never before realized in Japanese lacquer and the world of decorative fine arts.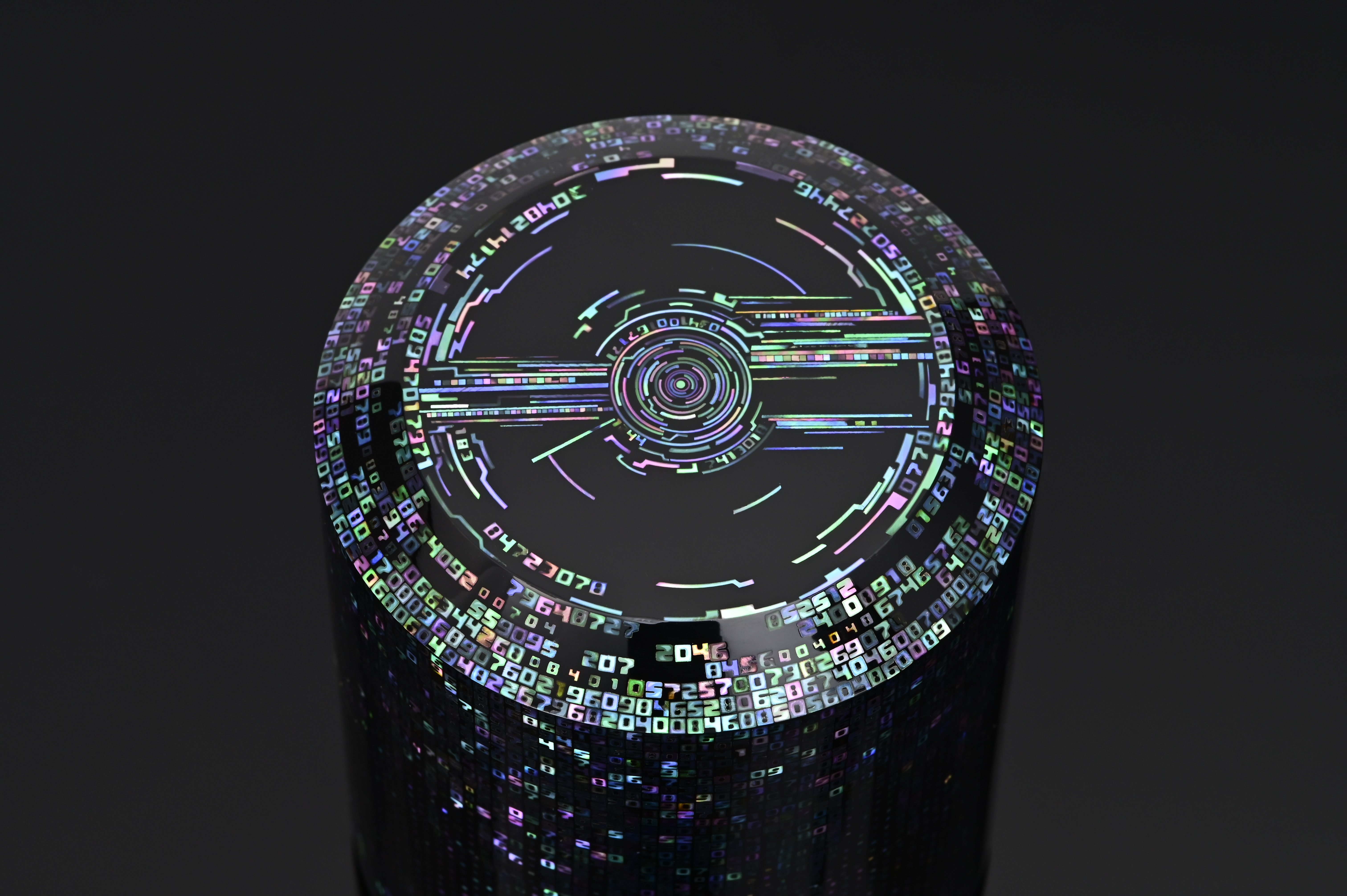 Terumasa Ikeda, Lightning Effect (Fubuki-Style Tea Caddy), 2023, (C25704P)
Terumasa Ikeda is revolutionizing one of Japan's most traditional artforms to match the needs of contemporary society. Ikeda's debut exhibition overseas, Iridescent Lacquer is an exclusive showcase of the artist's latest workat Ippodo Gallery New York's 32 E 67th Street location.