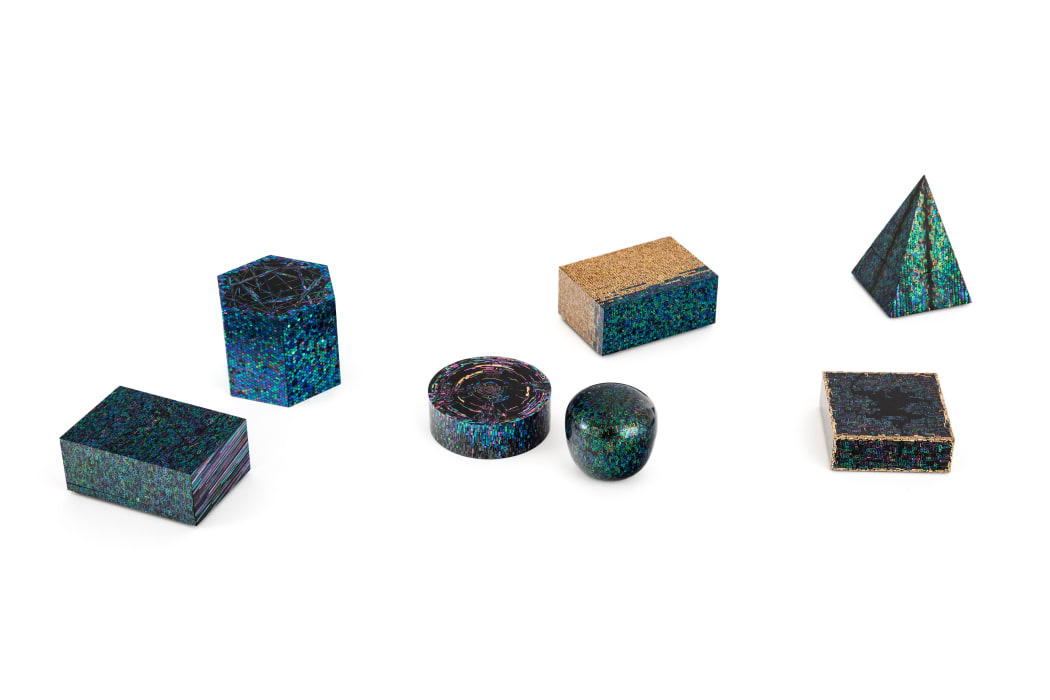 Terumasa Ikeda, Selection of Incense Containers, 2023
Terumasa Ikeda's debut exhibition in the United States features the artist's impressive and imaginative renditions of kogo, the Japanese incense container. An item primarily used in tea ceremony, the incense container is not for the purpose of burning the fragrant chips, but rather their transport into the chashitsu (tea house). Inside, the container resets within the tokonoma (alcove) where its presence has a strong influence on the surrounding atmosphere. Decorously opened in front of the guests, the incense container, unlike tea caddies, are decorated both inside and out for maximum effect. Ikeda's collection of kogo impresses to a dazzling degree. Inlaid with four species of mother-of-pearl in mesmerizing and undeniably contemporary patterns—such as the likeness of the Hadron Collider made from numerals—these raden artworks are expressions of the technological sensibility that permeates modern society.
Terumasa Ikeda
,
Iris
,

C25695P
Ikeda's Iris, which emulates the human eye, is a rounded body constructed from two even halves of cypress wood. Clad in urushi lacquer and adorned with laser-cut mother-of-pearl, the container exemplifies Ikeda's unique approach to a form which has been present in Japan for more than a millennium. The interior is decorated in the maki-e style: gold powder is adhered to the surface with clear lacquer in a fusion of the traditional Kanazawa technique and Ikeda's innovative methods. The final appearance is called nashiji—fuzzy pear skin.
The artist draws inspiration for his motifs from both the past and present. Kiso hinoki cypress, which is the wood used in each kogo artwork, is famed in Japan as it is the medium used in the Emperor's own lacquer collection. Monumentalizing this history, Ikeda's Throne is an approximation of the seat of power in miniature form.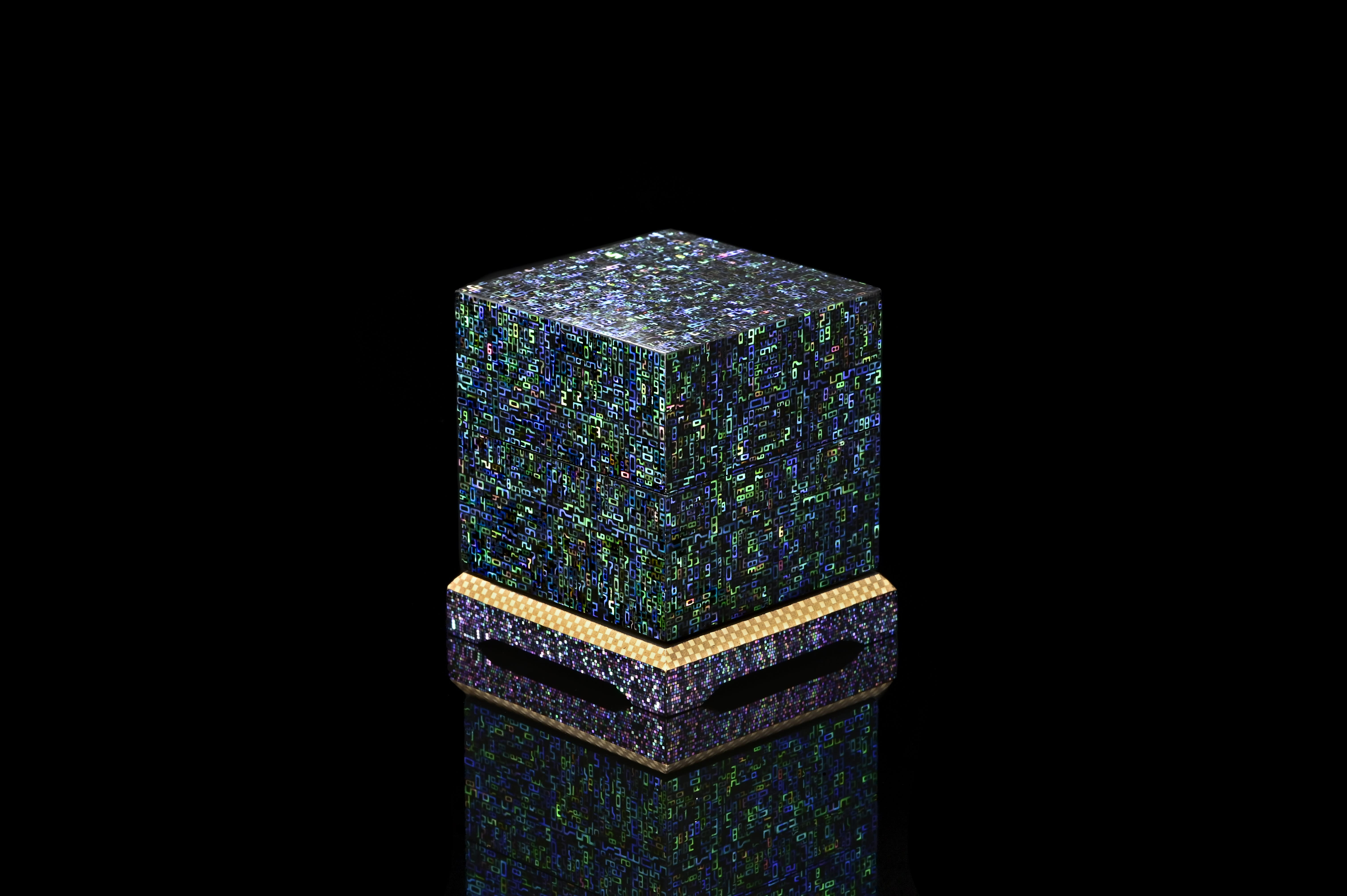 Terumasa Ikeda
,
Throne
,

C25708P
Terumasa Ikeda
, Labyrinth
,

C25696P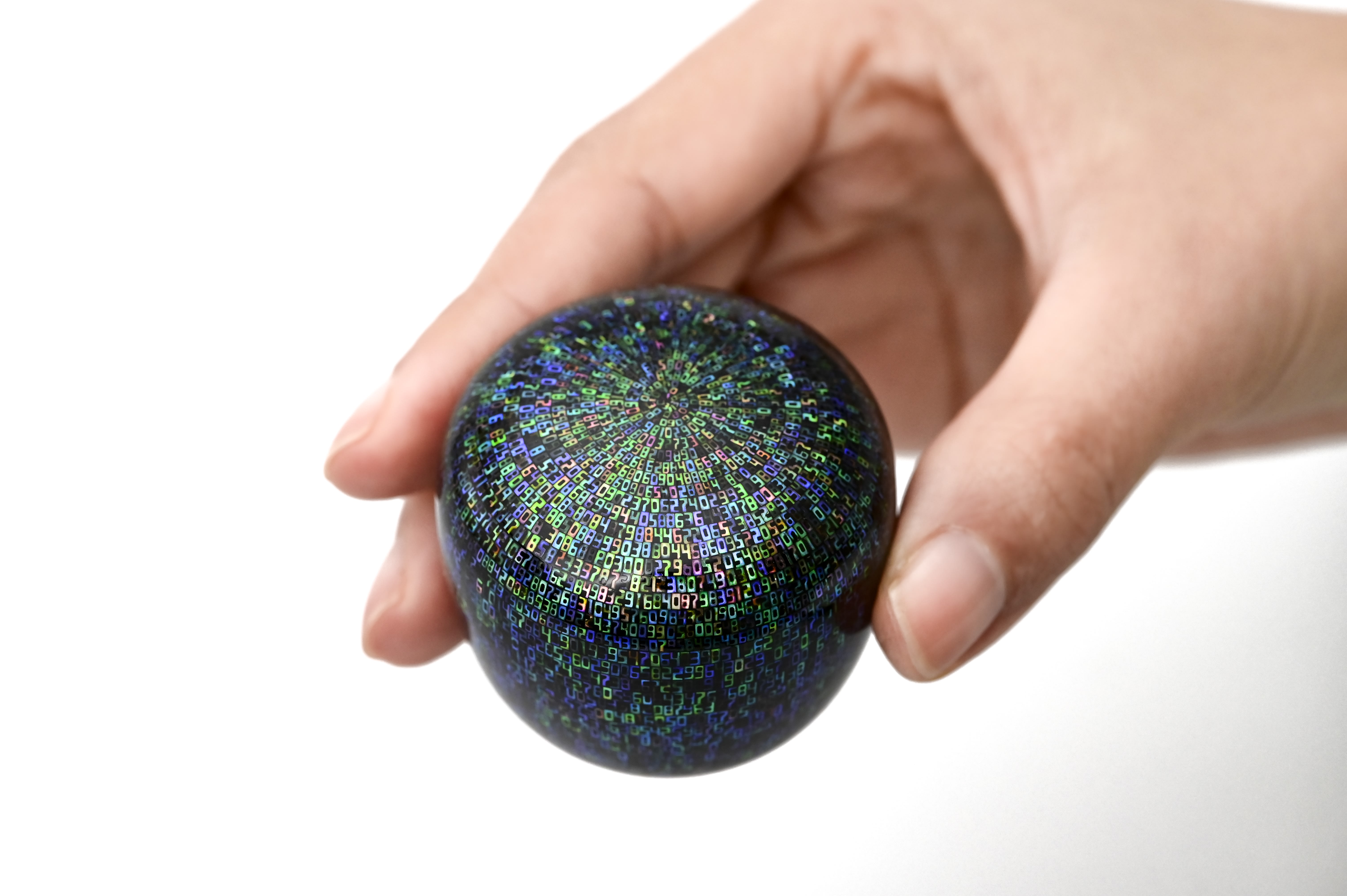 Terumasa Ikeda
, Decimal
,

C25697P
Internet and technology are at the heart of Ikeda's inspiration. The advent of cellphones and instant messages—which use numeric codes to transmit information at near instantaneous speeds—have changed how we communicate and learn. Accelerator is designed with the Hadron Collider in mind, a machine that explores the extent of speed and electromagnetism.
Terumasa Ikeda
, Accelerator
,

C25709P
Terumasa Ikeda: Iridescent Lacquer will leave Ippodo Gallery New York on April 20th, 2023. More information about Ippodo Gallery's permanent collection and upcoming exhibitions are available on our website. Panta Rhei: Everything Flows, featuring washi artwork by five distinguished Japanese artists, opens on April 27, 2023.