Ryuji Taira, 200 Two Hundred, 2014 (A25713NP)
Ippodo Gallery asked Ryuji Taira, whose platinum washi prints are featured in Panta Rhei: Everything Flows on view until May 17, questions about his life and artistic process:
"When I was a child, I wondered where I came from and where I was going. I would ask myself, 'why am I here?' I was always searching for answers to these questions, running around the fields, piling up flowers, chasing butterflies, catching fish in the creek, and so on. I would spend my life outside until the sun went down. And I thought that the answer might be in the light filtering through the trees in the forest or in the dim light at dusk.
I felt the mysterious power of something invisible in the light, as if the same thing looked completely different depending on the hour, as if disappeared and reappeared. Since that time, the phenomenon of light became clear to me as a criterion for searching for something. It was in my mid-teens that I learned that photography was one method of exploring the phenomenon of light. I had no interest in cameras, but when I learned that the photograph could freely handle this intangible phenomenon, I began to study it in earnest.
And so, here I am today."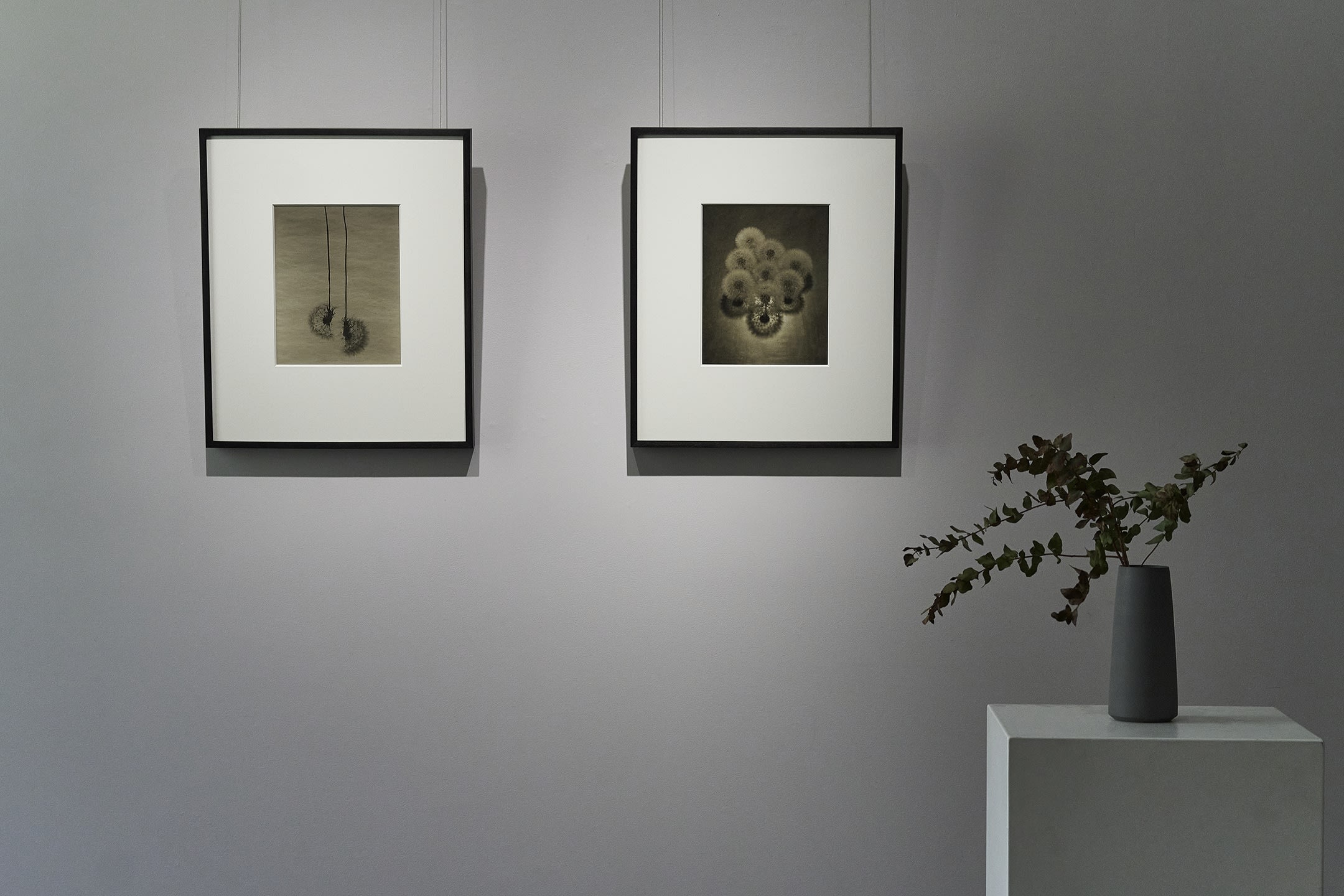 Installation of Ryuji Taira'sTwo of Us (Futari) and Bound at Ippodo Gallery New York
Question 1.
Please describe Taira-sensei's production process. How do you decide upon a new subject matter, such as Two of Us (Futari) or Flowers & Seeds?
Ryuji Taira:
The process of creation begins with the selection of an everyday motif to visualize the concept of the work; my practice focuses on "the root of life and its continuity." In the case of the dandelion motif, it is very important to spend a long time cultivating and observing the subject to purify it and transform the dandelion into a symbol of the concept.
During the cultivation stage, the dandelion motif undergoes a metamorphosis that reveals the continuation of the flower's life. At that time, the dandelion is refined until the delicate shape becomes an expression of the "root of life and its continuity." Then, when the dandelion takes on "a life of its own" and all of the axes of place, time, and magnetic field harmonize, I capture this convergence with my analog camera.
In terms of Two of Us (Futari), each season I grow many dandelions. As their changes gradually unfold, the flowers emit a dignified and overwhelming presence. Unraveling the meaning of this work, "two" describes the fusion of two pure lives—borrowing the form of two dandelions—entrusting their free movement, rotation, and positioning to the lively movements of the plant. The subject matter is revealed in the purity of the dandelions, flowers, and seeds, all of which are gently unveiled.
Flowers & Seeds is a microcosm. The continuity of life exists when flowers and seeds, in all their diversity, are brought together in the face the currents of transition. I am always ready to express new subjects brought together by the process of visualizing and refining my overarching "root of life and its continuity" concept.
Ryuji Taira, Bound, 2014 (A25681)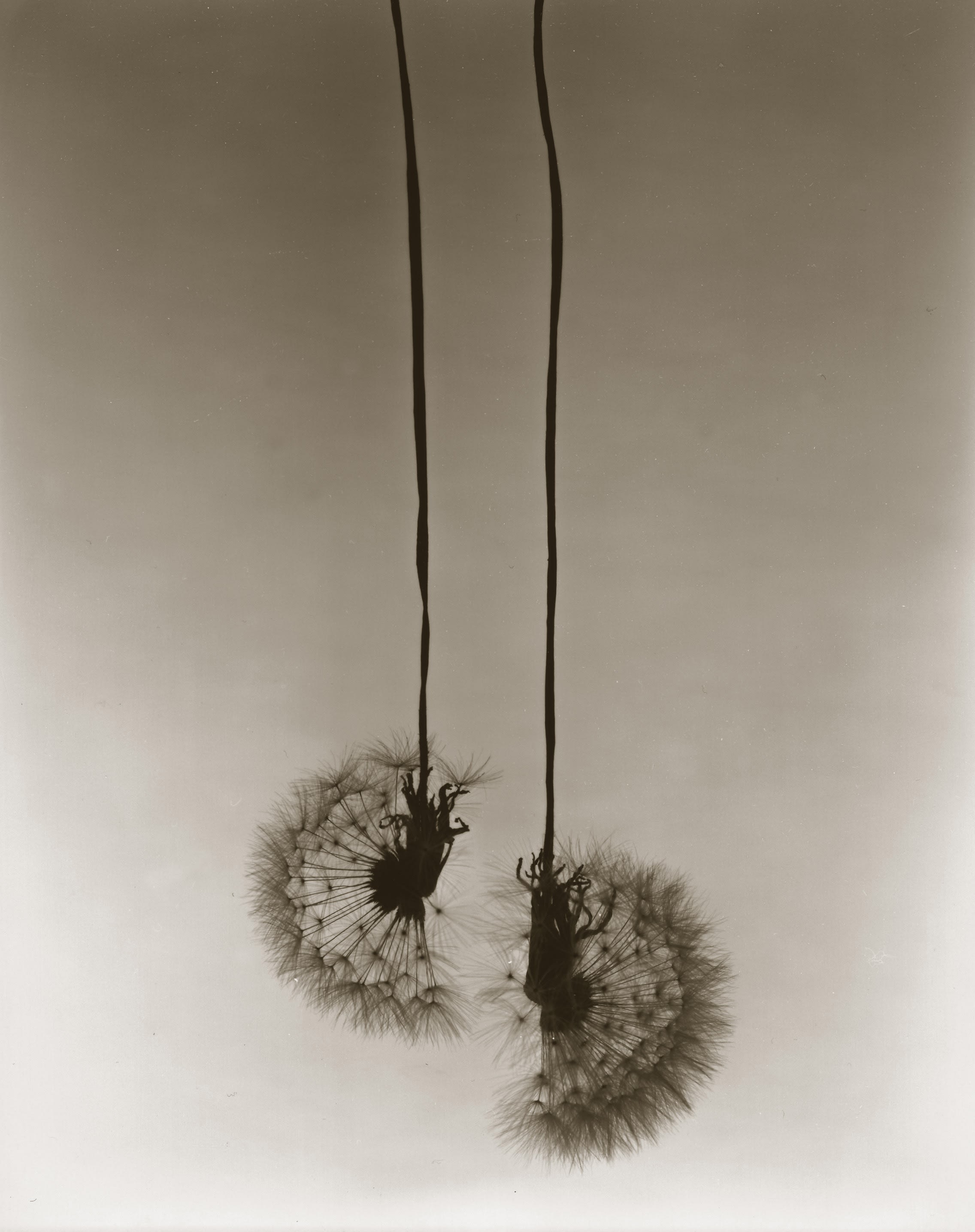 Ryuji Taira, Two of Us (Futari), 2014 (A25680NP)
Question 2.
How did you first encounter washi in your life?
Taira:
I remember my first encounter with washi paper as a child, when I made artificial flowers out of washi in the shape of wildflowers using crape paper. I think this was my first experience of making something. Washi paper has been very familiar to me since I was young, and I have found many uses for it in my surroundings. As a young child, washi was a magical and affectionate "existence" that could become a flower petal, a leaf, or even a butterfly.
In later years, as I continued to use washi, I became attached to it as a cultural material for daily life, starting with calligraphy and painting, and continuing with traditional decorations and fittings such as shoji screens, fusuma sliding doors, and wallpaper. As a medium, washi has the potential for all kinds of uses, from toys to fireworks; it is an important presence that protects life and connects people with nature. A sense of awe naturally grew within me.
The platinum print process used in this work was created about 150 years ago and is a photographic technique that uses platinum and iron salts as photosensitizers, which ultraviolet light then burns into the paper.
The materials are the negative, the platinum and iron photosensitizer, gampi-washi paper as a support, and ultraviolet. The paper choice has a large impact on the quality, texture, and expression of the work. It is no exaggeration to say that the paper itself determines the appearance of the work. I choose handmade gampi-shi to best emphasize my techniques.
Each piece of handmade gampi-washi is unique and has its own character. It is one of the highest quality Japanese papers, delicate and best for archival purposes. Platinum prints have the strongest archival quality of all photogravures because of the stability of platinum. When the platinum process meets the high-quality gampi paper, the effects of light transmission and hydrophilic properties of washi create a distinctive image. These elements of Japanese gampi-washi generate a unique reflectivity that absorbs the platinum's chemical properties, resulting in an unprecedented level of expression.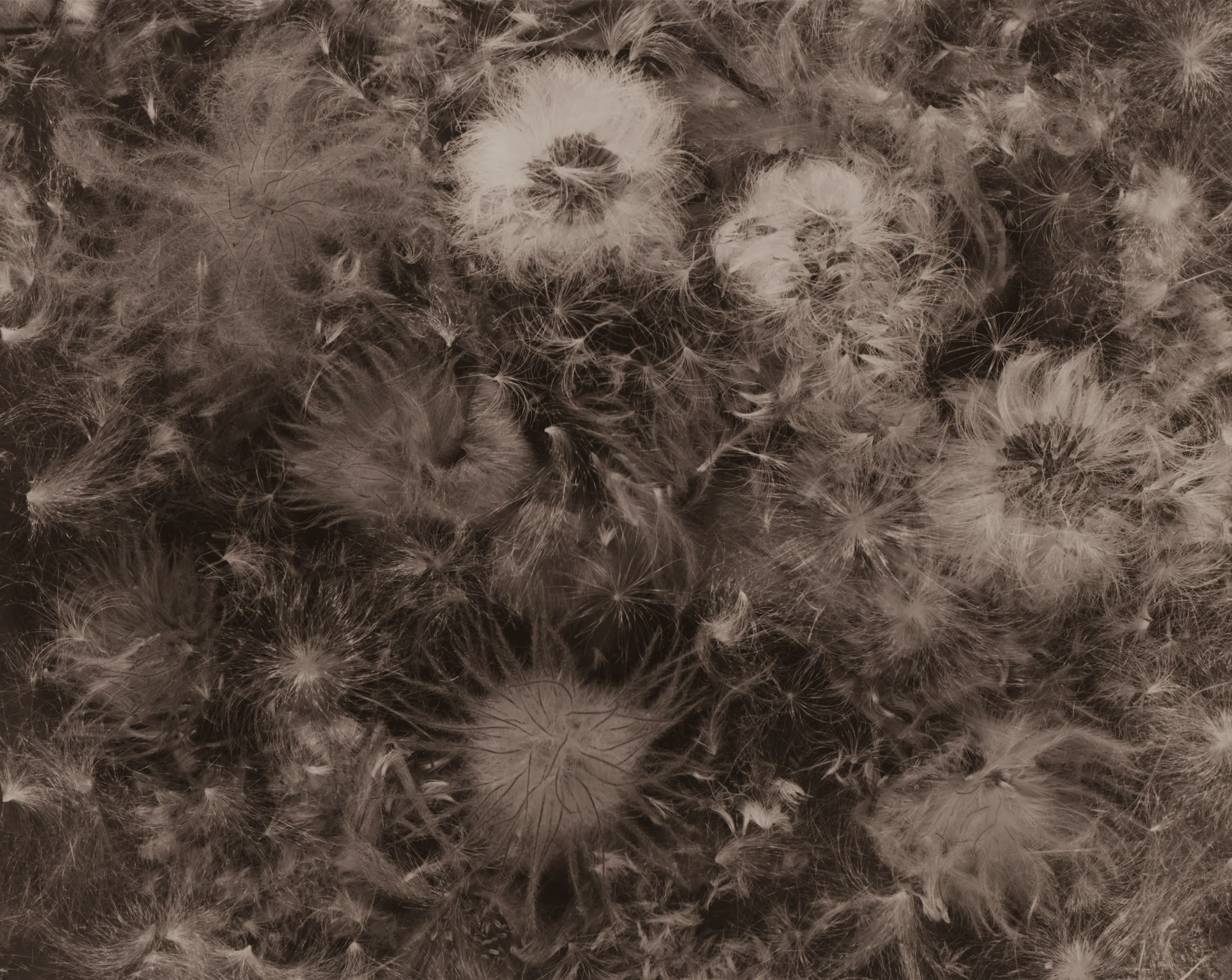 Ryuji Taira, Flowers & Seeds, 2004 (A25679)
Question 3.
Are there any artworks or artists that influence your work? Is there a certain period that Taira-sensei most admires?
Taira:
Rabindranath Tagore is a poet and thinker whose concept of existence deeply influences my work. Tagore's 2004 book "Vicissitudes" continues to affect how I view the changes in life that I bring to my concepts, even today. I have much respect for all artistic periods, but in terms of the Western cannon, I love the photographic processes which were created during 19th century. To speak of Japan, I love Hasegawa Tohaku and Sen no Rikyu of the 16th century Momoyama period. I think this is the period when Japanese originality was established in terms of both the spirit and the aesthetics of the eye.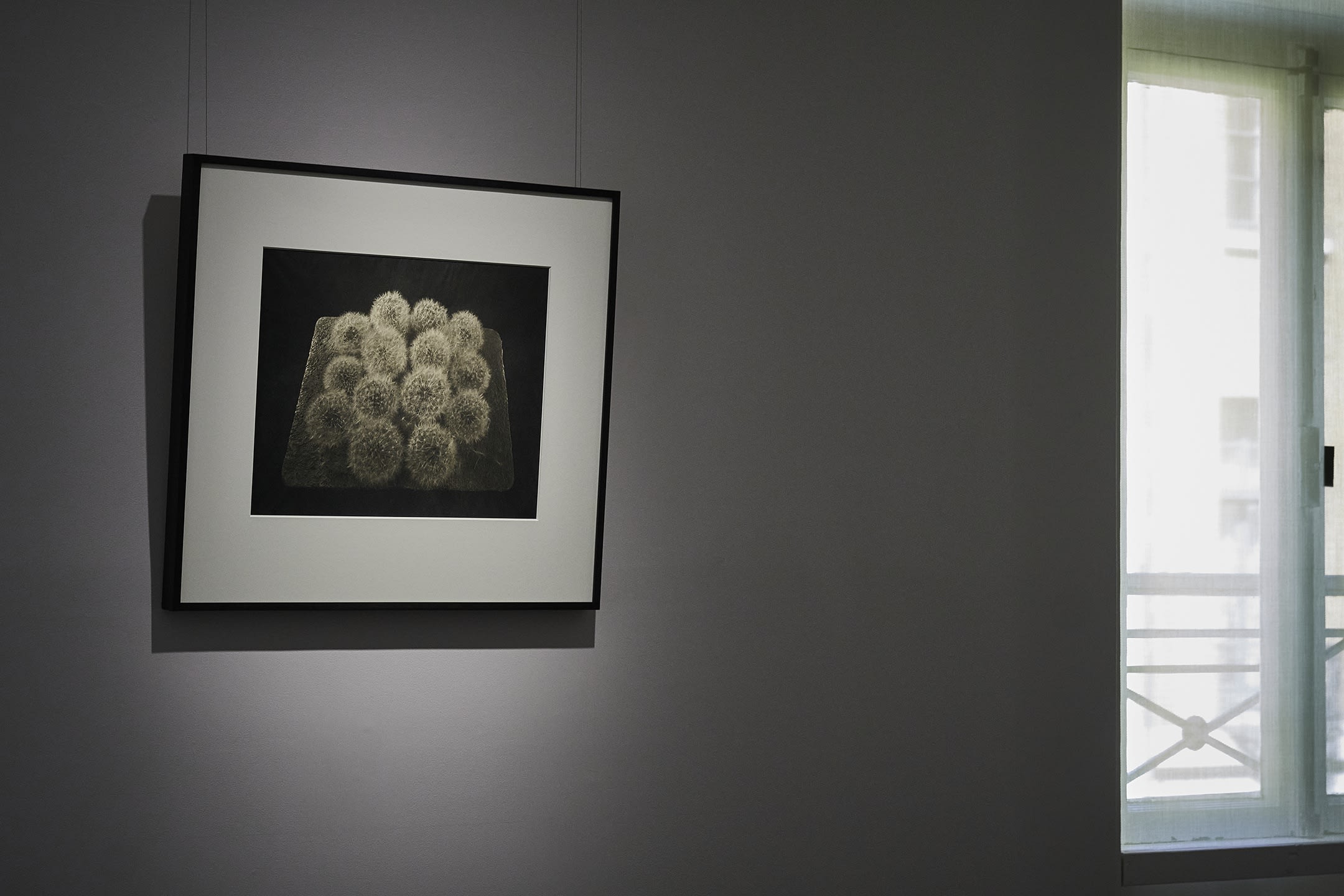 Ryuji Taira, Tanpopo #2, 2004 (A25682)
Question 4.
Are there any ideas for future projects?
Taira:
My on-going work is a new series of "The Roots of Life and Continuity." I am considering a project to express the continuity and preciousness of life, peace, and coexistence with nature in various places around the world where dandelions bloom, using the dandelions of those places as symbols. At the same time, I would like to try installation and video to express parts of my work which cannot be defined in photographic form.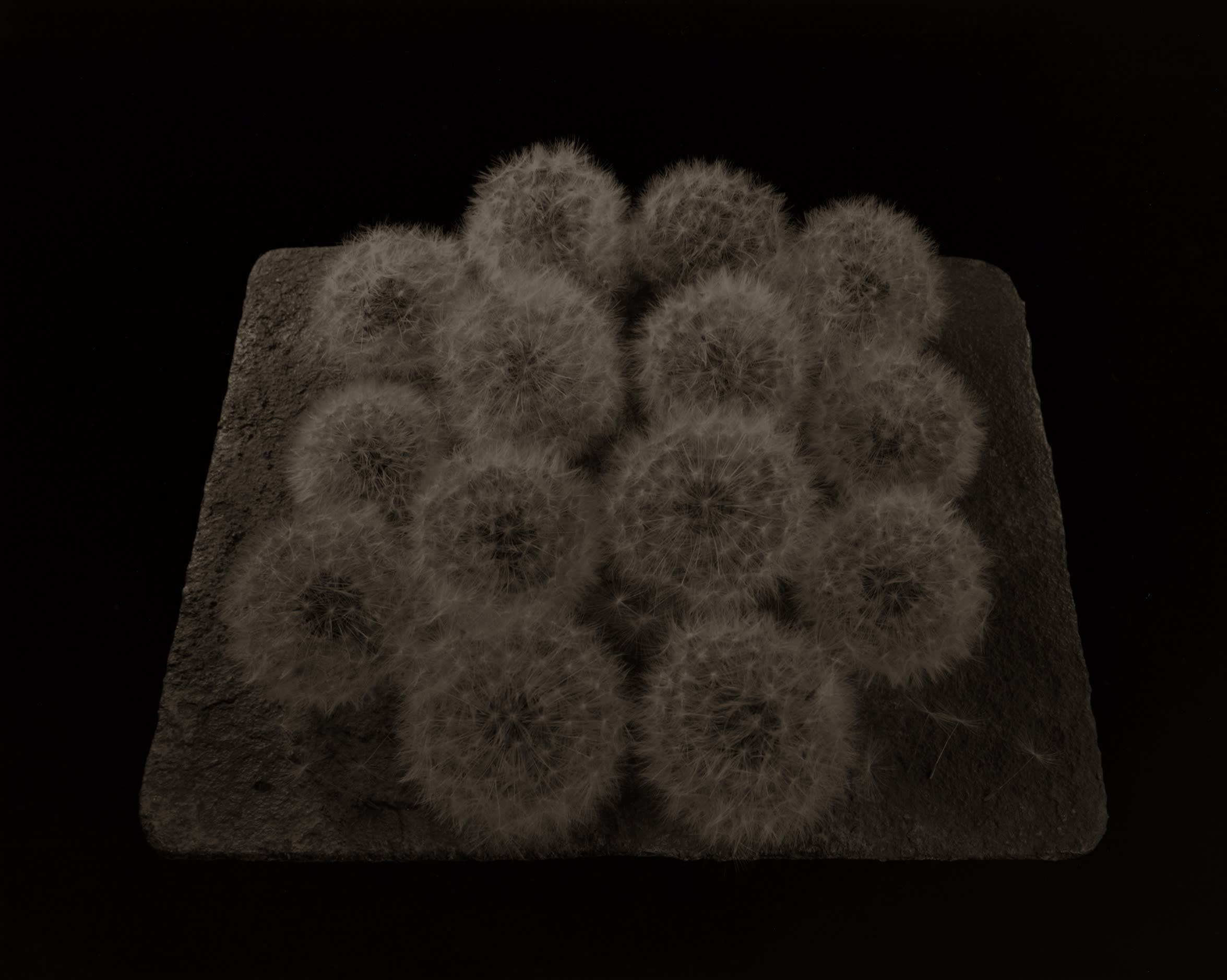 Installation of Ryuji Taira'sTanpopo #2 at Ippodo Gallery New York
Please visit Ippodo Gallery New York to experience the depth and beauty of Ryuji Taira's platinum printed photographs. His work is joined by four Japanese artists working within the same realm of washi paper. Taira stands out among his peers as the sole photographer. The volume and power of Taira's work on lacquered gampi-washi paper is profound, especially in-person!