This week we are introducing a closer look at artist Noriyuki Furutani's Tenmoku tea bowls.

Since drinking tea became popular among the Japanese people, tenmoku was the tea bowl of choice, only for those who could afford such a rare item. These unique bowls are initially only served to noblemen, such as emperors, on special occasions. Originally imported from China, these black-glazed tea bowls were first brought back to Japan by Japanese priests, who first used them at a temple on Mt. Tianmu (Tenmoku in Japanese) in China.

Noriyuku Furutani (b. 1984) is a master of tenmoku. Furutani creates elegant yet straightforward forms using a potter's wheel but focuses mainly on the ceramic glaze. Here is where the magic happens. The elements of random and haphazard collide uniformly into beautiful designs. Most of the pieces we see contain a dark charcoal backdrop. This is the signature marking of quick artisans. Furutani rapidly cools the bowl, which allows for the formation of surface crystals. While this aesthetic may look easy because of the random appearance, it is pretty challenging to produce.

Tenmoku is also known as the 'hare's fur effect. When there is an excess of iron oxide, oil spot effects appear on the surface. As you slightly tilt the bowl from side to side, the colors glisten and are padded together like clumps of animal hair.

Can you see how each piece differs in color and shape? These shapes are uniformed, bold, colorful, and categorized by earthy tones. Tea masters who developed the Japanese tea ceremony promoted the aesthetics underlying tenmoku pottery. Furutani's tenmoku tea bowls contain a tasteful and iridescence signature.
Black Tenmoku Tea Bowl, 2021 H2 7/8 x W5 1/8 x D5 1/8 in (C22780)
The rustic brown and black colors collide as they blend to form an even splattering effect. The solid brown base creates a steady base as the volatility of the speckles dance above. Some might consider this piece an example of a mishap, but Furutani embraces the mistake.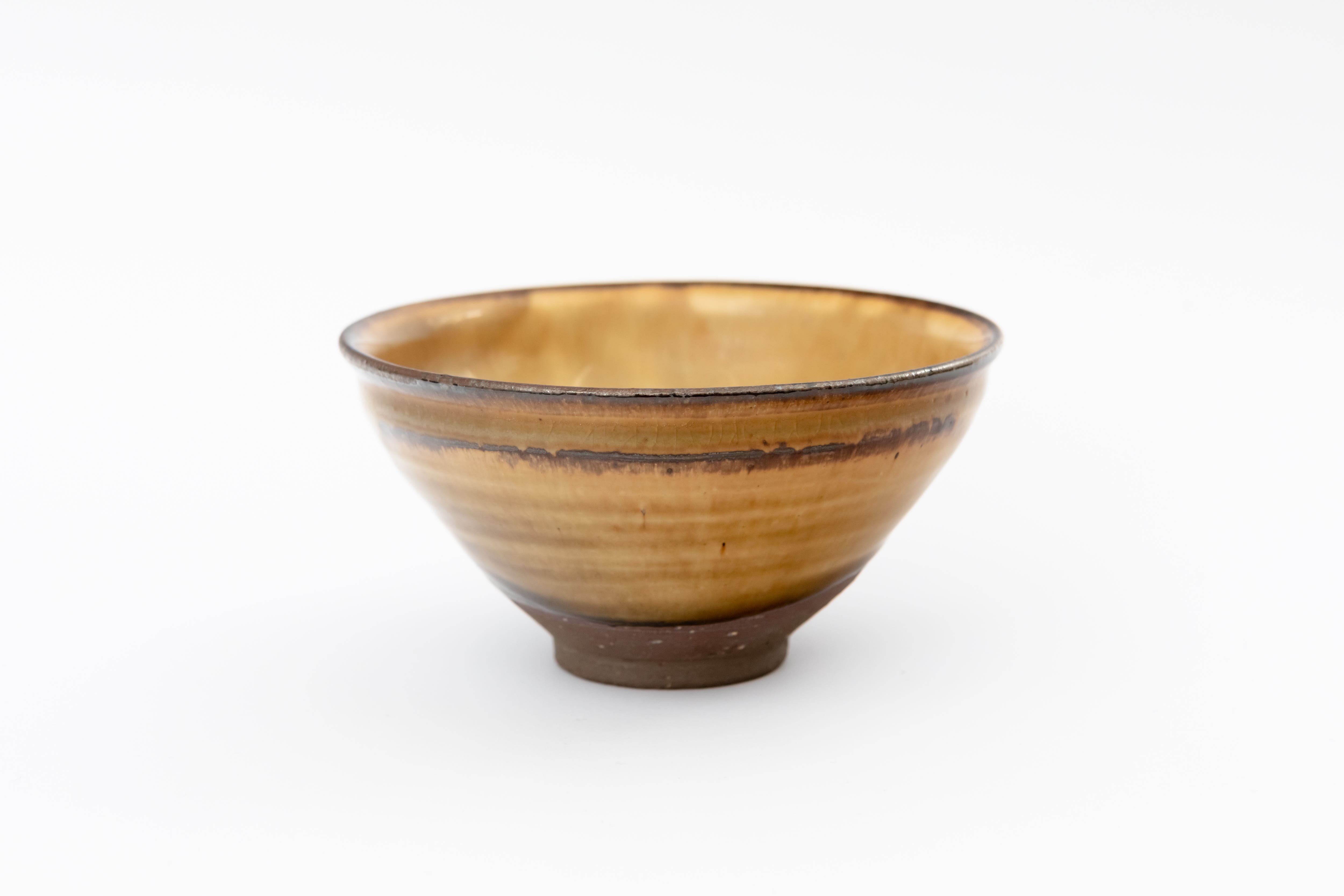 Yellow Tenmoku Tea Bowl
H2 5/8 x W5 1/4 x D5 1/4 in (C22779)
Here the tiger eye draws the viewer's gaze directly into the center of the tea bowl. The lovely orange and brown combination warms the mind, body, and soul. Just imagine holding this in your hands on a hot summer's day.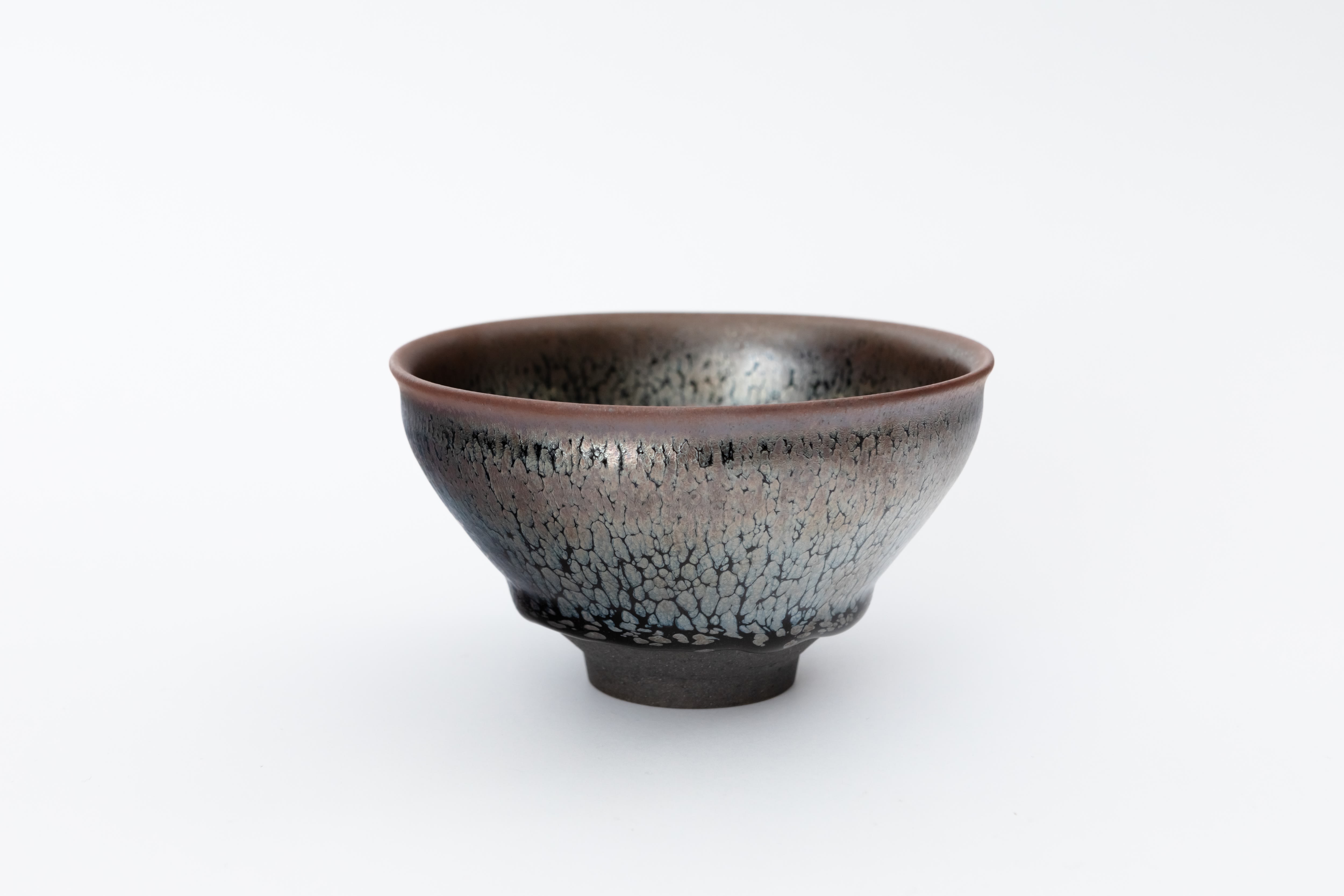 Yuteki Tenmoku Tea Bowl
H2 3/4 x W4 7/8 x D4 7/8 in (C22777)
Black, green, red, and silver oil spots burst onto the surface of this tea bowl. Imagine enchanting green tea heating the bowl from within.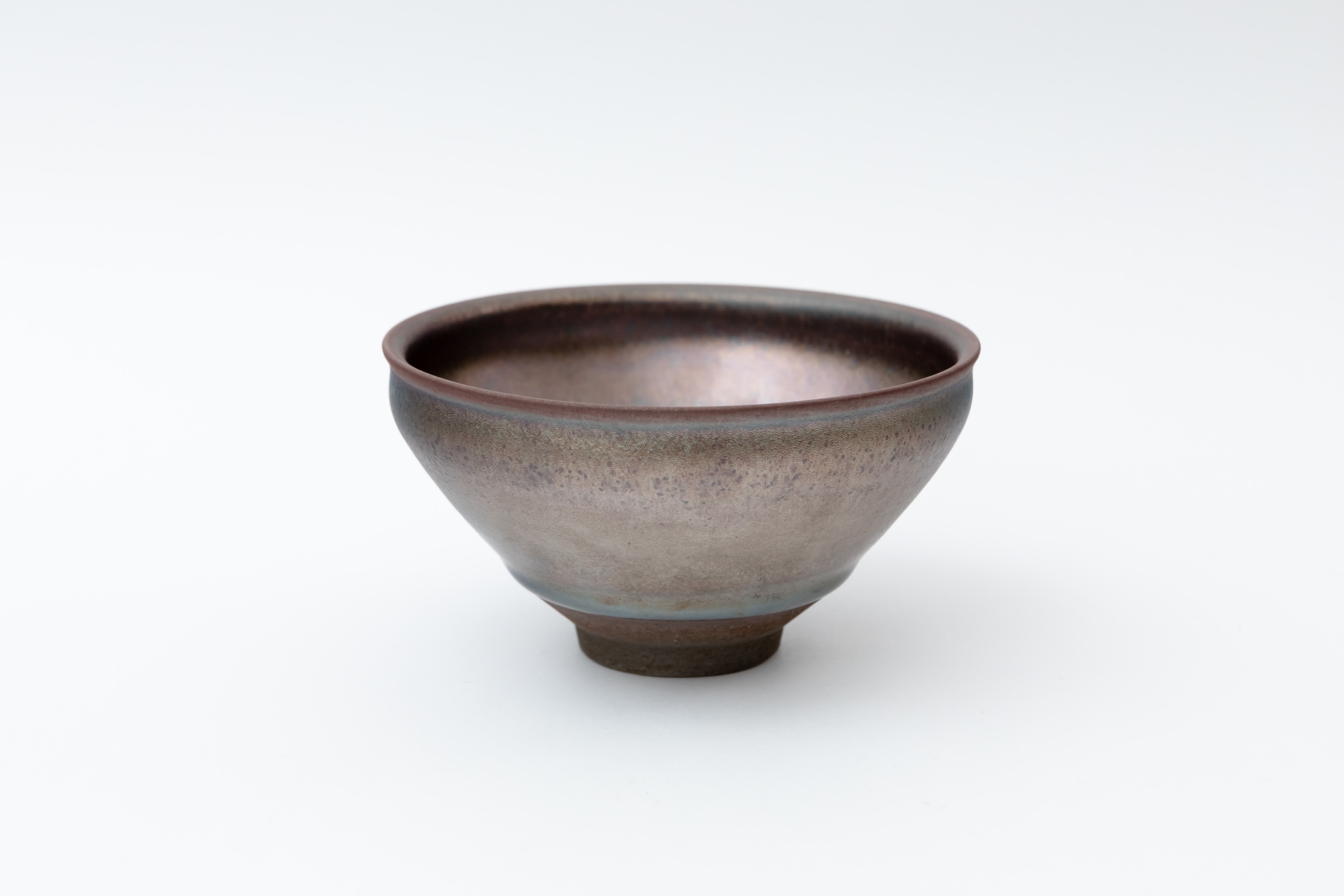 Pink and Silver Yuteki Tenmoku Tea Bowl H2 7/8 x W5 1/8 x D5 1/8 in (C22783)
Here we see an iridescent glaze that doesn't resemble the other tea bowls. The purple, green, and blue hues decorate the bowl's surface like Louis Comfort Tiffany's favrile glass. Furutani only keeps a limited number of tea bowls he creates. This is an example of one of the lucky ones.
ABOUT THE AUTHOR
Lillian Stafford