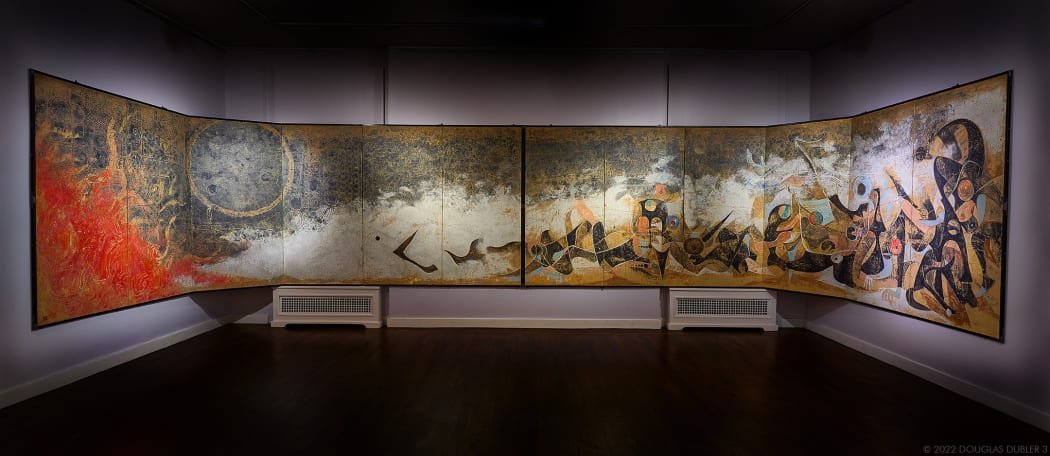 The echo of the wind, the sound of water, a full moon floating in a mysterious blue sky, the cries of wild beasts that agitate the ripples of the lake…Ken Matsubara's works present a view of the universe that is magnificent beyond description. For him, the act of drawing is to resonate with nature itself.
Prior to exhibiting his "Scenery" series in New York in 2014, he took a helicopter flight that allowed him to look down on Mt. Fuji. In that moment, he realized, "although mountains are formed from the earth, it is water that sculpts them," leading him to use flowing water as paint in the showcase.
Later, in 2019, the highlight of this gallery's grand openingwas his magnificent series, "Kūkai." Those who attended found themselves drawn in by the roar of the sea and the mysterious profundity of the sun and moon. The current exhibition will be his third in New York and will feature a series of work that he first showed half a century ago.
In 1975, he was twenty-seven years old and enjoyed a period of concentrated study under Sankō Inoue. Inoue once said, "It is nothing. If you are not ordinarily healthy, you will never be truly moved." Matsubara took these words to heart after Inoue's death, devoting himself body and soul to create the Chaos (1983) painting that is featured here.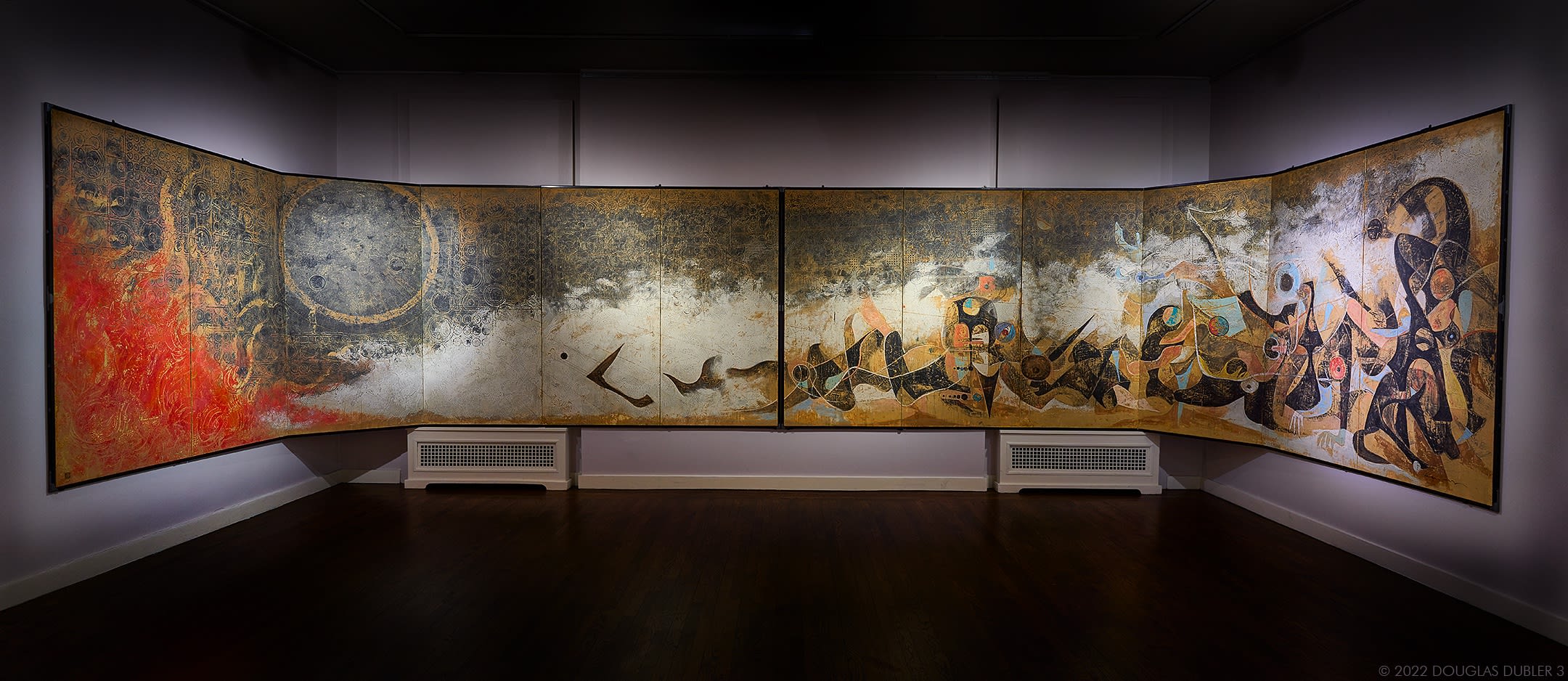 Chaos is Matsubara's interpretation of a Buddhist painting entitled Niga Byakudō-zu [White Path to Paradise between Two Rivers of Worldly Vice], that he first saw at Zendōji temple in Gifu Prefecture when he was nine years old, and which had remained firmly etched upon his memory. In order to find the white road, it is necessary to possess a pure heart and cast aside the sediment of life that has built up inside one's soul, otherwise it will be impossible to pass along this narrow white road that runs between the river of water, (attachments and greed) and the river of fire (anger and hatred). It was with this in mind that he confronted the twelve panels that comprise this work, a masterpiece through which he prayed for tranquility and purged himself of all the chaos that had accumulated within him. Like Picasso's Guernica, it presents a tempestuous maelstrom of emotions and raging flames, but in between these, an indistinct, cloud-like, pure, white road emerges.
His later works are filled with a quiet, peaceful atmosphere. One characteristic theme of his works is "sound" which is expressed through a round motif. They possess an exquisite vibration that becomes as one with the cosmos, expressing the healthy spirit that Matsubara craves and which plucks at the viewer's heartstrings.
Over the last fifty years, Matsubara has confronted the various events that have occurred to him with sincerity, faithful to all he meets, while continuing to express himself on white paper. "The fate of my works is definitely affected by people's encounters with them." Perhaps Matsubara's white road will continue without end.