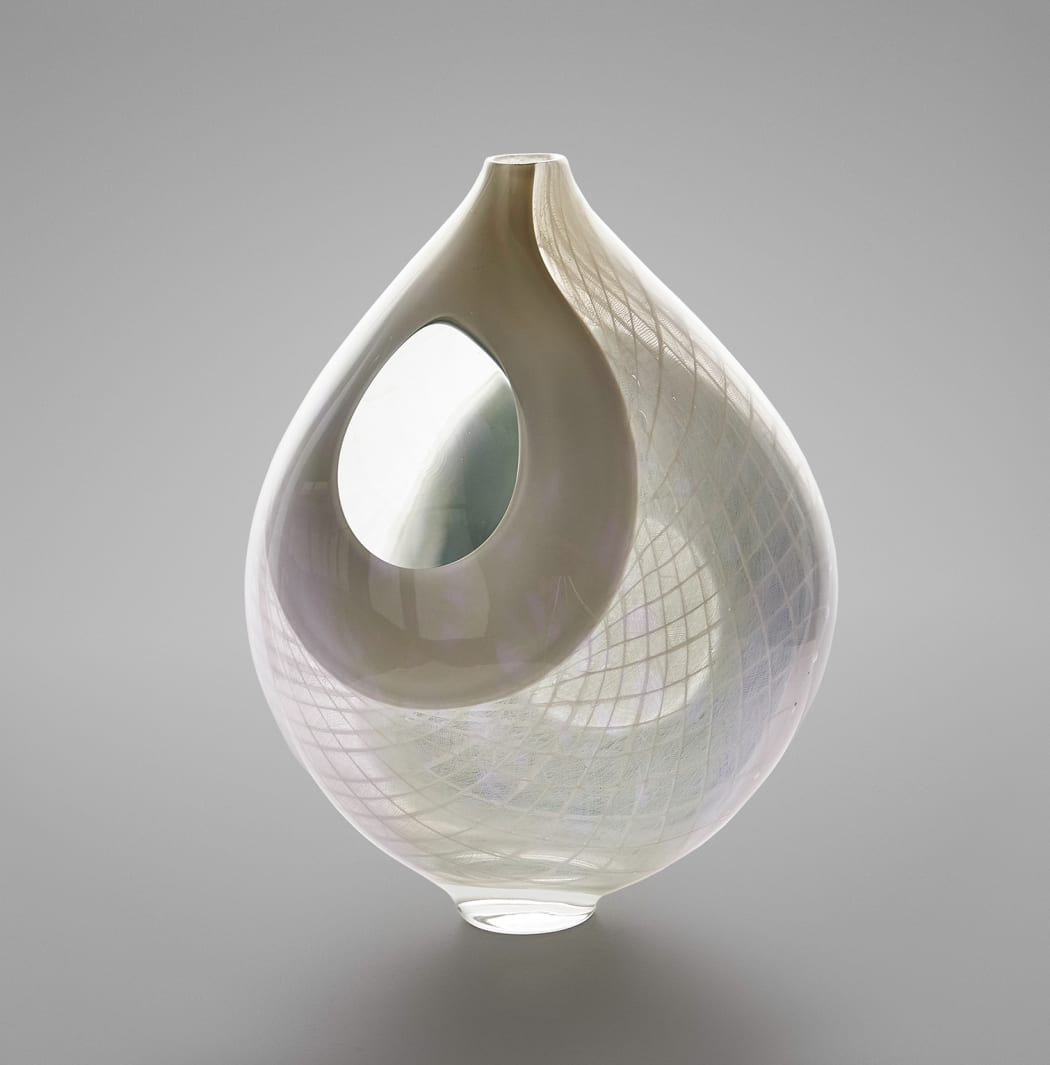 Kota Arinaga
decided on the titles
gāze
and
netz
in part thanks to the spiraling tendrils created by his use of the traditionally Venetian technique reticello. Reticello, which means "glass with a small network" in Italian, is a glass-ware technique that emerged in sixteenth century Venice, made by melting, fusing, and stretching colored glass canes. During this process, air bubbles become trapped within the crisscrossing strands, creating additional texture and intrigue. The shape of Arinaga's glasswork compliments these pockets of air well, as they seem to create a three-dimensional space encapsulated by the interwoven gauze-like reticello.
The milky-white color is another staple of Venetian-style glass produced at the highest level. This color, lattimo ("milk glass") in the Italian, may appear as an opaque color ­– not necessarily white – or translucent, depending on the density of the glass canes when they were spun. Arinaga emulates the lattimo technique with both dense blocks of color and pellucid white coils which sit atop a cristallo ("clear glass") base in his elegant teardrop-shaped work.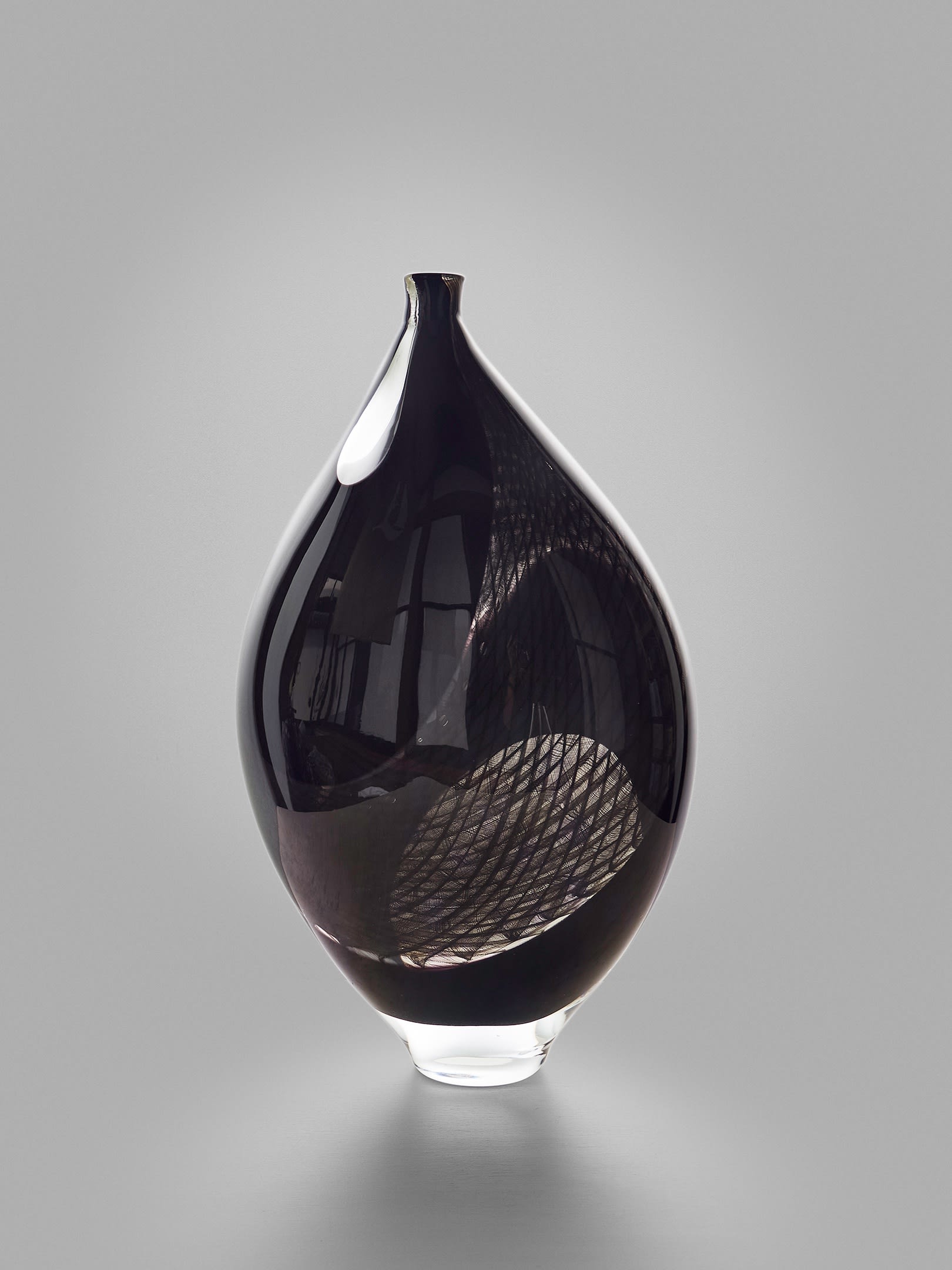 Kota Arinaga 有永浩太, 1978-present, gāze 墨 (Ink), Glass, 2020, (C24531)


Arinaga's black counterpart too deploys the reticello fishnet which sits atop a cristallo base and opens into transparent gashes that allow viewers access into the interior of the otherwise semi-opaque glass. Where the reticello has been spun into the woven gauze pattern, the deep black color expands into a multitude of purple, brown, and grey hues, demonstrating the depth and detail of Arinaga's technique and materials.


As light passes through the transparent exterior of the lattimo-style reticello, these colors become increasingly vibrant and additional layers of stripes are revealed. Though Arinaga at times departs from traditional uniform structures, he expertly maintains regular diamond shapes within his reticello: the true mark of a master.


Kota Arinaga 有永浩太, 1978-present, gāze 白 (White), Glass, 2020, (C24538)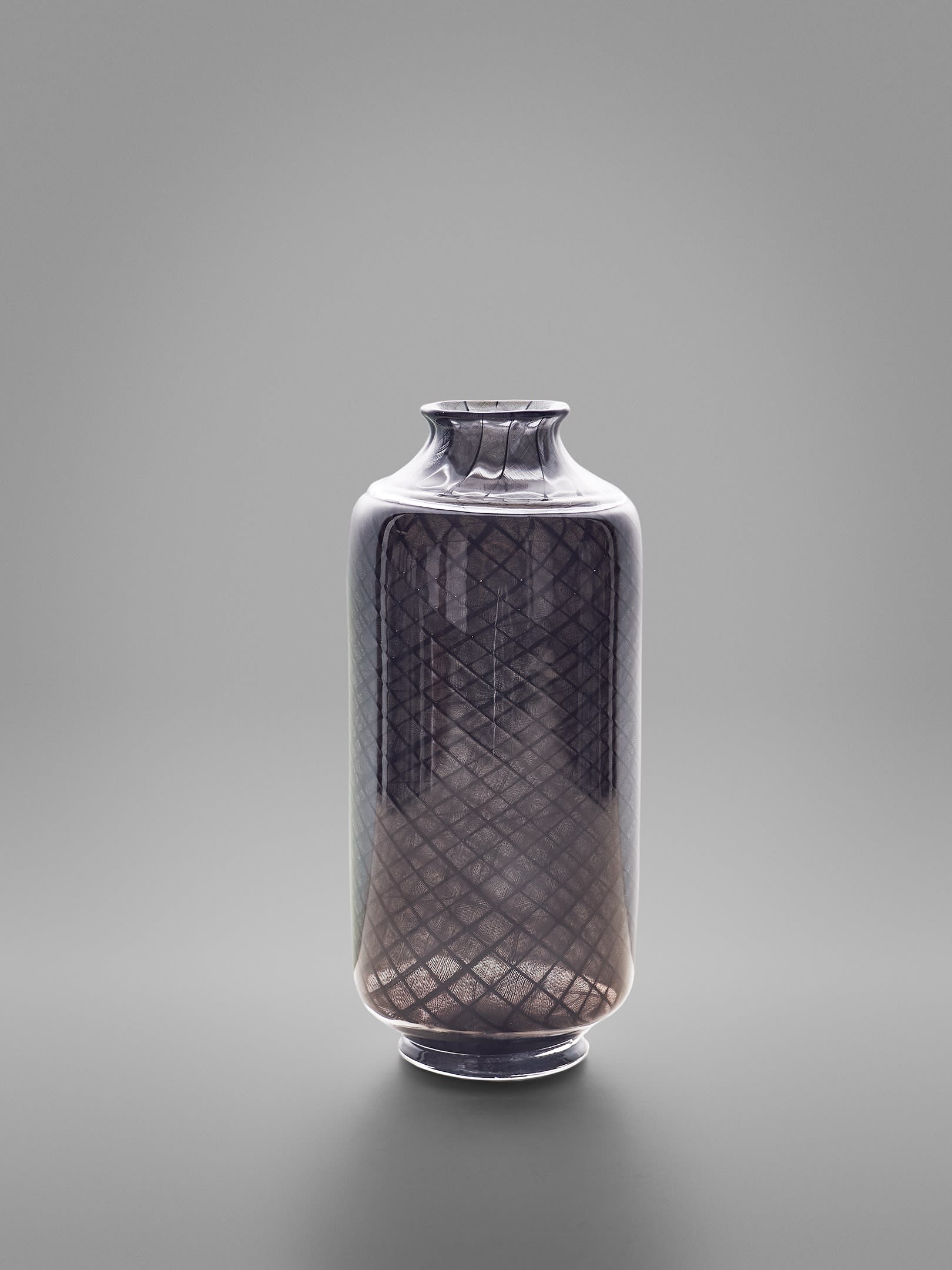 Kota Arinaga 有永浩太, 1978-present, gāze 墨 (Ink), Glass, 2019, (C24535)


Arinaga, who studied abroad in Germany during his school days, is inspired by the history of the Silk Road and his observation that Germany manufactures most medical gauze sold in Japan today. In pre-modern times, silk fabrics called "gaza" traveled out of the Southern Levant and were sold in Europe and China.


Glass, too, finds its origins in the Middle East and slowly made its way to Japan through trade along the Silk Road. Arinaga views the process of creating gāze as a bridge between the diametrically opposed materials of fabric and glass, stretching and binding glass threads before spinning them together like yarn.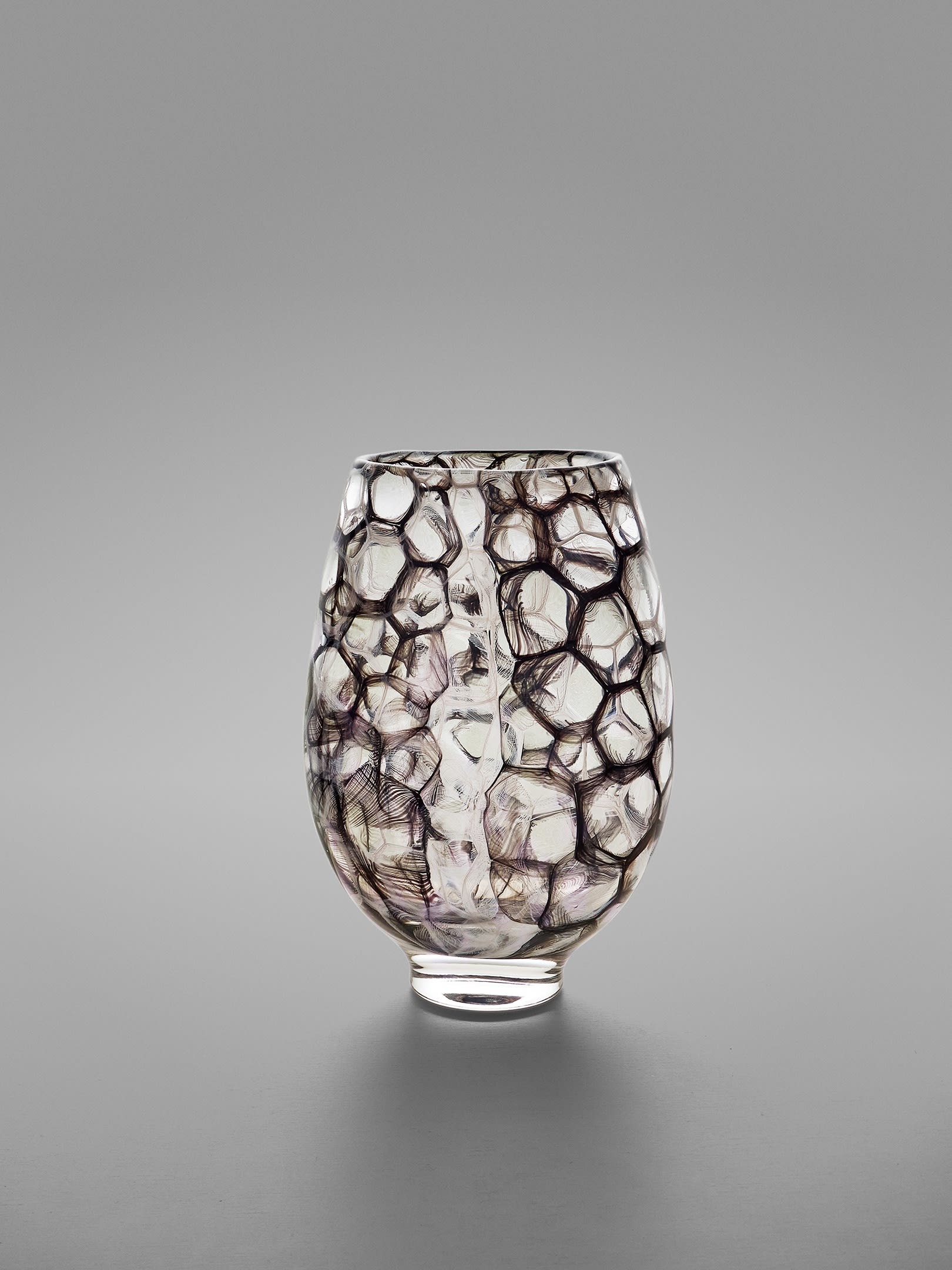 Kota Arinaga 有永浩太, 1978-present, netz 墨白 (Ink, White), Glass, 2021, (C24529)


Netz is too a direct reference to the historical relationship between glass and silk fabrics. Time is a central theme in how Arinaga understands his series. In his view, glass is still a young material in Japan compared to other artforms such as ceramic. Glass as a material is notoriously difficult to mold due to the spontaneous hardening once the molten glass has left the fire. Weaving, on the other hand, is a slower, more meticulous process, but similar to glass, is unforgiving of mistakes.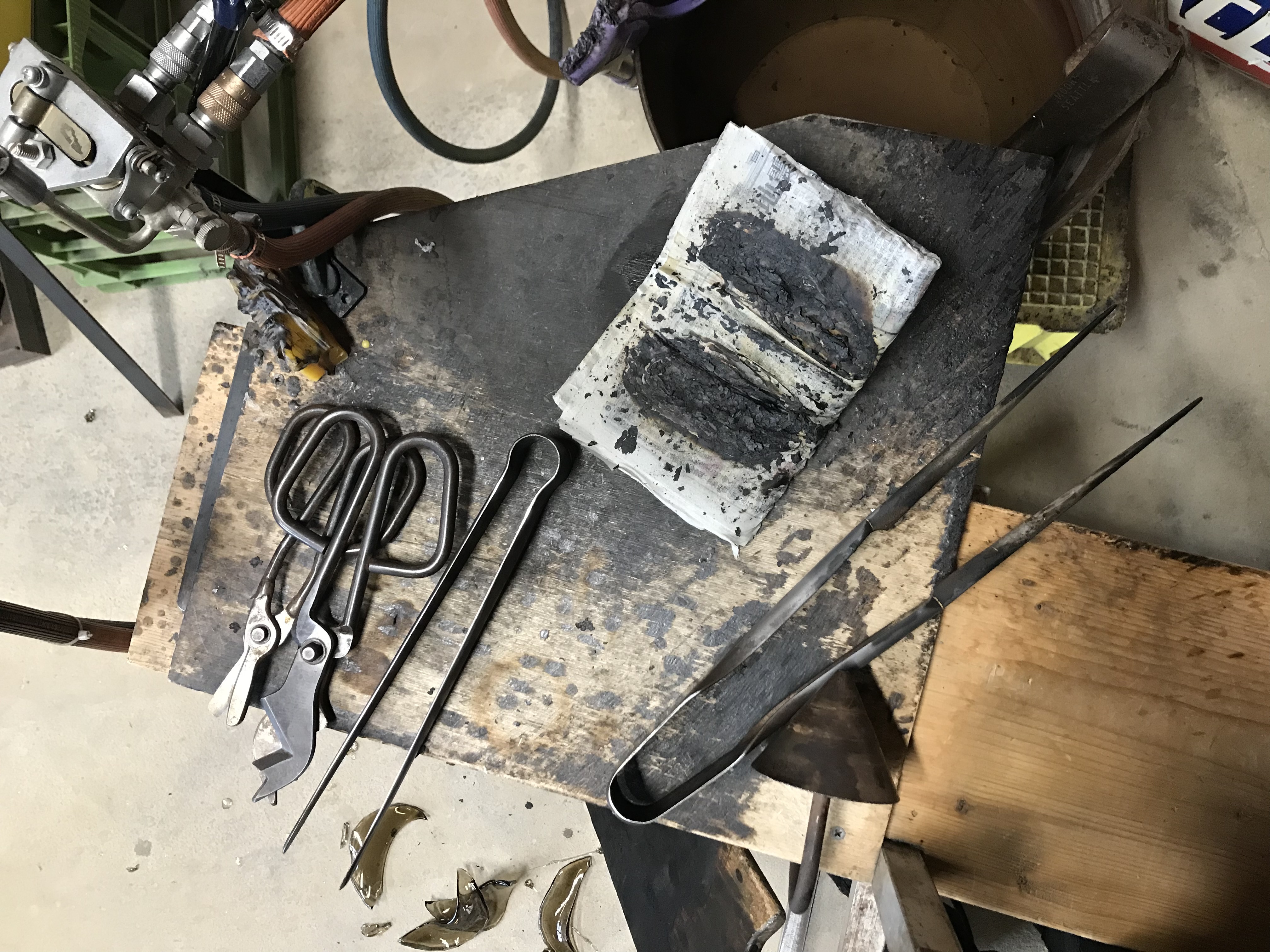 Kota Arinaga's studio, "Kotaglass," in Noto, Japan, 2022
Kota Arinaga 有永浩太, 1978-present, netz 墨 (Ink), Glass, 2022, (C24537)


Though the reticello method deviates little from the Venetian technique in construction, Arinaga intentionally decided to allow the entwining lace to become chaotic and irregular to match a sensibility more palatable to a Japanese audience.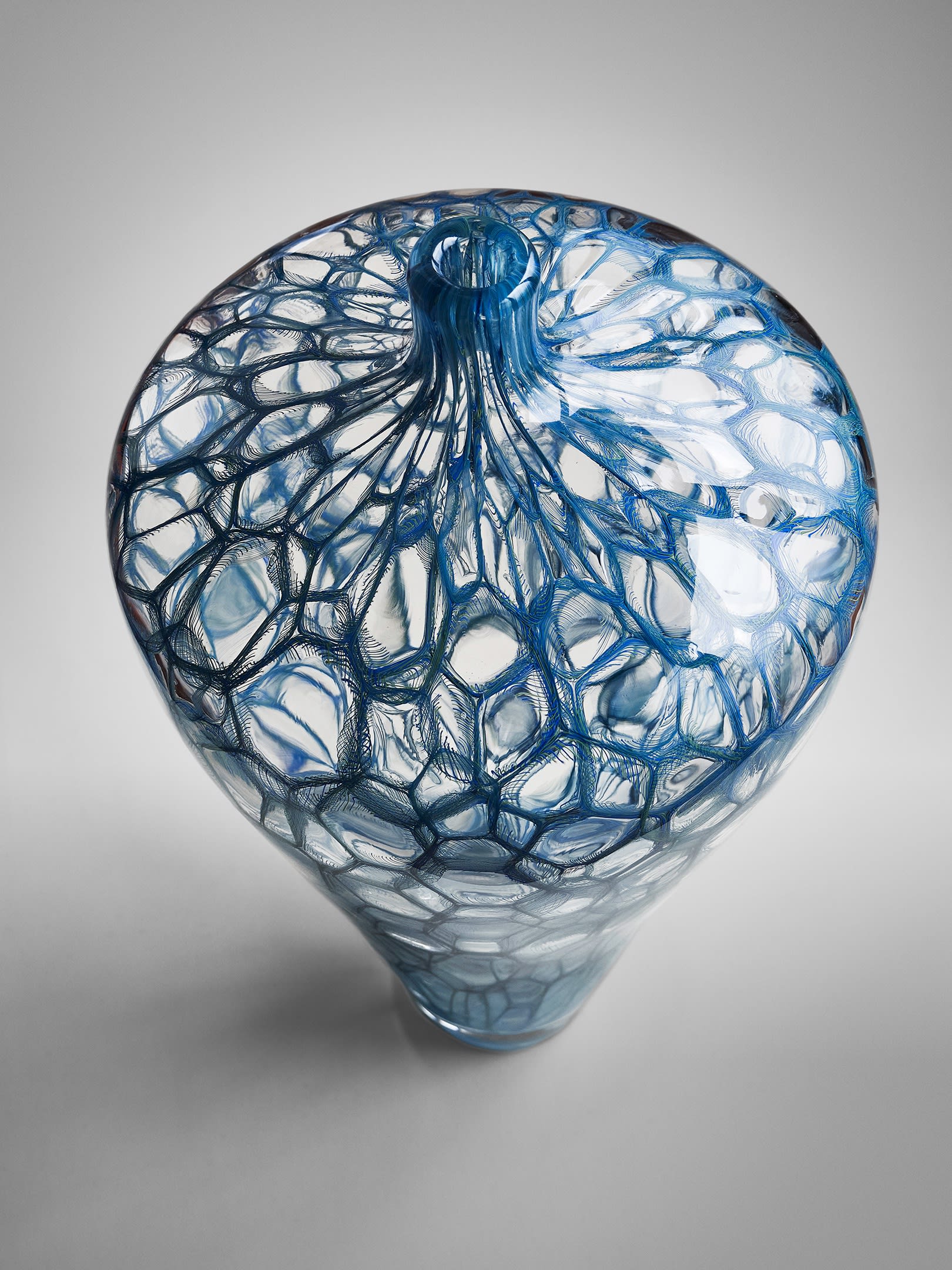 Kota Arinaga 有永浩太, 1978-present, netz インディゴ (Indigo) Glass, 2021, (C24536)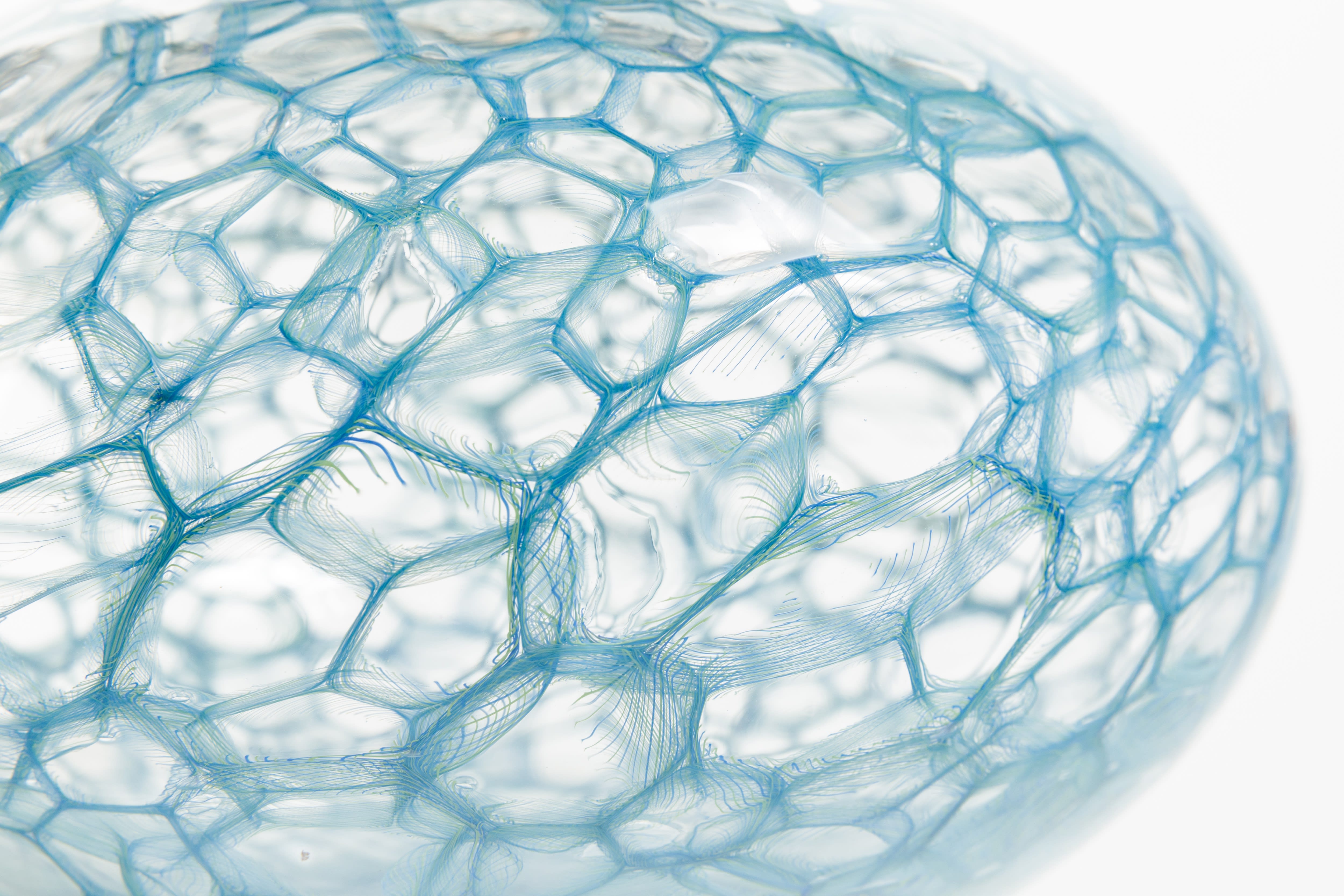 Kota Arinaga 有永浩太, 1978-present, netz インディゴ (Indigo), Glass, 2021, (C23692)


When Kota Arinaga blew air into the body of the glasswork to form the curved shape, the reticello canes twisted and expanded with the glass to create the unique netted pattern. He achieves the deep indigo hue by combining multiple colored glass threads.

The works of Kota Arinaga and Kiyoko Morioka are on display at Ippodo Gallery, located at 32 E 67th Street between Park Ave and Madison Ave, third floor, from July 21st until August 25th, 2022.




Engle, Paul. Reticello Glass, https://www.conciatore.org/2019/01/reticello-glass.html.
"Kota Arinaga." 一般社団法人日本美術工藝協会, https://www.umashi-bito.or.jp/artist/683.