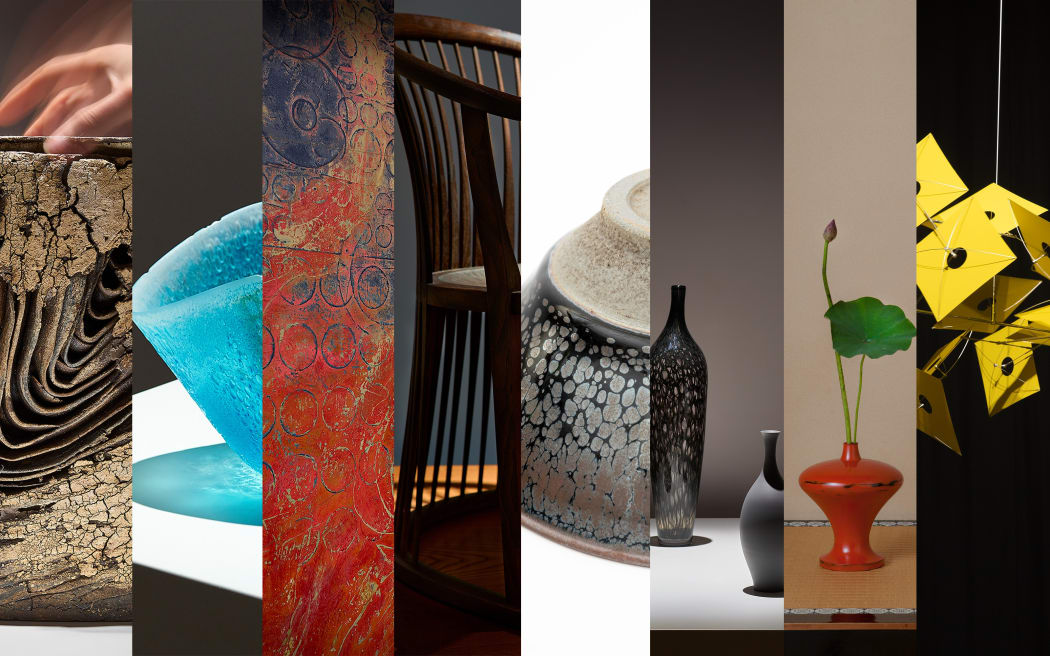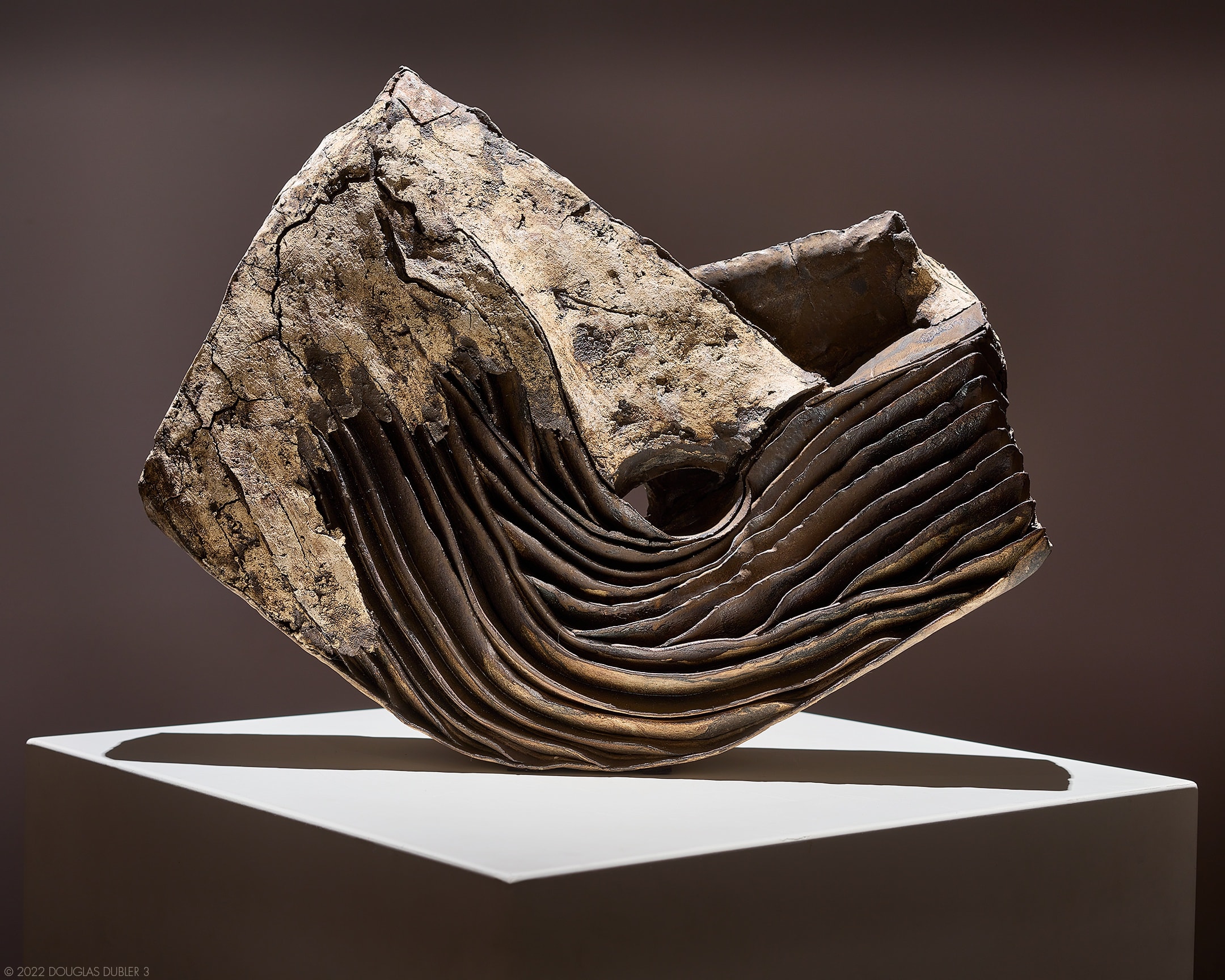 Yukiya Izumita, "Stream of Time"
2022 began with Yukiya Izumita's "Layers of Time," an impressive showing of the artist's newest works. The ceramicist began his career under Gakuho Shimodake, studying kokuji pottery. Afterwards, in 1995, Izumita went on to open his own studio in Noda Village, Iwate Prefecture, on the border of the Northern Ceramic Production area of Aomori Prefecture. Tohoku, part of Japan's northeast coast, is known for harsh weather and endured the tsunami of 2011. From this coastal enclave, Izumita develops the unique lamination technique, compiling numerous layers into sculptures and tea wares. The textures are like rusted iron and brittle wood. Izumita captures the interplay between gravity and weightlessness, balance and imbalance, strength and weakness, but above all; they embody Izumita relationship with the natural landscape of his home.
Yukiya Izumita, "Stream of Time"
In celebration of Hinamatsuri on March 3rd, 2022, "Elegant Dedications" featured the work of women artists that best demonstrate their expertise and range of creative expressions. The exhibition advocated for diversity, inclusion, and gender equality in art and beyond, and the ways each artist takes a comprehensive look at traditional Japanese techniques and forms. The subtle yet luscious porcelains by Kiyoko Morioka capture the whistful sky of her Kanazawa hometown. Morioka's perfectly crafted kutani forms break from the decorative ornamentation of the porcelain ware; by refraining from painting the surfaces, but rather smoking them with rice husk in the kiln, the technique of the Associate Professor at Kobe Design University is innovative yet preserves formal expectations of the ceramic category.
Kiyoko Morioka, "Elegant Dedications: Selections of Female Artists"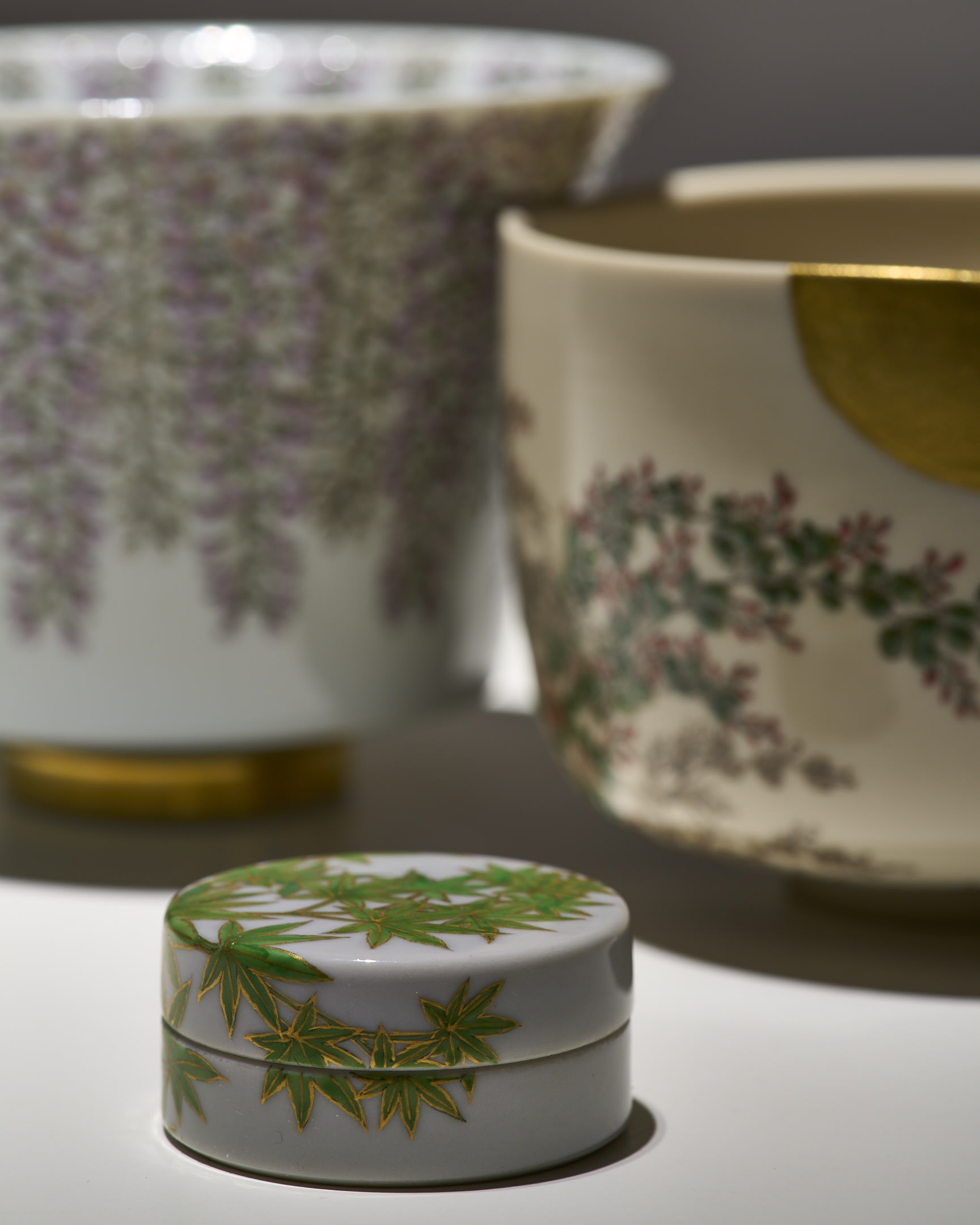 Ruri Takeuchi, "Elegant Dedications: Selections of Female Artists"
Ruri Takeuchi trained under Chousa Yamamoto, a renowned porcelain artist, before opening her own workshop in Komatsu City, Ishikawa Prefecture. She paints delicate scenes of plants and animals onto porcelain incense containers and small boxes, bringing them to life with her skillful artistry. Midori Tsukada's glass forms are a beautiful accompaniment. Utilizing gravity and characterized by blues, violets, and greens produced by copper leaf, Tsukada employs highly technical grinding to create lines of minute delicacy producing a translucence like that of light shining through a membrane.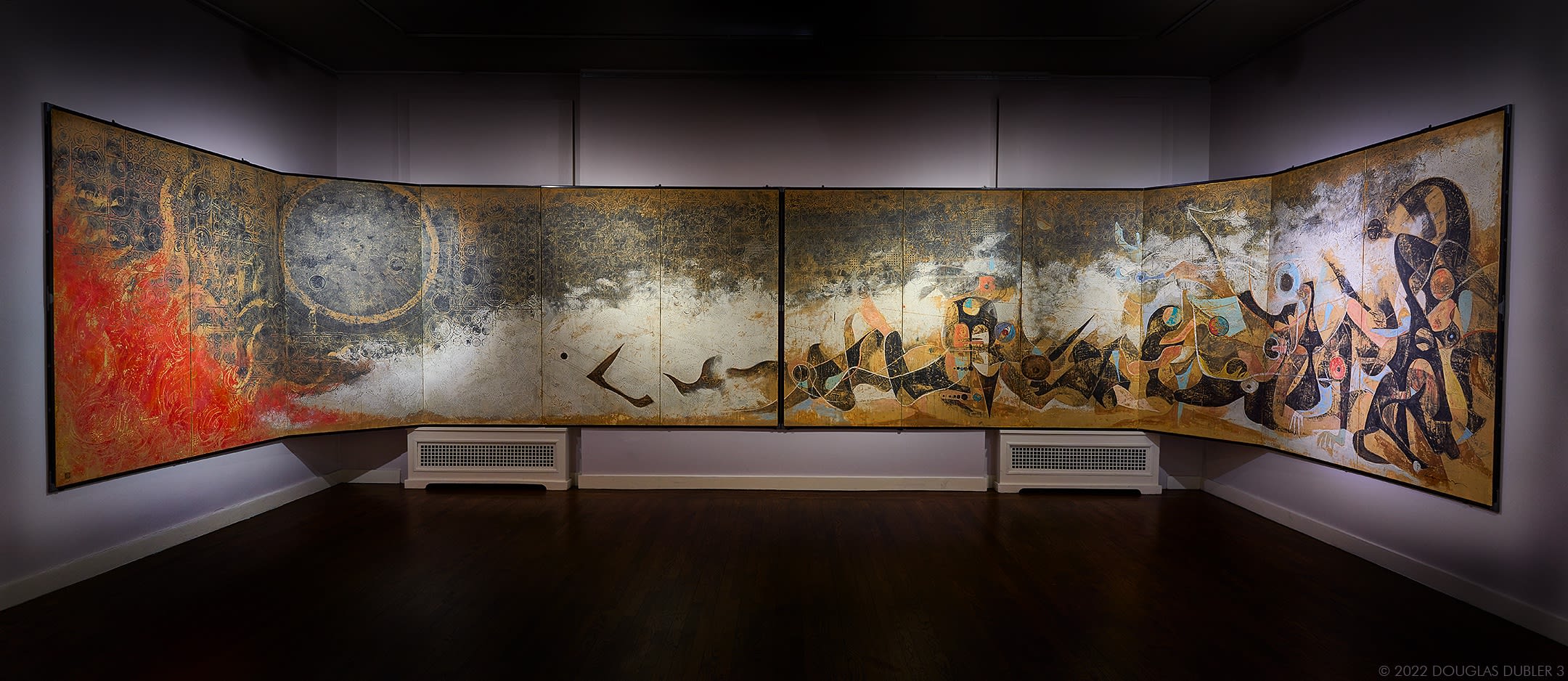 Ken Matsubara, "Chaos to the Cosmos: White Road between Two Rivers"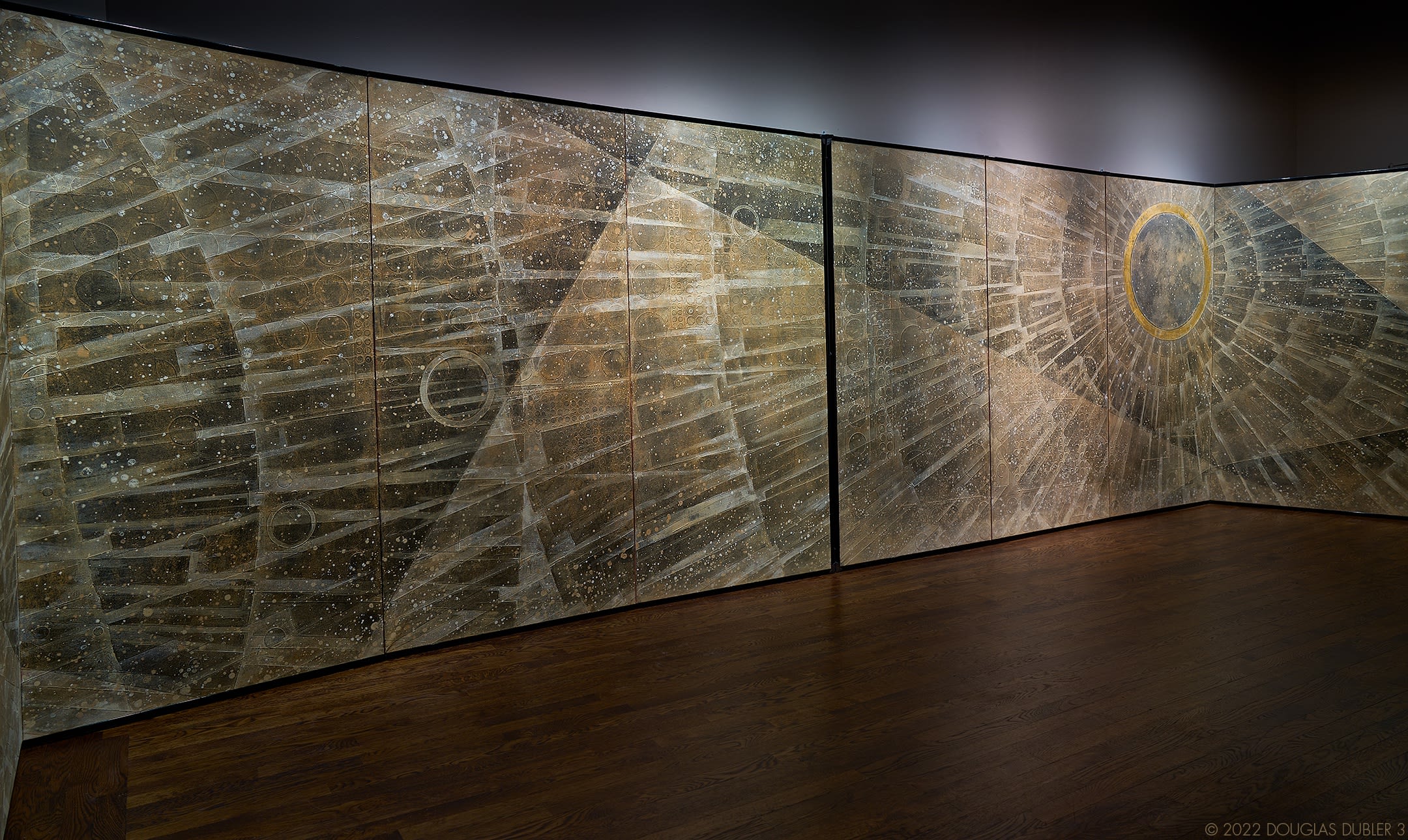 Ken Matsubara, "Chaos to the Cosmos: White Road between Two Rivers"
Chaos is Matsubara's interpretation of a Buddhist painting entitled Niga Byakudō-zu [White Path to Paradise between Two Rivers of Worldly Vice] which he first saw at Zendōji temple in Gifu Prefecture when he was nine years old, and which had remained firmly etched upon his memory. To find the white road, it is necessary to possess a pure heart and cast aside the sediment of life that has built up inside one's soul, otherwise it will be impossible to pass along this narrow white road that runs between the river of water (attachments and greed) and the river of fire (anger and hatred). It was with this in mind that he confronted the twelve panels that comprise this work, a masterpiece through which he prayed for tranquility and purged himself of all the chaos that had accumulated within him.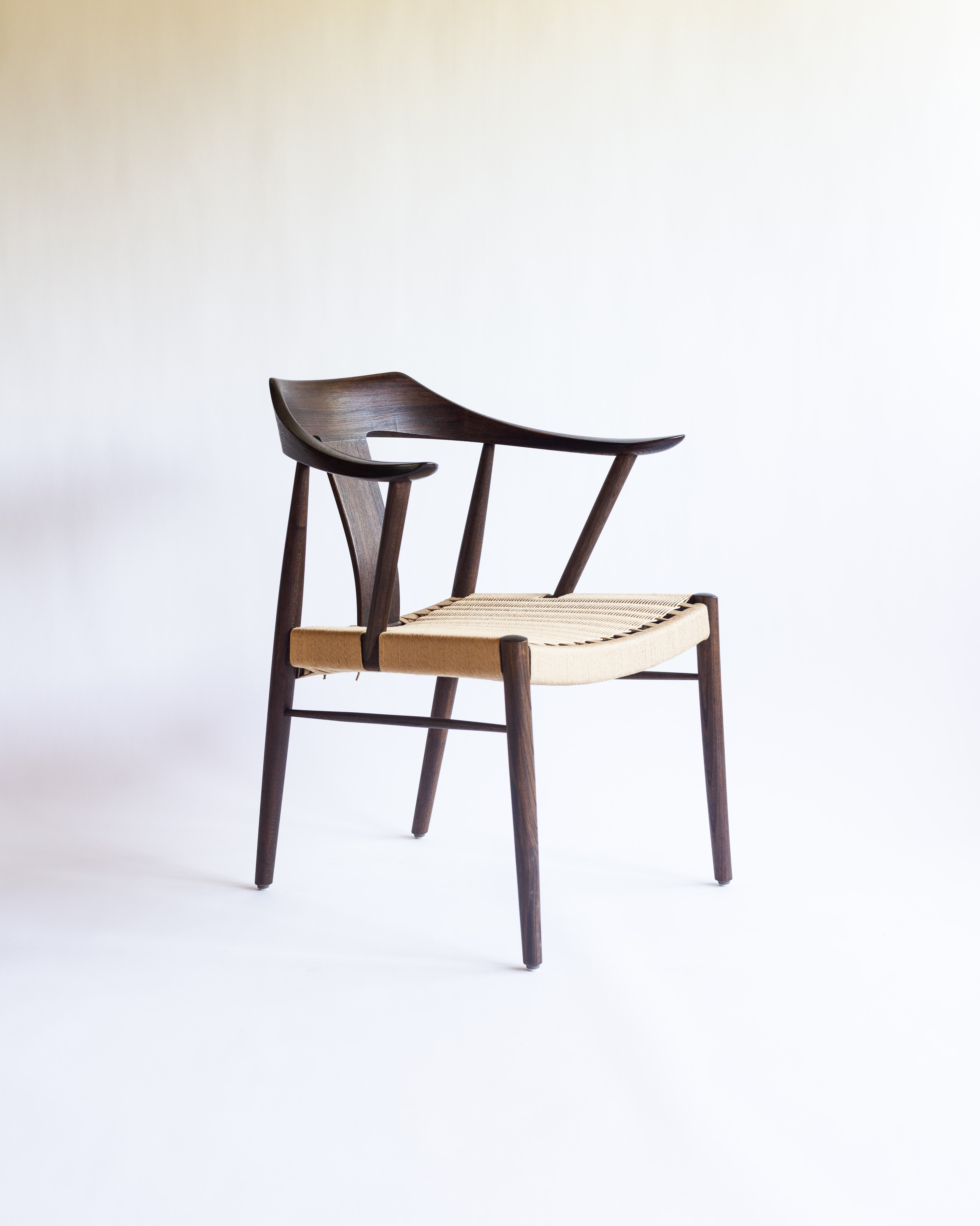 Toshio Tokunaga, "Bring Forest Bathing to the Home"

Toshio Tokunaga, "Bring Forest Bathing to the Home"
The overwhelming commotion of city—and modern—life necessitates a refuge; a place to recover and reflect in comfort and tranquility. Toshio Tokunaga's expertise in furniture is uniquely attuned to the natural world. He delicately familiarizes himself with each tree individually, allowing him to infuse each chair with warm understanding: precious zelkova, mulberry, cherry, and yoshino cedar woods are all sustainably sourced with passion and dedication from local forests, then dried for many years. "Bring Forest Bathing to the Home" was an invitation to reevaluate the needs of our bodies.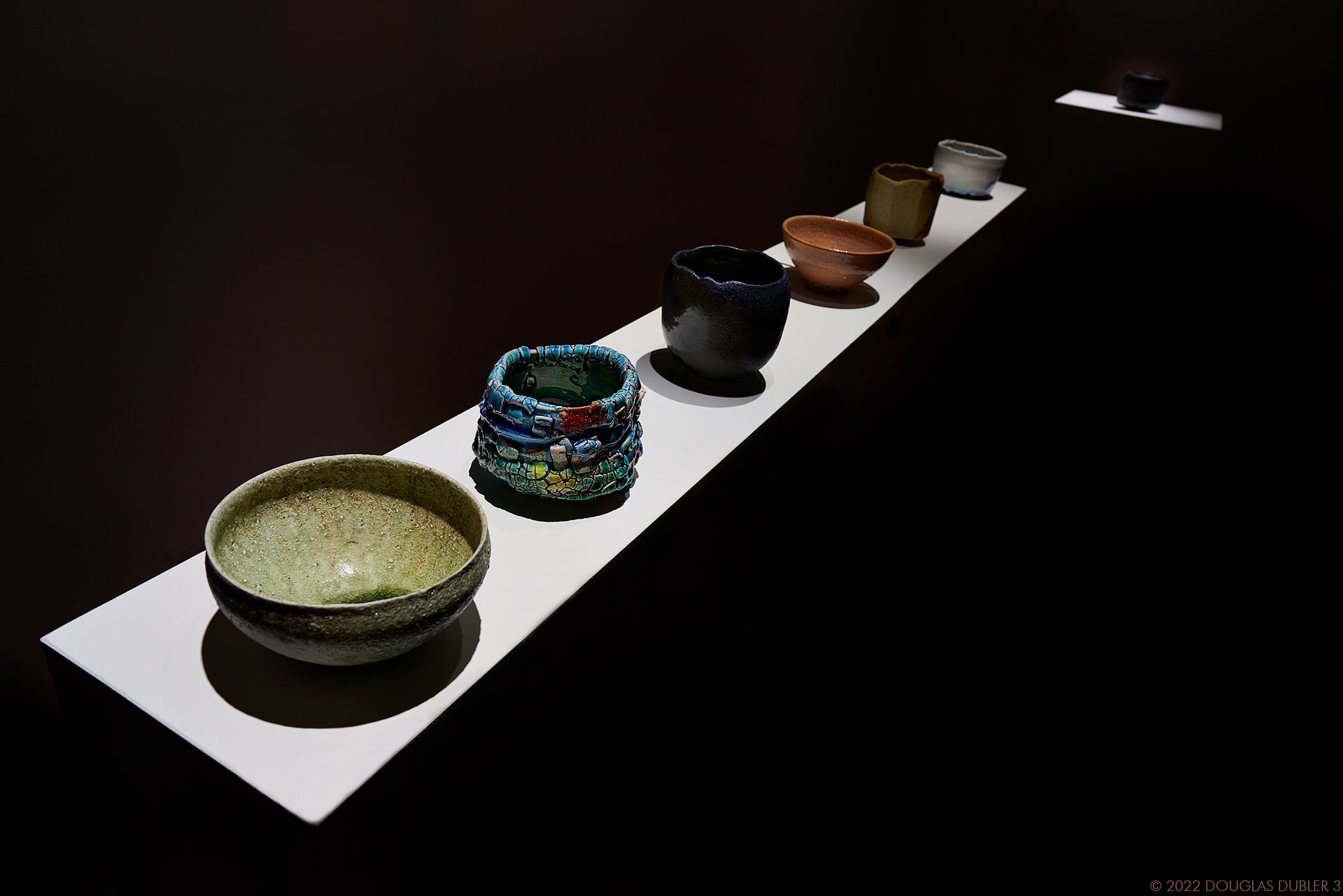 Yui Tsujimura, Kodai Ujiie, Kai Tsujimura, and Hiroshi Goseki, "Magic of the Tea Bowl, Volume II"
The weight of a tea bowl in the palm of one's hand activates all five senses. As one feels the weight and shape of the bowl and observes the vibrant colors and brilliant decorations, time and space disappear. Magic of the Tea Bowl – Volume 2 featured seventeen artists well-respected in their specializations: Yasushi Fujihira, Hideyuki Fujisawa, Noriyuki Furutani, Hiroshi Goseki, Tomoyuki Hoshino, Morimistu Hosokawa, Takeshi Imaizumi, Koichiro Isezaki, Yukiya Izumita, Tsubusa Kato, Kohei Nakamura, Mokichi Otsuka, Kai Tsujimura, Shiro Tsujimura, Yui Tsujimura, Koichi Uchida, and Kodai Ujiie.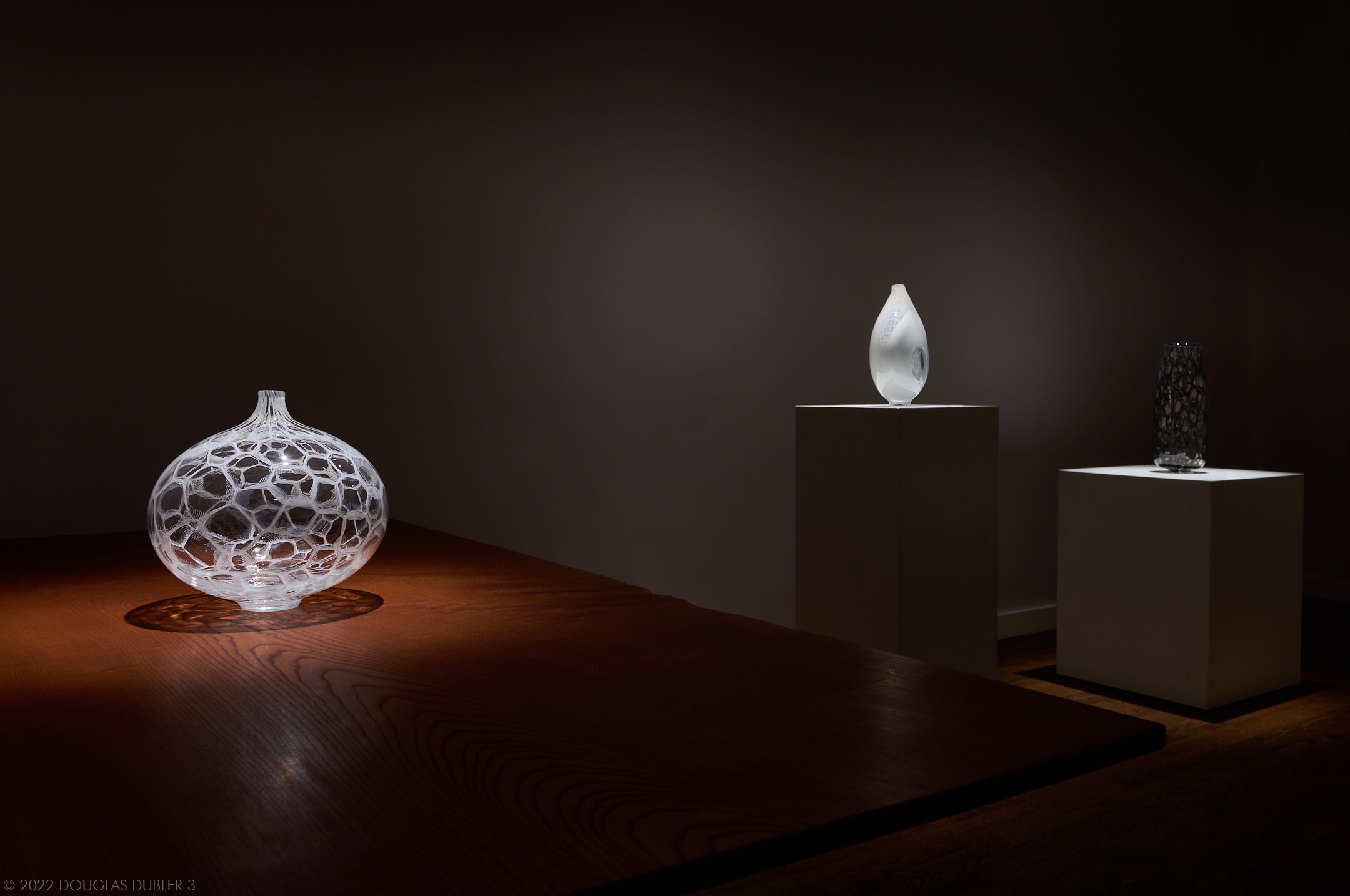 Kota Arinaga, "On the Axis"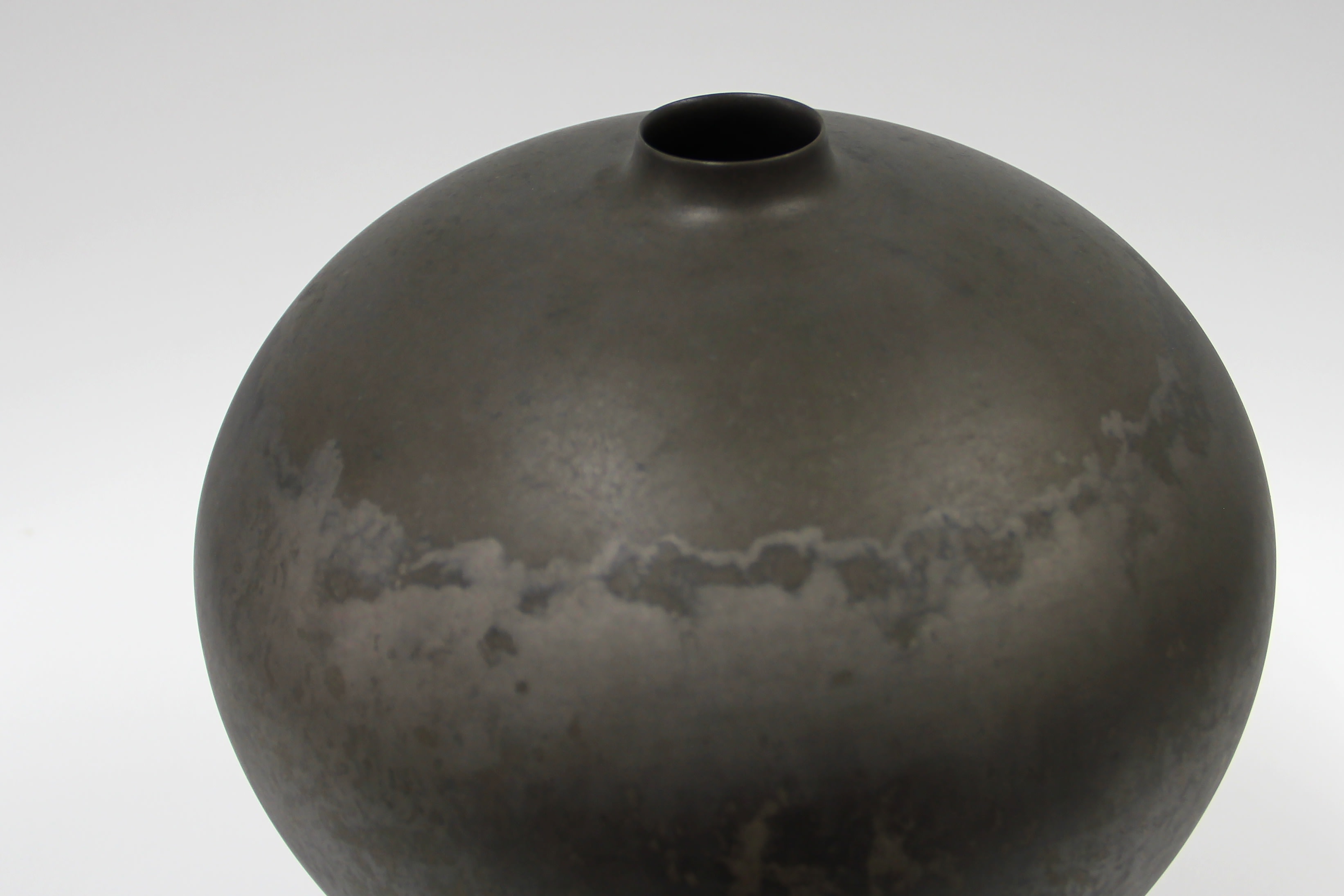 Kiyoko Morioka, "On the Axis"
A dual exhibition showcasing the glass of Kota Arinaga and porcelain of Kiyoko Morioka, "On the Axis" explored the dichotomies and the dualities in their work. In the stillness of the exhibition, their explorations complement and challenge one another, so that the viewer can reflect on time's passages and surprises as it warps or rushes, freezes or evolves. Both glass and clay materials are embedded with the passage of time, requiring expert craftsmanship and patience over an extended period to produce a precious work of art.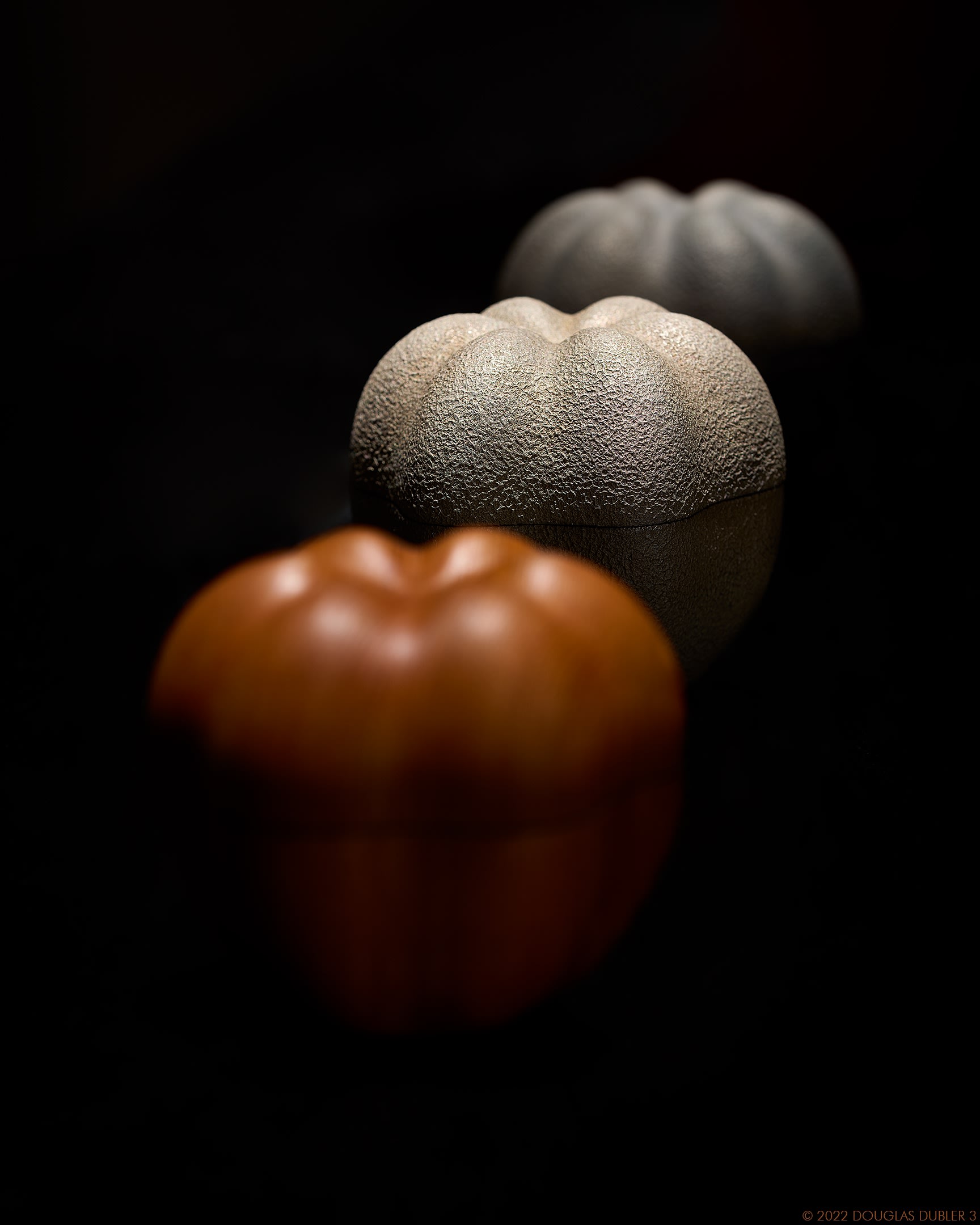 Jihei Murase, "Innovation in Form"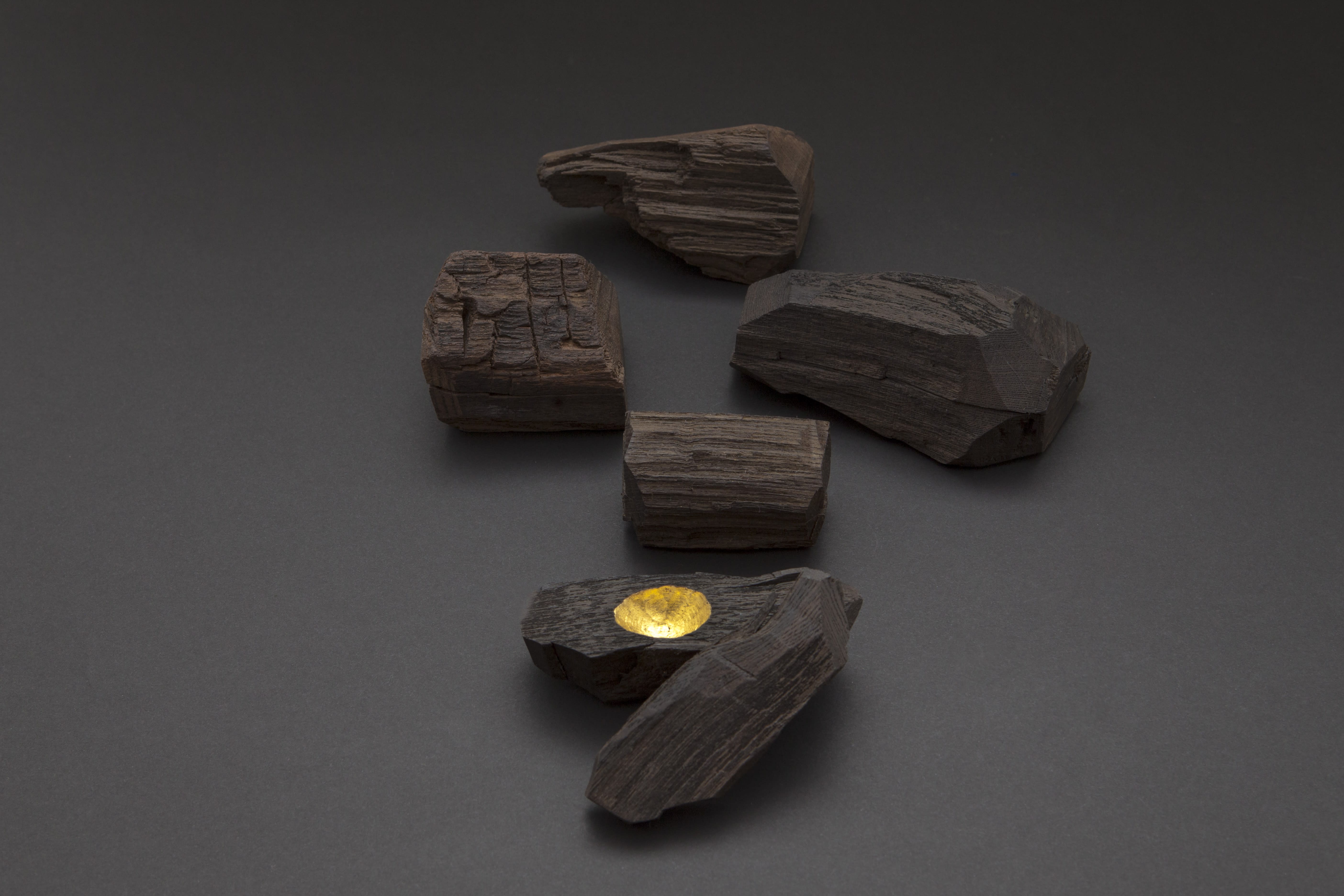 Jihei Murase, "Innovation in Form"
Representative of the country's prestigious craftsmanship, urushi ("lacquer") has become synonymous with "Japan." Artist Jihei Murase stands at the forefront of Japanese lacquer craft. His exceptional technique adeptly balances between functional and aesthetic beauty. Murase's innovations have expanded the category of lacquerware both technically and aesthetically. Using modern gadgets including the lathe and hand-forged wrought iron tools, the artist realizes impressive shapes, each with a unique expression.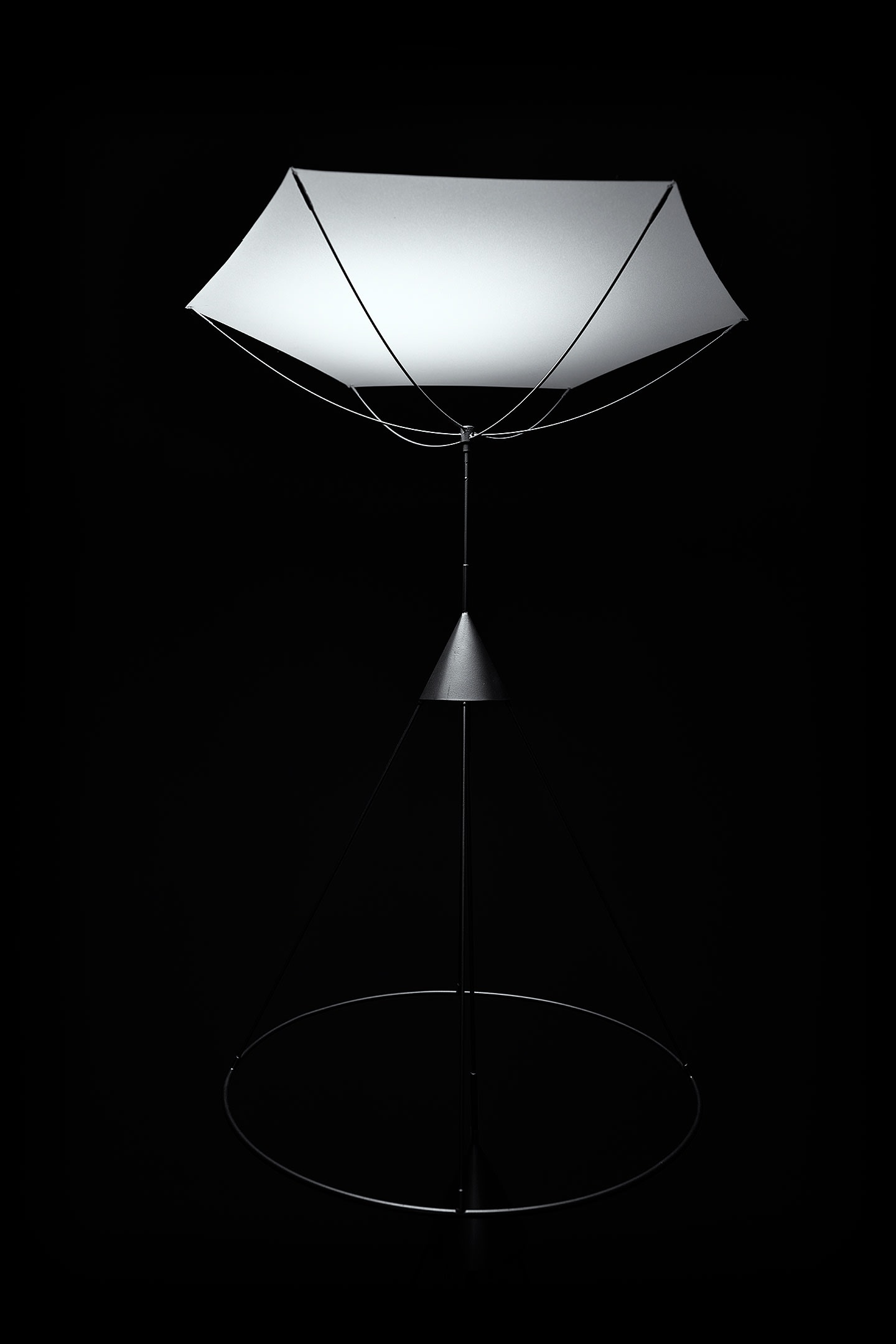 Susumu Shingu, "Sculpting with Wind"
Susumu Shingu, "Sculpting with Wind"
Shingu's wondrous churning objects explore how the environment shapes and creates behavior and serve as reminders of the constancy and immensity of the Earth's natural forces – wind, water, light, and gravity – that affect our human bodies/lives. The renowned kinetic-sculptor's first solo exhibition in the United States, "Sculpting with Wind" featured the artists rare indoor sculptures and abstract gouache paintings.
Please join us for the debut of Extreme Surfaces, a continuation of Ippodo Gallery's permiere showing at Design Miami featuring cutting edge kogei artworks ranging in material from lacquer to ceramic to metal, opening on January 12th, 2023.