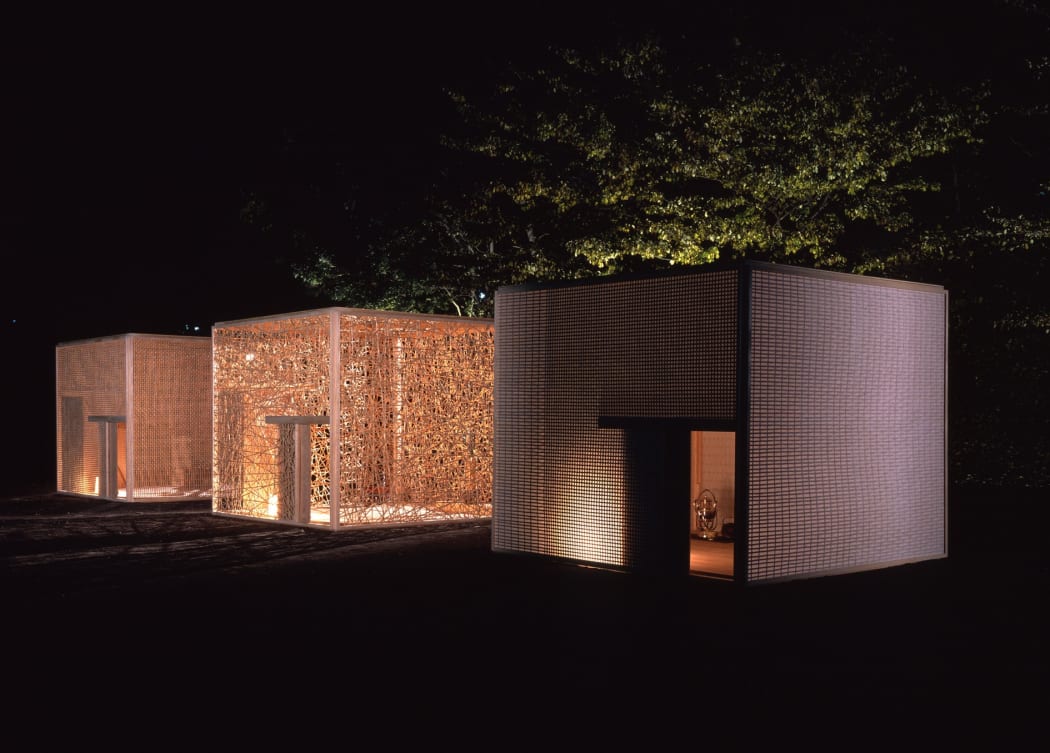 Shigeru Uchida, Portable Teahouse Series, (F257P)
Photo Credit: Nacása & Partners Inc
Tomorrow, January 12th, Ippodo Gallery opens Extreme Surfaces: Cutting Edge Kogei at our 3rd floor gallery location, 32 E 67th Street, 10065. A continuation of the gallery's debut showing at Design Miami back in November, the exhibition features 17 artists who work with traditional Japanese materials, including ceramic, glass, percious metals, wood and lacquer, and nacre (also known as mother-of-pearl). The works are of all shapes and sizes, including the Ji'An Teahouse crafted by legendary architect Shigeru Uchida, which makes for a welcoming and traditional Japanese focal point.
Hirotomi Maeda, Illustrious Reflection (A25279)
A professor at one of Japan's top intuitions, Tokyo University of the Arts, Hirotomi Maeda's works are so highly sought after that the artist was invited to produce a piece that was presented to Emperor Naruhito on the date of accession in 2019. Constructed for the highest of occasions, Illustrious Reflection is forged from precious gold, silver, and copper. Using an alloy of the three metals, Maeda forms the shape and patterning of the vessel by hand.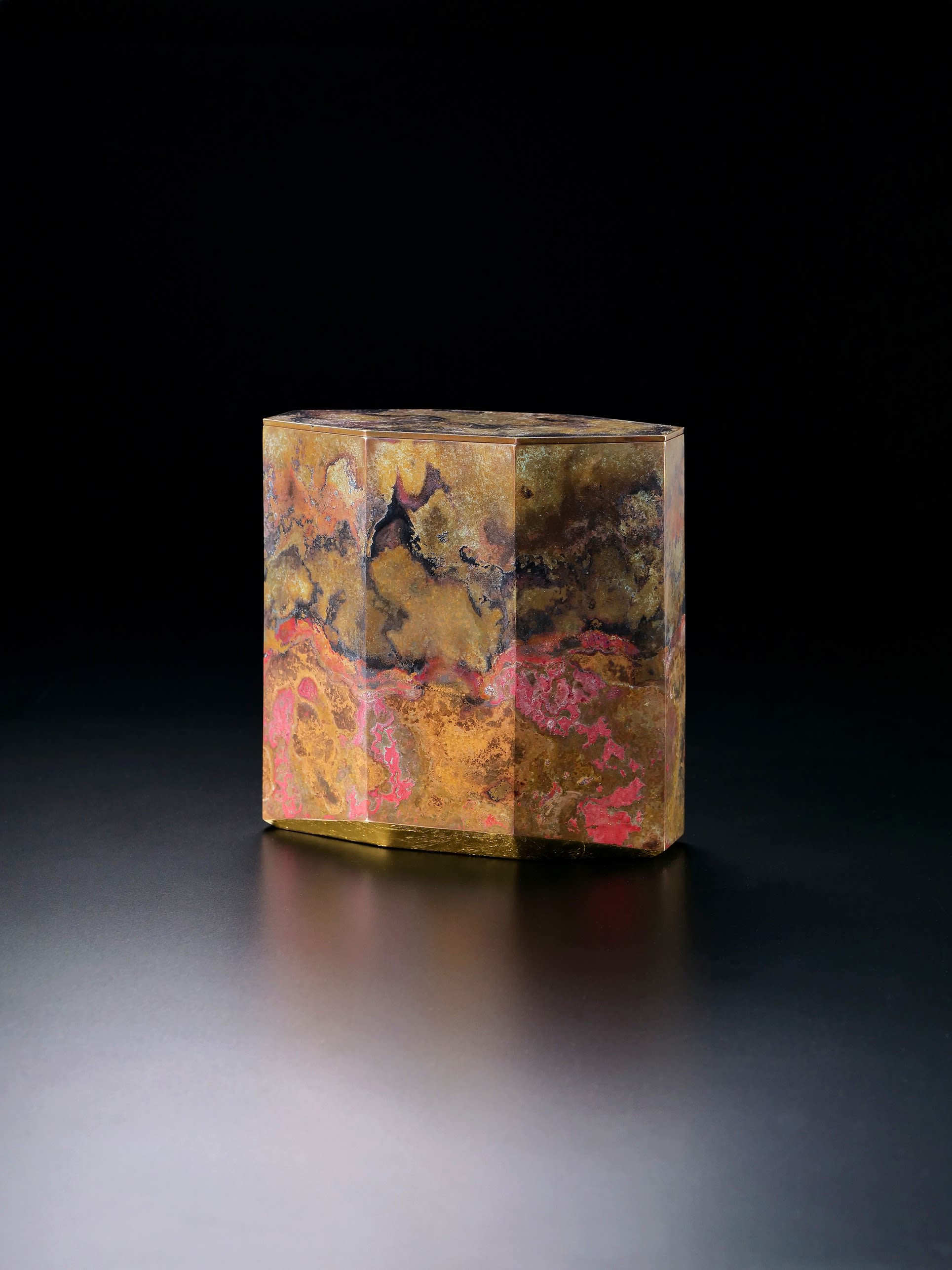 Koji Hatakeyama, Eight Faces (C25280)
Koji Hatakeyama is a master at decorating the metal surface. His bronze technique is modeled after those developed in ancient Mesopotamia. Within the ore-like vessel, shadows never encroach upon the glittering gold-coated interior. With the memory of thousands of years, the metal container seems to have withstood the test of time.
Accomplished in Japanese metalsmithing techniques, the Ishikura brothers Hajime and Yasuo achieve a rich black skin and a subtle luster that only iron can produce. The indentations made by repeatedly hammering with an iron ball accumulates into a porous surface texture. The fine lines of the candle stand create a simple but elegant form imbued with a sense of tranquility.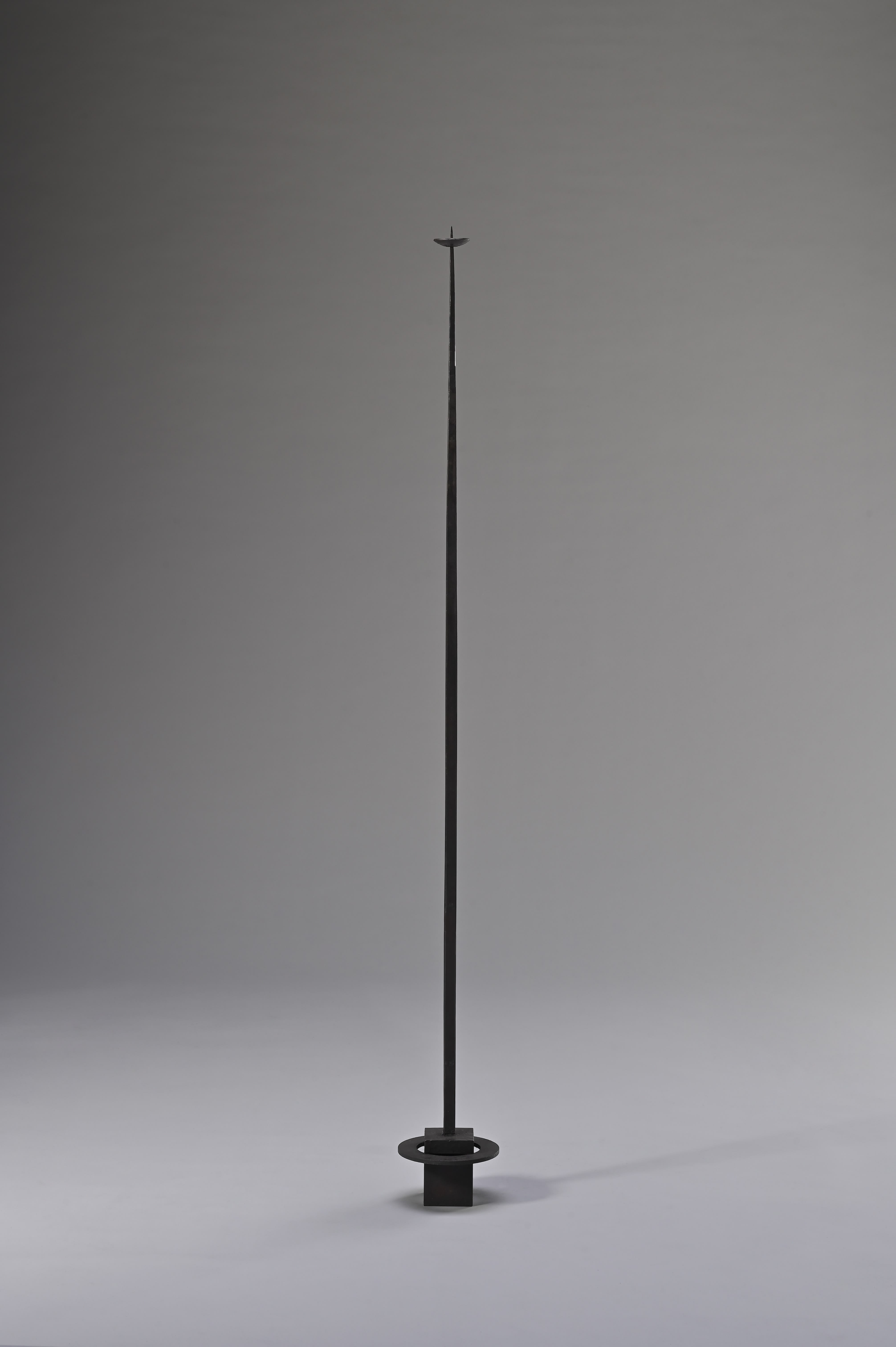 Hajime and Yasuo Ishikura, Candle Stand (A) (B25272)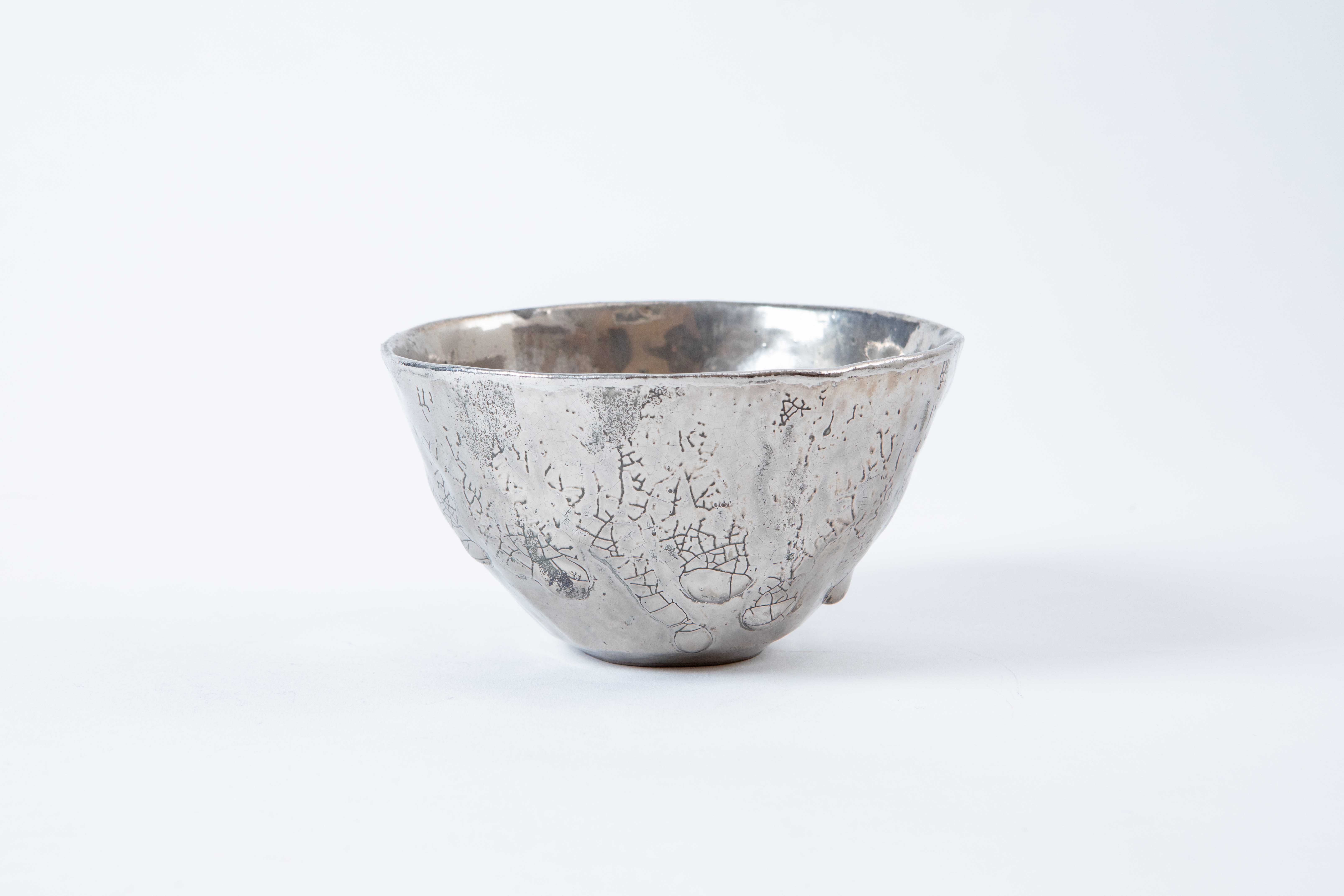 Yasushi Fujihira, Tea Bowl (C22325NP)

Hiroshi Goseki, Yohen Black Shaved Tea Bowl (C25294NP)
Yasushi Fujishira's tea bowl is reflective like a mirror and is reminiscent of a fluid film over the surface. Shaped by hand, the simple yet attractive ceramic feels natural and organic. Yasushi Fujihira follows in the footsteps of his father, Shin. Though Shin has sadly since passed, he was famous for his use of fascinating glazes. Fujihira's bowl captures the lusciousness of the technique taught by his father.
Relatively equal in height and width, the shaved tea bowl appears polygonal from eye level. The brown and blue hues of Hiroshi Goseki's unglazed yohen tea bowl resemble undulating hills in nature, complementing and harmonious with the artwork's overall earthen aesthetic. Dropping suddenly to the foot, the bowl gives the illusion of floating in the air.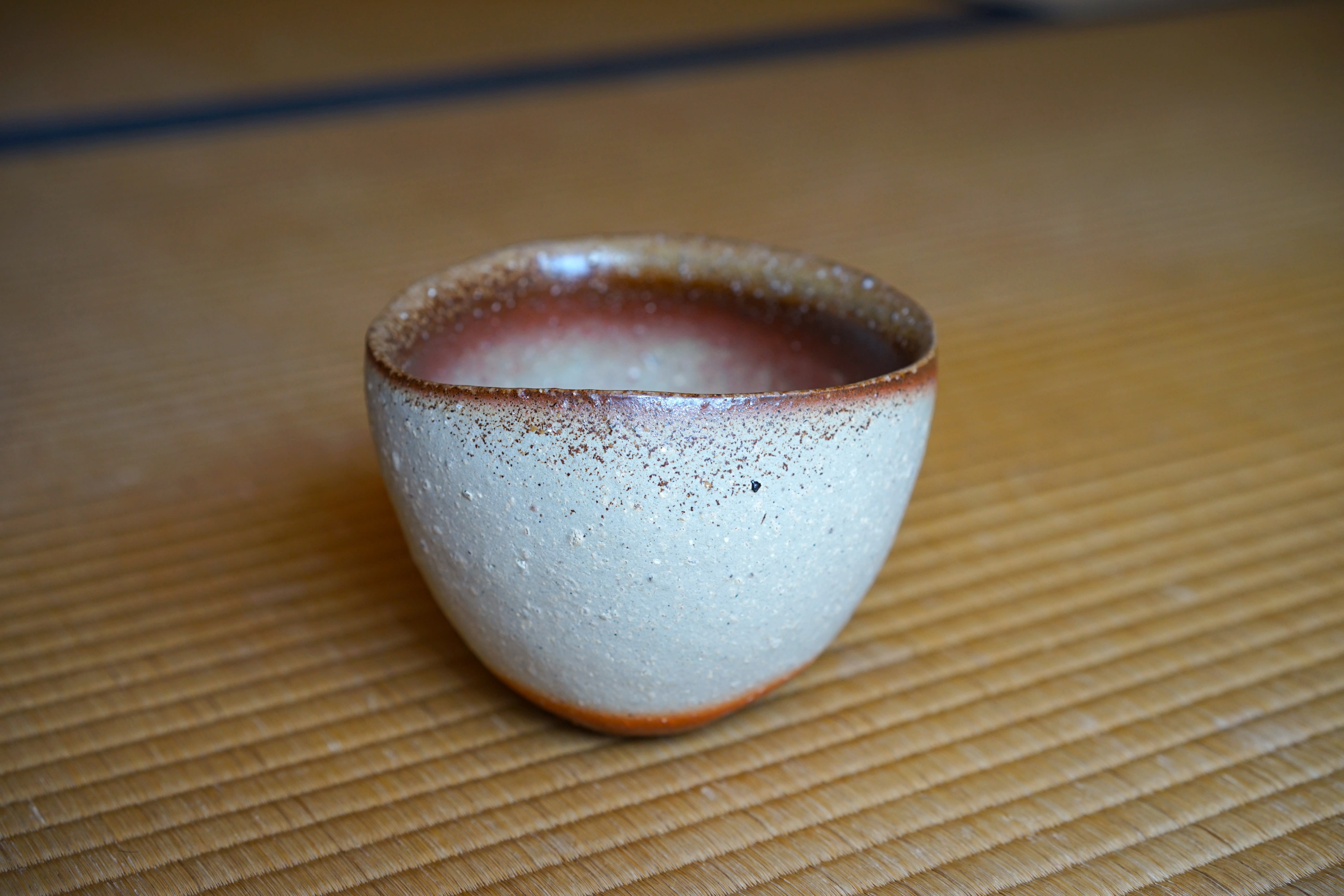 Koichiro Isezaki, Tea Bowl (C24280)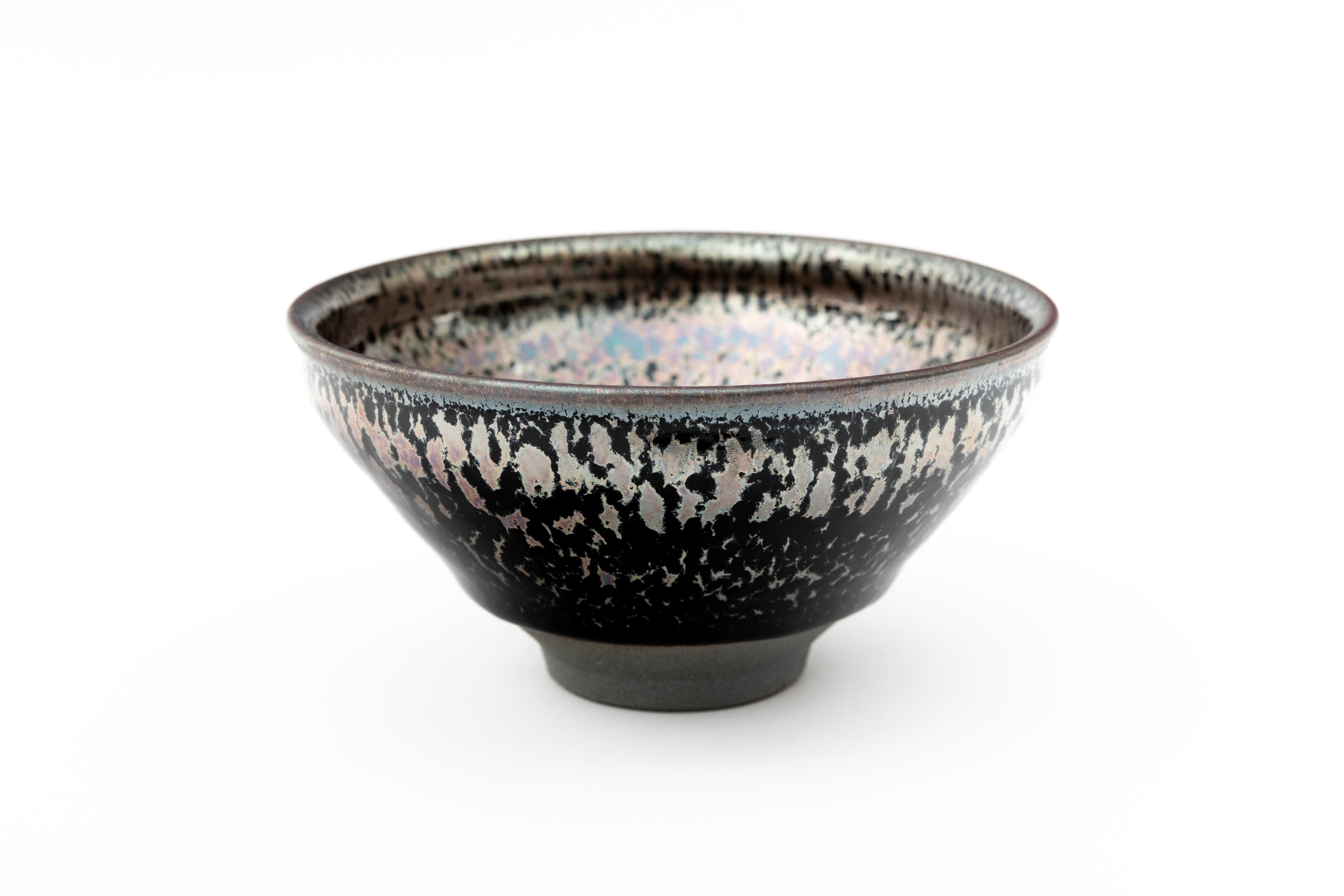 Noriyuki Furutani, Tenmoku Tea Bowl (C24207)
Koichiro Isezaki's bold ceramic tea bowl is tinged with red and brown. Isezaki practices the hidasuki technique, which involves inserting rice husks into the kiln. Through this process, the colors form organically without any glaze.
Noriyuki Furutani's attention is on the tenmoku style, which came to Japan from China as one of the most formal tea bowl shapes. Using an oil spotting technique, Furutani's emphasizes the perfect contours of the bowl with a glaze like a miniature universe.
Tomoyuki Hoshino, Sugar Glazed Tea Bowl (C24273)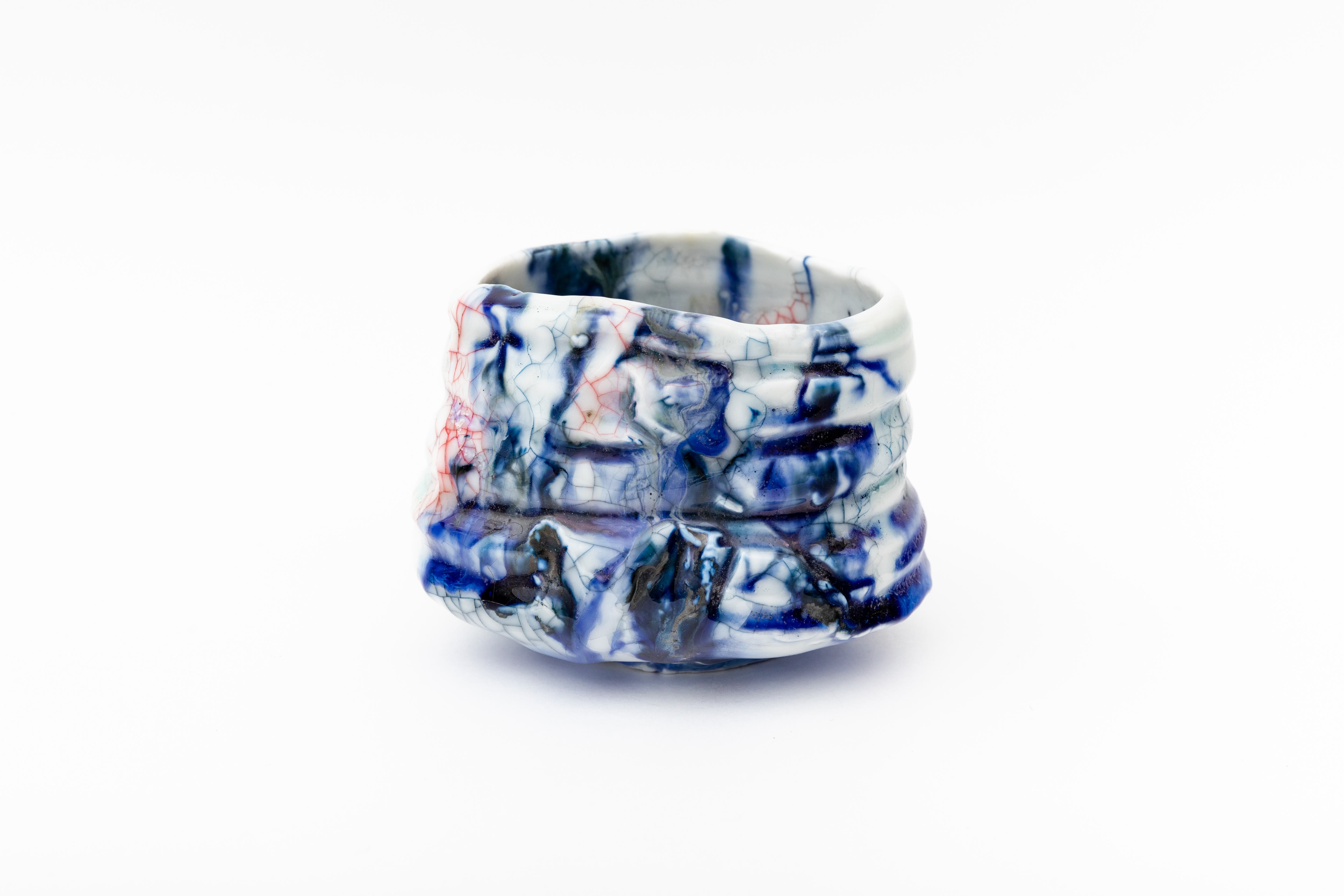 Kodai Ujiie, Ofukei and Lacquer Tea Bowl (C24238)
Enticing like a sugary sweet, Tomoyuki Hoshino's bubblegum pink tea bowl is glazed with an opaque white that coats the crazed ceramic as a frosting. Inspired by flesh tones for the pink color, Hoshino's bowl is enticingly warm to the eye.
Kodai Ujiie's Ofukei and Lacquer tea bowl has thick layers of celadon that move alongside the face of the form, creating this soft, watercolor-like finish. The rest of the tea bowl exhibits the same qualities of lacquer inlay and the artist's attention to organic and rough form.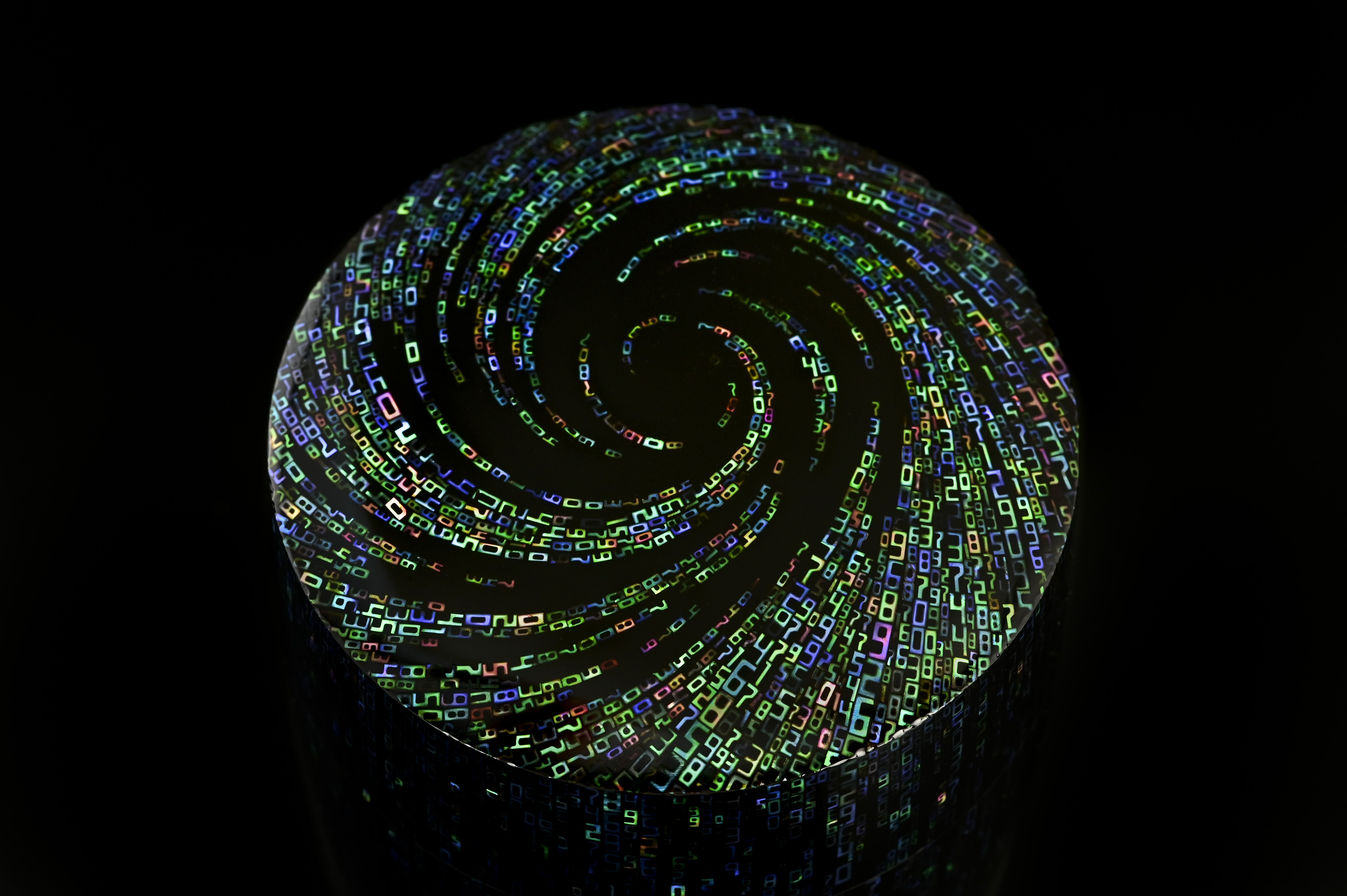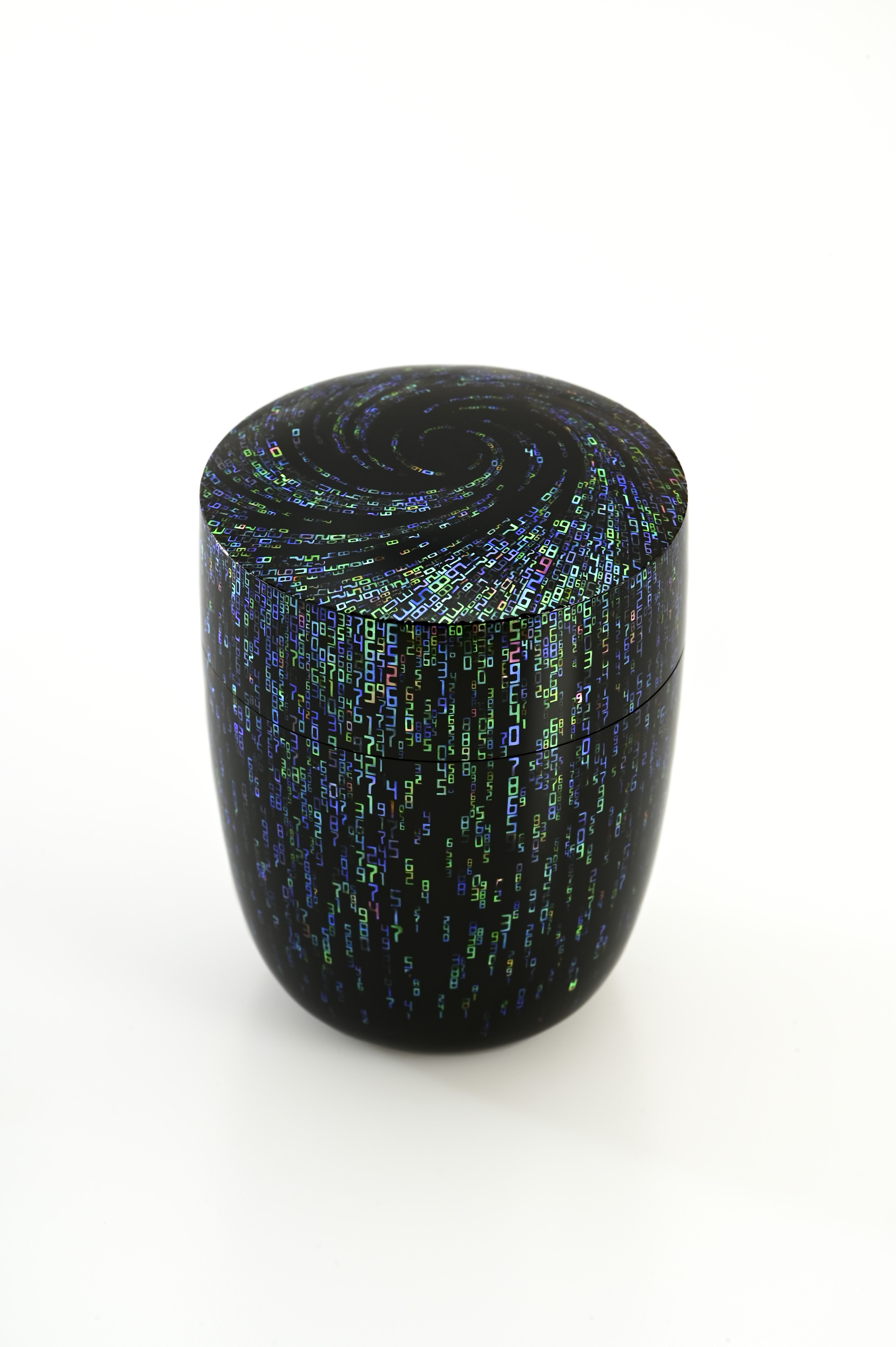 Terumasa Ikeda, Winter Wind, (C25376)
Flawlessly adhered to the lacquer surface, Terumasa Ikeda's dark tea caddy is illuminated by precisely cut mother-of-pearl. Though raden is a traditional technique, Ikeda manages to present a contemporary innovation inspired by the cyber revolution of the modern age.
The professor to Ikeda, Shinya Yamamura's raden technique is hand cut and introduces various metals into the pattern. This lacquered box—inlayed with silver plates and decorated with powder from gold and silver—exemplifies Yamamura's mastery over form and steady hand when placing the spiral pattern.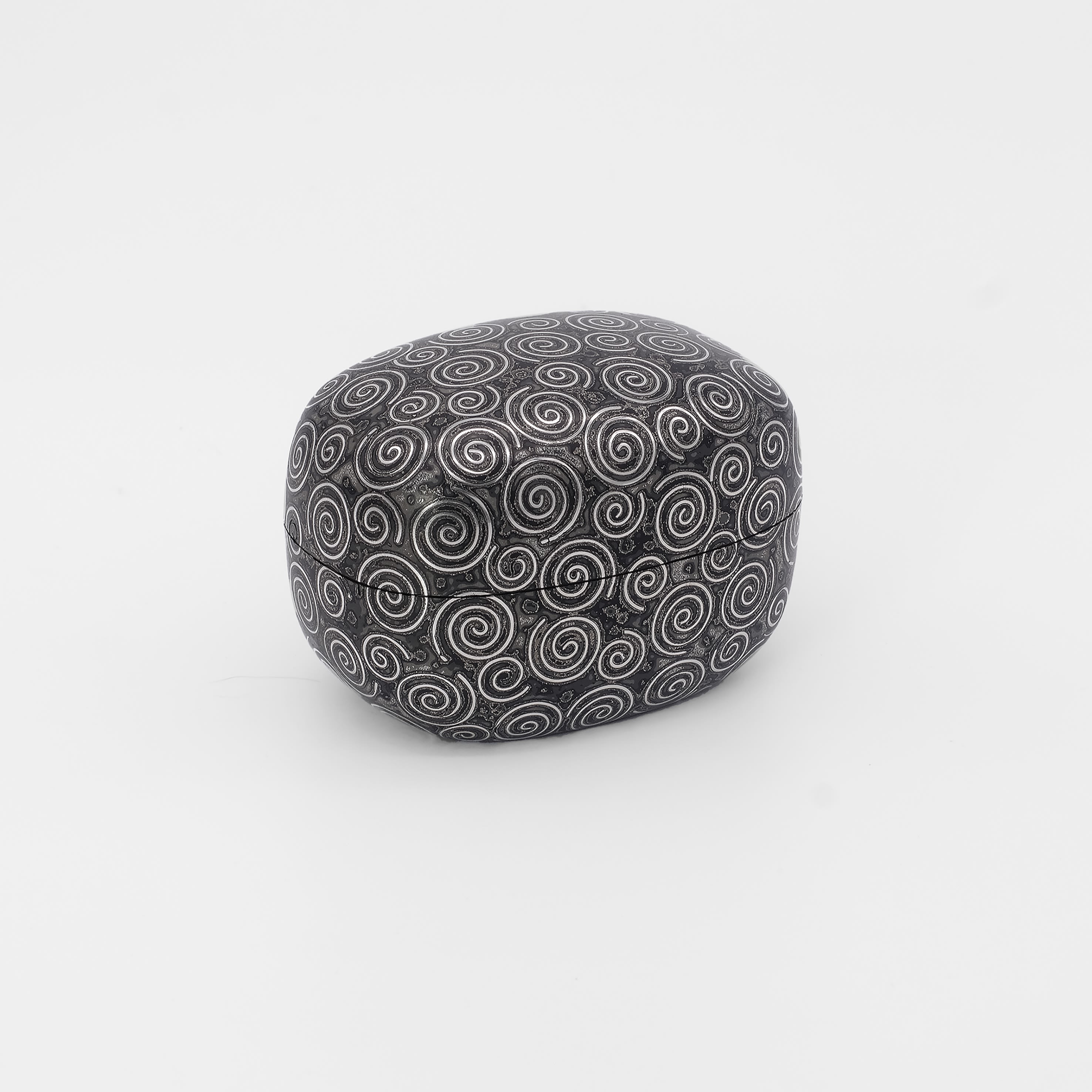 Shinya Yamamura, Silver Spiral Pattern Small Container, (C25378)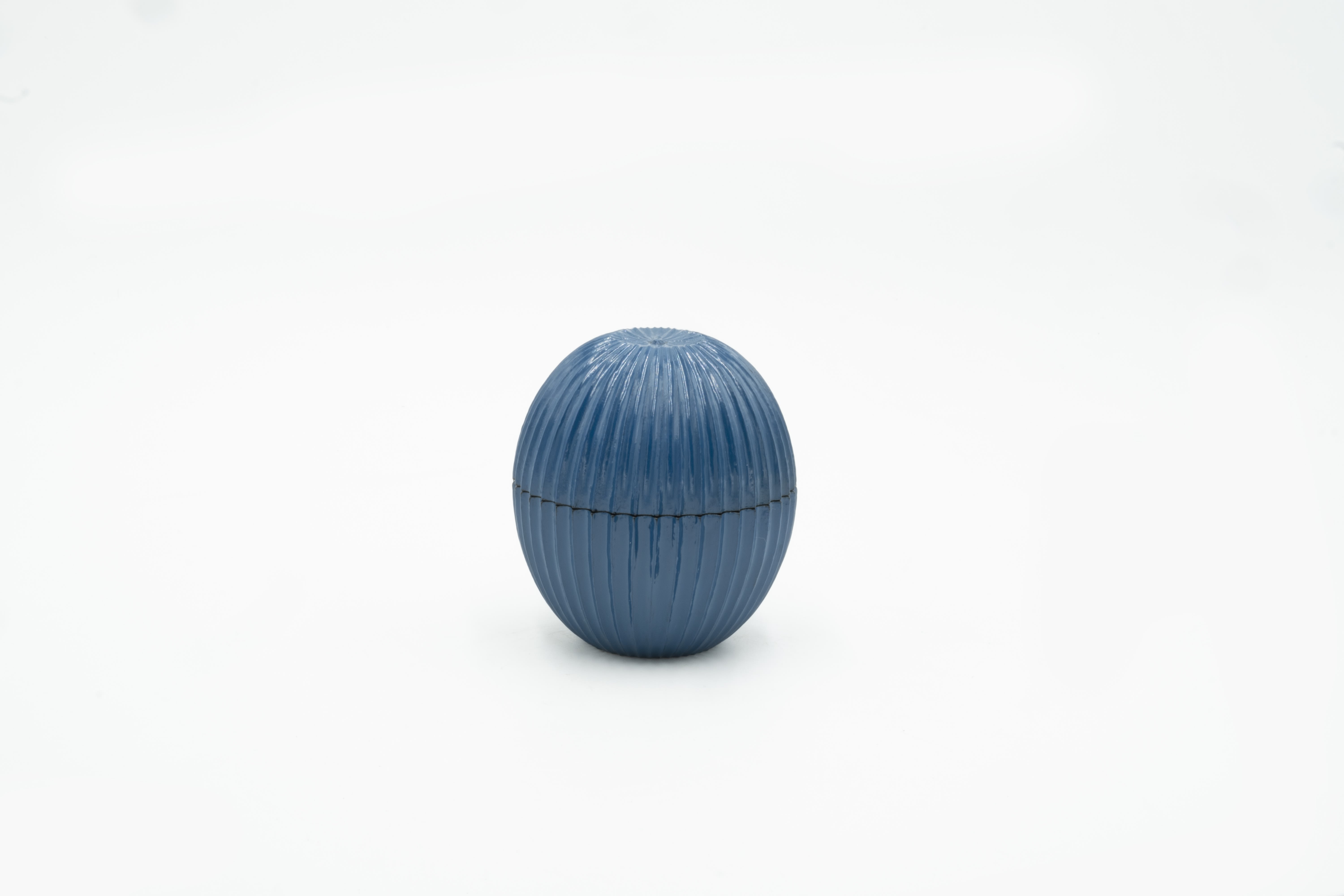 Jihei Murase, Corrugated Pale Indigo Nakatsugi Tea Caddy (C25016)
Jihei Murase's expertise and experimentation produced this beautifully vibrant indigio lacquer used to coat the corrugated nakatsugi tea caddy. Each end of the container is equal in size, and a throughline is formed where matcha is kept. The brilliant blue is a pigmentation created using a formula known only to Murase.
Evocative of rinpa, a technical school of the Edo age known for their sophisticated aesthetics, Shion Tabata's curved jar is suspended in an air of elegance. Trained by looking at Edo antiques, Tabata's vibrant pigments are iridescent like peacock feathers.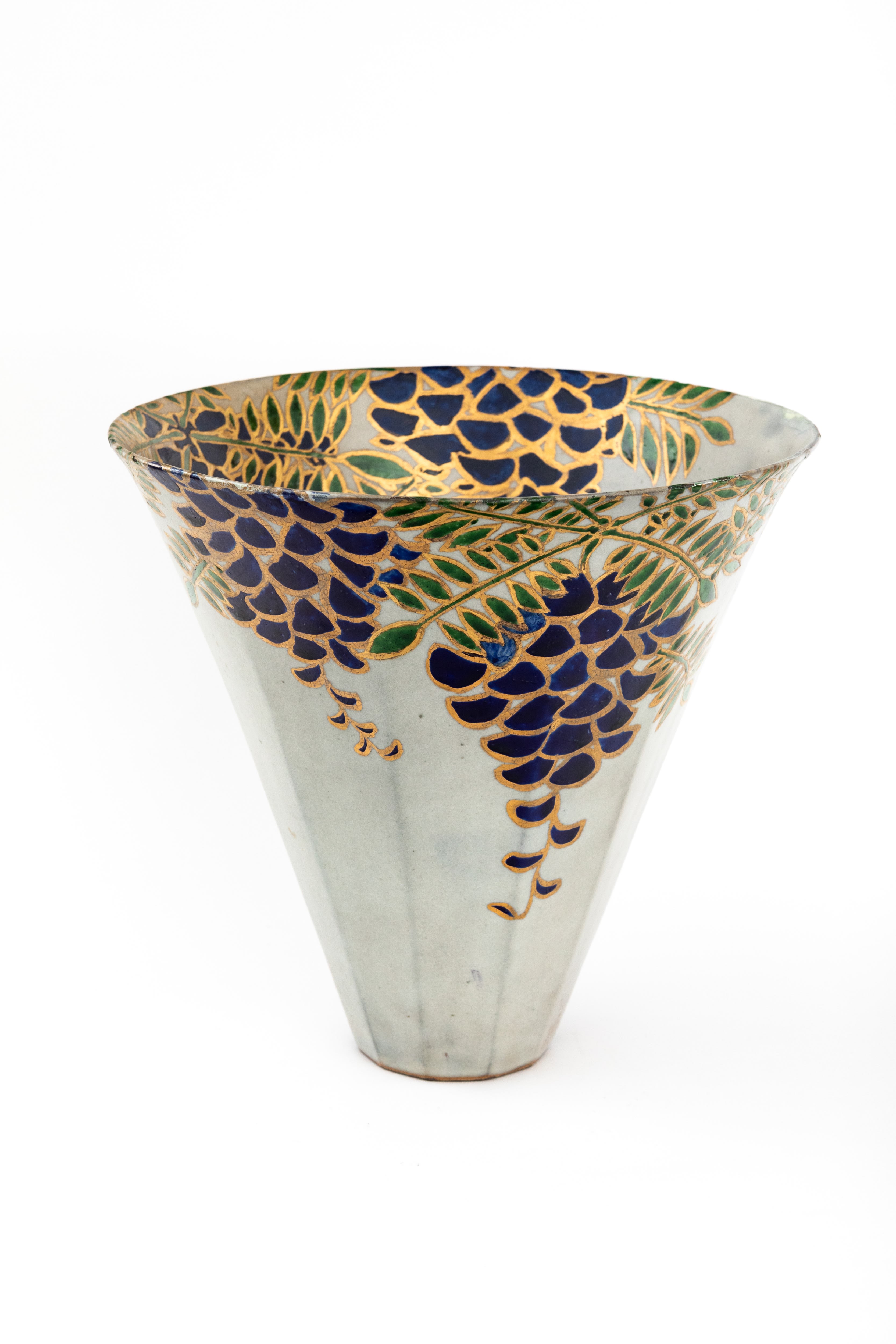 Shion Tabata, Wisteria Flower (Curved Jar), (C25174)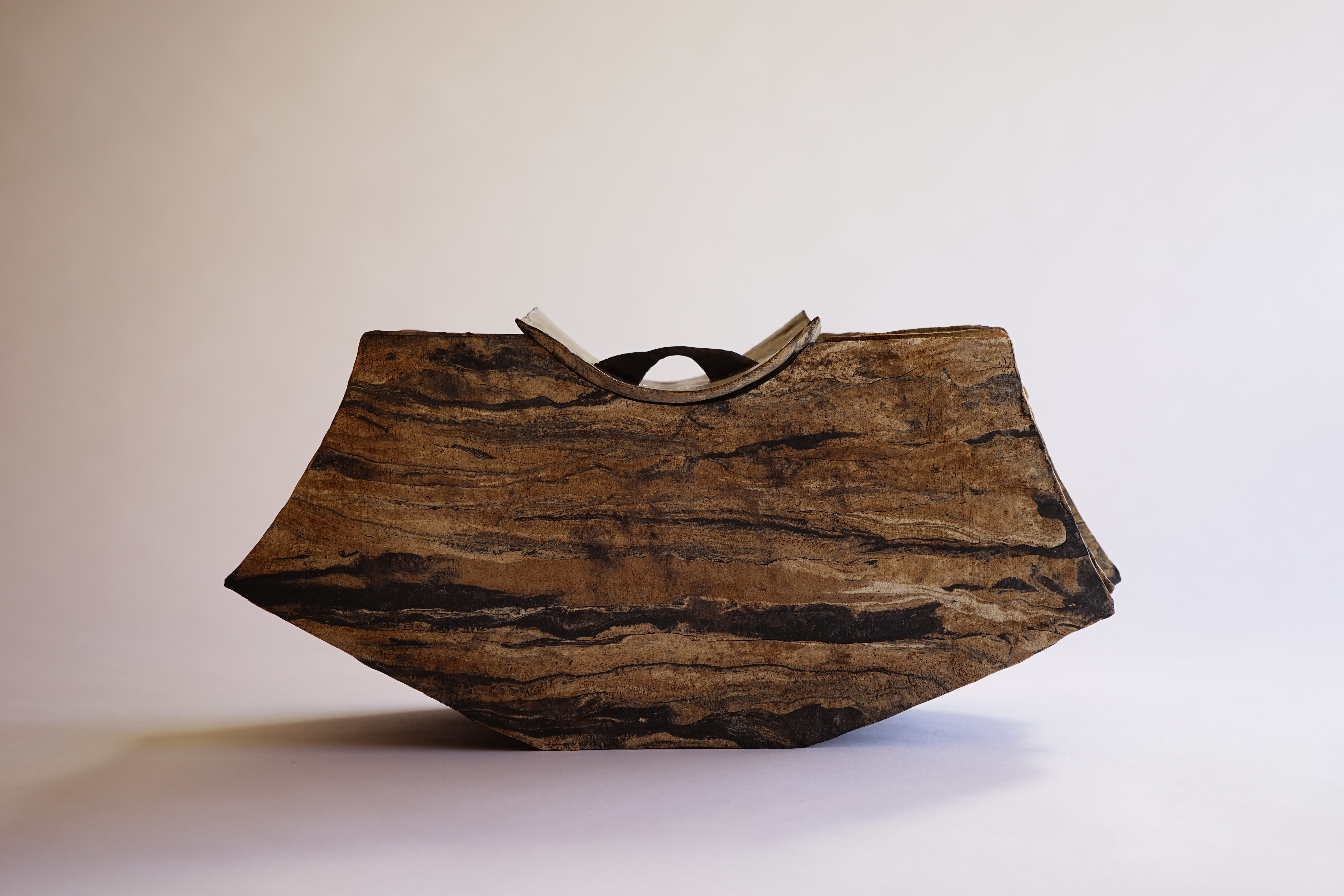 Yukiya Izumita, Lidded Geometry Jar, (C25283)
Like a rock formation shaped by the harsh touch of wind and water, the undulating construction of Yukiya Izumita's jar is like the shifting of the tectonic plates. Izumita's favored iron-rich clay and metallic glaze finish resembles a fossil or petrified wood.
In reference to the great Shingon Buddhist monk Kūkai, who famously retreated to a seaside cave to view the daily cycle of sun and moon, Ken Matsubara's multi-media folding screen is a dance between the celestial bodies as they emerge and vanish into the ocean. Sculpted with clay-resin paint and mica resin, the crashing waves are simultaneously flowing and frozen in time. Constituted of a pair of screens, Matsubara achieves iridescence throughout the image owing to an underlayer of red iron-oxide called bengara.
Ken Matsubara, Sun and Moon, (A25271)
Kota Arinaga, Netz (Ink), (C24537NP)
Made using the traditional Venetian reticello glass technique, Kodai Ujiie crafted a unique form by tilting the neck and shoulders, dense with patterns resembling heavy rainfall. The form of this inanimate work emulates a black crane curiously examining the unexpected viewer who has stumbled into its territory.
Please join us for the debut of Extreme Surfaces: Cutting Edge Kogei. ranging in material from lacquer to ceramic to metal, opening tomorrow, January 12th, 2023.